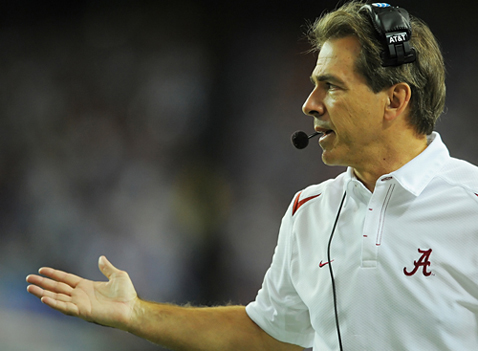 There are just a few weeks left in the college football regular season and things took a crazy turn this past weekend.  I think everyone, including myself, had (4) Alabama penciled in for the BCS Championship game until (8) Texas A&M pulled off the surprising 29-24 upset last Saturday.  This has opened up the field a little bit for spots in the national championship.  So lets take a little time sort of some of this chaos caused by the Alabama loss.
The loss does not eliminate Alabama from BCS contention but it puts them on the outside looking in when it looked like they were a lock.  Here are the current BCS standings as we head into this weekend's games.
BCS Standings
1. Kansas State
2. Oregon
3. Notre Dame
4. Alabama
5. Georgia
6. Florida
7. LSU
8. Texas A&M
9. South Carolina
10. Florida State
BCS Forecast
In the driver's seat:
So at the moment we are looking at a Big XII and Pac 12 showdown in Miami.  Both (1) Kansas State and (2) Oregon control their own destiny.  If Oregon and K-State win out then I believe both would be in the BCS Championship.  Oregon is an absolute no doubter if they win their last 2 regular season games and the Pac 12 Championship.  Kansas State does not have a conference championship game to bolster their resume but an undefeated record should be more than enough to secure a spot in the title game.
Kansas State will play Baylor and (15) Texas in their final 2 games.  Two tough conference opponents but the Wildcats will be the clear favorites in both games.  Oregon will have a much tougher task in making it to the championship game.  They will most likely need beat 3 ranked conference opponents in their last 3 games to get their bid.  The Ducks still have to play (13) Stanford at home and in-state rival (16) Oregon State on the road in their final regular season game.  Tough to say who they would play in the Pac 12 Championship but it would probably be a ranked team.
In a great position:
The next team on the list of BCS hopefuls is the (3) Notre Dame Fighting Irish.  If nothing else, this season has been a statement year for the Notre Dame football program.  They have officially announced their return to relevance and to the national championship conversation.  The Irish take on Wake Forest this weekend and close out the year at the L.A. Coliseum in their rivalry game against (18) USC.
Alabama took a major hit to their BCS bid but they are not our of it yet.  If the Crimson Tide can win the rest of their games, including the SEC Championship, then they will still have a pretty strong resume.  Their final two regular season games will be against West Carolina and the Auburn Tigers.  And at the moment they seemed destined for a clash with Georgia in the SEC Championship game.
Needs help:
Georgia will need some help but like Alabama, winning out could make a really strong case for the Bulldogs.  The final two games in the regular season will be against Georgia South and Georgia Tech.  So the Bulldogs will not need to leave the state of Georgia until their bowl game.  At this point it seems that both Georgia and Alabama will need at least one team ahead of them in the rankings to lose in order to have a chance to play in Miami.
On life support:
The last two teams with title hopes come from the state of Florida.  Both Florida and Florida State could have an outside shot at the national championship.  The Gators' only loss came to Georgia and FSU's only loss came Clemson.  Both of which were ranked opponents.  Both of these teams would need some help but they play each other in the final regular season game.  A win for either team would obviously be huge for title hopes.  The biggest problem for Florida is they would need Georgia to lose in one of the last 2 games.  In order to have a shot they would need to play in the SEC Championship and for that to happen Georgia needs to lose.  FSU would also need losses from a couple teams ranked ahead of them but it would be hard to dispute the Seminoles as a title contender if there are not two undefeated teams in the 1 and 2 ranked positions.  Either would obviously need to win the rest of their games to have a chance.
 Predictions
With all that being said, here are my BCS bowl game predictions for the 2013 bowl season.
Orange Bowl: FSU vs. Rutgers
Sugar Bowl: Georgia vs. Clemson
Fiesta Bowl: Kansas State vs. Stanford
Rose Bowl: Nebraska vs. Notre Dame
BCS Championship: Alabama vs. Oregon
As you can see I have things going a little differently than expected.  I think Oregon will finish the season undefeated and end up #1.  I think Kansas State will slip up in their last game against Texas and that will drop them into the Fiesta Bowl.  I have Alabama winning out and eventually making the BCS title game.  I don't think Notre Dame will lose the rest of the way but at the end of the day Alabama's resume will just be too solid to pass up.  The lack of a conference/championship game will ultimately keep the Irish out of the championship game.  So Notre Dame will grab the at-large spot in the Rose Bowl in place of the Pac 12 champ Oregon Ducks.
I also have Georgia losing the SEC Championship game to Alabama so they will claim their spot in the Sugar Bowl.  The Bulldogs will meet Clemson in that game who get in with an at-large bid out of the ACC.  FSU will win the ACC and Rutgers will win the Big East so nothing should change there.  With 5 SEC teams currently in the top 10 it makes BCS pairings very interesting.  The logjam of SEC teams will allow Stanford to slip into the Fiesta Bowl with an at-large bid.  Stanford will most likely lose to Oregon but I have them beating (17) UCLA in the final game of the regular season.  If this happens they should hold rank in the standings and grab the spot in the Fiesta bowl.  Call me crazy but this is how I'm calling each match-up for the BCS.  Now we just wait and see how things really turn out.
Written by: Craig Kibler