Sports Traveler Chicago Book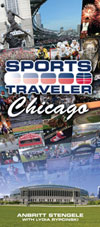 Heading to Chicago for a game?
Author's and Chicago natives Anbritt Stengele and Lydia Rypcinski cover everything sports fans need to know when traveling to the city of Chicago for a sporting event.

Sports Traveler Chicago covers where to sit, what to eat, what else to see at the park, fan customs, lodging picks, transportation advice, pre-game parties, post-game traditions, historical sites, bars for fans, fan memories, off-season conventions, minor league teams, and more! Sporting events covered include baseball, basketball, football, hockey, soccer, auto racing, horse racing, bicycle racing, lacrosse, golf, and the Chicago Marathon.
See why this book was awarded 1st Place from the Illinois Womens Press Association for best Non-Fiction!
To order call 1-888-654-7755