Miami Open
March 18 - 31 2019 - Hard Rock Stadium - Miami Gardens, FL
The Miami Open and is one of the premiere professional tennis tournaments of the season! Get your Miami Open tickets or plan a custom travel package to this great tennis event. Submit a request for a travel package or purchase tickets online today!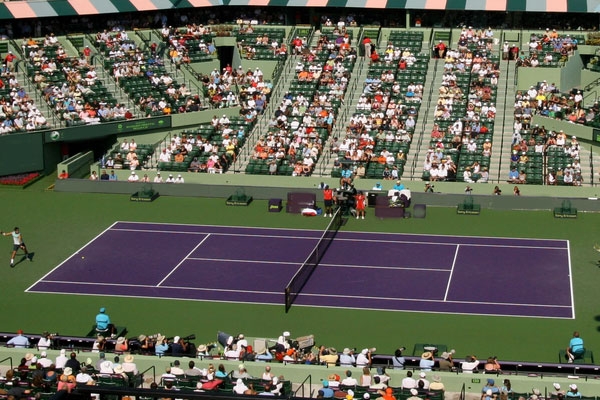 Join us for the 2019 Miami Open!
See the best in pro tennis in what is considered the unofficial 5th tennis major tournament. Join us in gorgeous Miami for the 2019 Miami Open. Travel packages and tickets are on-sale today.
New venue. Same great tennis.
The 2019 Miami Open will be played at the re-designed Hard Rock Stadium located in Miami Gardens. Note that this event no longer will offer shuttle services from downtown Miami.
What's included in our Miami Open Tennis Tours?
- Lodging in downtown Miami, close to shopping, dining, and the beaches
- Reserved tickets of your choice to the 2019 Miami Open
- Rental car for use throughout your stay
- Optional access to hospitality on-site at Hard Rock Stadium
- Optional flights from your home town to Miami
Tickets
Request Travel Package
Miami Open Travel Guide
Miami Open Tennis Tickets
| Event | Date & Time | Venue | Availability |
| --- | --- | --- | --- |
| Miami Open Tennis: Session 8 - Men's & Women's Singles 2nd Round/Doubles | March 22, 2019 - 8:00 PM | Hard Rock Stadium | |
| Miami Open Tennis Grounds Pass Day 6 | March 23, 2019 - 11:00 AM | Hard Rock Stadium | |
| Miami Open Tennis: Session 9 - Men's Singles Singles 2nd Round/Women's Singles 3rd Round/Doubles | March 23, 2019 - 11:00 AM | Hard Rock Stadium | |
| Miami Open Tennis Session 9 Grandstand | March 23, 2019 - 11:00 AM | Hard Rock Stadium | |
| Miami Open Tennis: Session 10 - Men's Singles Singles 2nd Round/Women's Singles 3rd Round/Doubles | March 23, 2019 - 8:00 PM | Hard Rock Stadium | |
| Miami Open Tennis: Session 11 - Men's & Women's Singles 3rd Round/Doubles | March 24, 2019 - 11:00 AM | Hard Rock Stadium | |
| Miami Open Tennis Grounds Pass Day 7 | March 24, 2019 - 11:00 AM | Hard Rock Stadium | |
| Miami Open Tennis Session 11 Grandstand | March 24, 2019 - 11:00 AM | Hard Rock Stadium | |
| Miami Open Tennis: Session 12 - Men's & Women's Singles 3rd Round/Doubles | March 24, 2019 - 7:30 PM | Hard Rock Stadium | |
| Miami Open Tennis Grounds Pass Day 8 | March 25, 2019 - 11:00 AM | Hard Rock Stadium | |
| Miami Open Tennis: Session 13 - Men's Singles Singles 3rd Round/Women's Singles 4th Round/Doubles | March 25, 2019 - 11:00 AM | Hard Rock Stadium | |
| Miami Open Tennis Session 13 Grandstand | March 25, 2019 - 11:00 AM | Hard Rock Stadium | |
| Miami Open Tennis: Session 14 - Men's Singles Singles 3rd Round/Women's Singles 4th Round/Doubles | March 25, 2019 - 7:30 PM | Hard Rock Stadium | |
| Miami Open Tennis Session 15 Grandstand | March 26, 2019 - 11:00 AM | Hard Rock Stadium | |
| Miami Open Tennis Session 16 Grandstand | March 26, 2019 - 11:00 AM | Hard Rock Stadium | |
| Miami Open Tennis: Session 15 - Men's Singles Singles 4th Round/Women's Singles Quarterfinals/Doubles Quarterfinals | March 26, 2019 - 11:00 AM | Hard Rock Stadium | |
| Miami Open Tennis Grounds Pass Day 9 | March 26, 2019 - 11:00 AM | Hard Rock Stadium | |
| Miami Open Tennis: Session 16 - Men's Singles Singles 4th Round/Women's Singles Quarterfinals/Doubles Quarterfinals | March 26, 2019 - 7:30 PM | Hard Rock Stadium | |
| Miami Open Tennis Grounds Pass Day 10 | March 27, 2019 - 11:00 AM | Hard Rock Stadium | |
| Miami Open Tennis: Session 17 - Men's & Women's Singles & Doubles Quarterfinals | March 27, 2019 - 11:00 AM | Hard Rock Stadium | |
| Miami Open Tennis Session 17 Grandstand | March 27, 2019 - 11:00 AM | Hard Rock Stadium | |
| Miami Open Tennis: Session 18 - Men's & Women's Singles & Doubles Quarterfinals | March 27, 2019 - 7:00 PM | Hard Rock Stadium | |
| Miami Open Tennis Grounds Pass Day 11 | March 28, 2019 - 11:00 AM | Hard Rock Stadium | |
| Miami Open Tennis: Session 19 - Men's Singles Quarterfinals & Doubles Semifinals/Women's Singles Semifinals | March 28, 2019 - 1:00 PM | Hard Rock Stadium | |
| Miami Open Tennis: Session 20 - Men's Singles Quarterfinals & Doubles Semifinals/Women's Singles Semifinals | March 28, 2019 - 7:00 PM | Hard Rock Stadium | |
| Miami Open Tennis Grounds Pass Day 12 | March 29, 2019 - 11:00 AM | Hard Rock Stadium | |
| Miami Open Tennis: Session 21 - Men's Singles Semifinals/Women's Doubles Semifinals | March 29, 2019 - 1:00 PM | Hard Rock Stadium | |
| Miami Open Tennis: Session 22 - Men's Singles Semifinals/Women's Doubles Semifinals | March 29, 2019 - 7:00 PM | Hard Rock Stadium | |
| Miami Open Tennis Grounds Pass Day 13 | March 30, 2019 - 11:00 AM | Hard Rock Stadium | |
| Miami Open Tennis: Session 23 - Men's Doubles Finals/Women's Singles Finals | March 30, 2019 - 1:00 PM | Hard Rock Stadium | |
| Miami Open Tennis Grounds Pass Day 14 | March 31, 2019 - 11:00 AM | Hard Rock Stadium | |
| Miami Open Tennis: Session 24 - Men's Singles Finals/Women's Doubles Finals | March 31, 2019 - 1:00 PM | Hard Rock Stadium | |

Design Your Own Miami Open Travel Package
What does your Miami Open Tennis Trip look like?
Request dates of lodging - Specific Tournament Sessions - Your special requests
Click here to begin your request