Denver Broncos
Sports Authority Field at Mile High - Denver, Colorado
The Denver Broncos are playing to regain their AFC Champion and Super Bowl Titles! Travel to see the Denver Broncos play at Sports Authority Field with exciting football trips throughout the season! Denver Broncos ticket and hotel packages include quality accommodations, great seats at the game, and more! Game tickets are available for all sections of the different stadiums. View our online inventory and purchase in real time.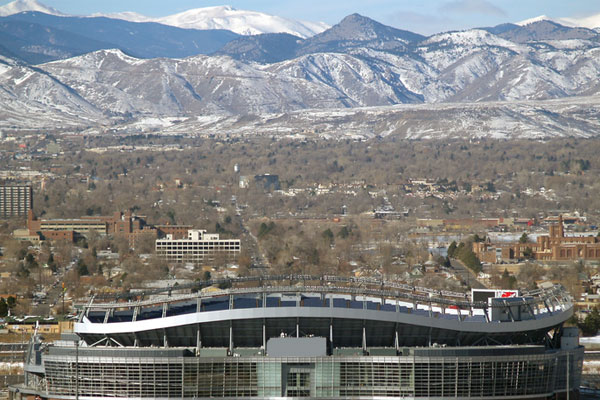 Visit the city of Denver!
Travel to the beautiful city of Denver, Colorado and enjoy a Denver Broncos home game with us! The city of Denver is alive with nightlife, shopping, and dining options for football fans. We stay right in the heart of downtown, close to the 16th Street Outdoor Mall. Take the free shuttle up and down the street to restaurants and shops.
About our Broncos Travel Packages:
We have lodging in hotels close to Mile High Stadium and we include great Denver Broncos tickets in every Broncos package. Every Broncos ticket also includes admission to the Broncos Mountain Village, a family friendly pre-game tailgate party. See the cheerleaders and Miles the Broncos official Mascot!
Buy Tickets
Request Travel Packages
Stadium Guide
Denver Broncos Tickets
Denver Broncos Tickets On Sale Now! Be at Sports Authority Field to see the Broncos win! Purchase securely online in our real time inventory.
| Event | Date & Time | Venue | Availability |
| --- | --- | --- | --- |
| Preseason: Minnesota Vikings at Denver Broncos | August 11, 2018 - 7:05 PM | Sports Authority Field at Mile High | |
| Preseason: Chicago Bears at Denver Broncos | August 18, 2018 - 7:05 PM | Sports Authority Field at Mile High | |
| Preseason: Denver Broncos at Washington Redskins | August 24, 2018 - 7:30 PM | FedEx Field | |
| Preseason: Denver Broncos at Arizona Cardinals | August 30, 2018 - 7:00 PM | University of Phoenix Stadium | |
| 2018 Denver Broncos Season Tickets (Includes Tickets to All Regular Season Home Games) | September 8, 2018 - 12:55 PM | Sports Authority Field at Mile High | |
| Seattle Seahawks at Denver Broncos | September 9, 2018 - 2:25 PM | Sports Authority Field at Mile High | |
| Oakland Raiders at Denver Broncos | September 16, 2018 - 2:25 PM | Sports Authority Field at Mile High | |
| Denver Broncos at Baltimore Ravens | September 23, 2018 - 1:00 PM | M&T Bank Stadium | |
| Kansas City Chiefs at Denver Broncos | October 1, 2018 - 6:15 PM | Sports Authority Field at Mile High | |
| Denver Broncos at New York Jets | October 7, 2018 - 1:00 PM | MetLife Stadium | |
| Los Angeles Rams at Denver Broncos | October 14, 2018 - 2:05 PM | Sports Authority Field at Mile High | |
| Denver Broncos at Arizona Cardinals | October 18, 2018 - 5:20 PM | University of Phoenix Stadium | |
| Denver Broncos at Kansas City Chiefs | October 28, 2018 - 12:00 PM | Arrowhead Stadium | |
| Houston Texans at Denver Broncos | November 4, 2018 - 2:05 PM | Sports Authority Field at Mile High | |
| Denver Broncos at Los Angeles Chargers | November 18, 2018 - 1:05 PM | StubHub Center | |
| Pittsburgh Steelers at Denver Broncos | November 25, 2018 - 2:25 PM | Sports Authority Field at Mile High | |
| Denver Broncos at Cincinnati Bengals | December 2, 2018 - 1:00 PM | Paul Brown Stadium | |
| Denver Broncos at San Francisco 49ers | December 9, 2018 - 1:05 PM | Levi's Stadium | |
| Cleveland Browns at Denver Broncos | December 15, 2018 - 2:30 PM | Sports Authority Field at Mile High | |
| Denver Broncos at Oakland Raiders | December 24, 2018 - 5:15 PM | Oakland-Alameda County Coliseum | |
| Los Angeles Chargers at Denver Broncos | December 30, 2018 - 2:25 PM | Sports Authority Field at Mile High | |