U.S. Open Tennis
Aug. 30 - Sept. 12, 2021 - Flushing, New York
Travel to New York for the only Grand Slam Tennis Tournament on U.S. soil. Purchase U.S. Open Tennis Tournament Packages that can include tickets to Opening or Final Round matches. Stay in the Central Park area with our premium lodging where you are close to all the attractions. You can also catch a Broadway Musical with one of our Tennis & Theater packages! We have tickets in great locations throughout Arthur Ashe Stadium!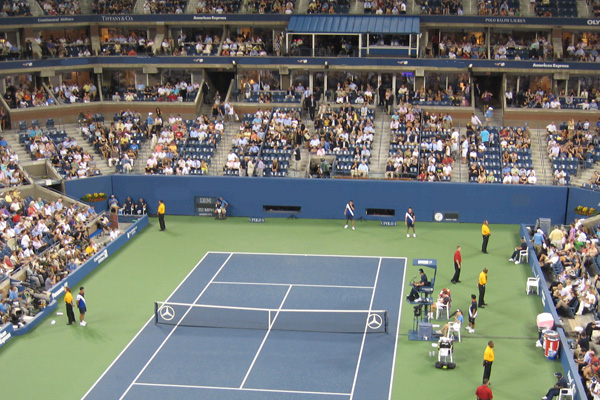 Travel to the U.S. Open with us!
Enjoy the U.S. Open Tennis Tournament at the incredible USTA Billie Jean King Tennis Center. Let us take care of your hotel lodging, tickets, and transportation during the tournament!
Tournament travel packages can include:
- Lodging at the Park Lane New York Central Park, located across the street from NYC's Central Park
- Reserved U.S. Open Tennis Tickets to Morning and/or Evening Sessions
- Round-trip daily transportation to/from hotel to the tournament
- Evening Welcome Reception
- Upgrade to our Deluxe Package and get tickets to your choice of Broadway Musicals!
Plan your U.S. Open Tennis trip to your specifications...
Customize your own U.S. Open Trip with us!
Travel Packages
Tournament Schedule
Customize Your Trip
US Open Travel Guide
2021 U.S. Open Tennis Travel Packages
Packages include U.S. Open Tennis Tickets, lodging at the Park Lane in Central Park - the perfect location for a New York weekend! Plus ground transportation to the USTA Billie Jean King National Tennis Center. All Deluxe Packages also include Broadway Theatre Tickets to your choice of musicals!
Want to customize your own trip to the U.S. Open Tennis Tournament? Click here to start building your Custom US Open Trip.
Tickets: Morning Session - September 4 & Evening Session - September 5

Eliminate the stress of getting to Arthur Ashe Stadium with your private driver for each session to the US Open.

Tickets: Men's and Women's Finals

See the best at the US Open during the Women's & Men's Finals with dedicated transportation to Arthur Ashe Stadium each day.

Design Your Own U.S. Open Travel Package
What does your U.S. Open Tennis Trip look like?
Request dates of lodging - Specific Tournament Sessions - Your special requests
Click here to begin your request

It was our first time going to the US Open and we had a fantastic time. Appreciate all that your staff did to make the trip enjoyable. "
— Brian S. ,
U.S. Open Tennis