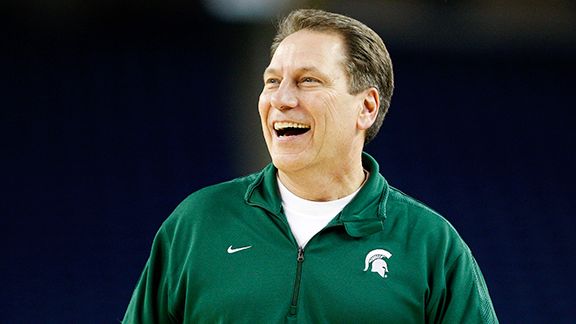 Last week we ushered in a new season for the pro's and tonight we open the 2012-13 collegiate campaign.  Fans have longed for a night with an identity, a night in which we can truly deem as the "season opener".  Well, tonight we get exactly that.  Last year Michigan State played against North Carolina in what is now known as the Carrier Classic.  Over 8,000 fans watched the Tar Heels beat the Spartans 67-55 on the USS Carl Vinson air craft carrier.
The event received overwhelming support and attention so they have brought it back for another year.  This time the event will be a double-header that features both the Men and Women squads from Ohio State.  The Buckeye Men will take their number 4 ranking onto the court to challenge Big East opponent Marquette.
Along with the Carrier Classic there will be dozens of games across the country and one in Germany.  Yeah that's right.  I said Germany.  The MSU Spartans (14) will once again open their season with a military theme.  The boys from East Lansing, MI will take on the recently upturned UConn Huskies.  Two marquis programs in a rare over-seas game.  In fact, it will be the first college basketball game ever held in Europe.  Guess Tom Izzo just loves to be the first team to play basketball on courts not inside of a gym.
The group of games hosted by military venues will not be the only match-ups worth watching tonight.  Maryland will face off against the Kentucky Wildcats and Florida will take on the Georgetown Hoyas.  This really will be a true opening night.  Here is the complete schedule for men's college basketball games tonight.
Number 1 Indiana will also gets its first chance to defend their top ranking with a game against Bryant University.  Don't anticipate much of an issue for the Hoosiers.  BTW, this #1 rankings seems like people might be making a bit of a leap.  Don't be surprised if Indiana is out of the top 15 by the time conference play begins.
Fifteen of the nation's top 25 teams will be playing tonight.  And if it wasn't for the unfortunate weather in the northeast, we would also get the privilege of seeing two ranked teams go at it.  Instead, we will have to wait until Sunday for Syracuse (9) vs. San Diego State (20).
Now I would admit that rankings don't mean much at this point in the season but it is good for college basketball to have such an action packed opening night.  I think college hoops fans across the country will be pumped up after tonight's basketball marathon.  In honor of the new season I would like to make a toast to a glorious season with tons of upsets and buzzer-beaters.  A man can hope right?
Written by: Craig Kibler