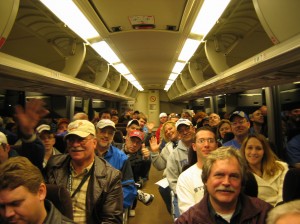 Does the thought of putting together a corporate outing to a sporting event cause your blood pressure to rise at the mere thought of the cost? What if I told you that you could plan an affordable corporate sports travel outing guaranteed to impress your guests and fit into your meager 2011 end-of-year budget?
Hey, it's not 2006 anymore, money is tight and your company isn't willing to break the bank for anything these days. I understand completely. I've been putting corporate outings together for 11 years now and I have had my fair share of experiences with all different types of corporate trips. Here are my tips for planning a trip that is meaningful, cost efficient, and well received.
Determine the budget and your 'overage limit' first.
If I had a nickel for every time I've had this phone call "I'd like 50 rooms to the Super Bowl. We don't have a budget"... well, let's say I would have a lot of nickels. Everyone has a budget and a limit of what is reasonable for your company to spend on an outing. Telling me that you don't have a budget is telling me you really haven't put a lot of thought into this. Your goal is to get your trip approved by your board or supervisor so it's important to think this through. How much is my company willing to spend on one corporate outing? Then figure out an "overage" dollar figure – the 'just in case extra money' that may be needed for some unforeseen expenses, like last minute flight changes if one of your group members suddenly can't make it and you need to replace them.
Pick an event that will be acceptable to everyone.
This one is tough. Your company is probably filled with a variety of people with a wide variety of tastes. Once you have settled on sports as your event theme, think about the overall group's personality, as well as their age and their mobility. Are they up for walking long distances like they will have to do at the Masters Golf Tournament or are they willing to sit outside for long periods of time in the hot sun at a NASCAR race? You want to choose a sporting event that everyone can find an aspect to enjoy. Make your outing inclusive and filled with a variety of experiences while at the venue. Consider a luxury tailgate party before an NFL Game or a hospitality pass at the Kentucky Derby. Plan a special dinner the night before the event with an appearance from a past athlete from that sport. Your guests need not be a die-hard fan to find something interesting about experiencing a sporting event live.
Make your event participation easy and deserving.
Ok, let's be real here. You know that there is a risk when taking a group to a sporting event that a person or two may not actually make it to event. There are always going to be people that see a free trip as just that, a free trip, and not participate or even sell their event ticket rather than go to the game. This is, of course, a huge insult to the company that was so generous to provide a trip to a sporting event, but this is a real possibility that could happen. At the recent BCS National Championship game there was a corporation that had a suite for the game, only to have two of the tickets be sold by an employee to some random fans outside the stadium. Imagine the surprise of the CEO when two non-staff members walked into his suite after he had spent the money flying people in for the game! I'm highly doubting that staff member is still employed by this company, but there is a moral of the story here. Pick your participants wisely. Give to those that are deserving and gracious. And make your event easy to monitor participation by distributing tickets on the motor coach ride to the stadium or at the gate in person.
I would be happy to assist you in planning your next corporate outing to a sporting event. Right now, 2012 London Games and 2012 Rose Parade and Rose Bowl Game trips for groups are very popular. I would love to discuss all the sports travel possibilities for your corporation. Call 1-888-654-7755 ext. 100.