Americans visiting London can yearn for a place to see their favorite teams with their favorite drinks and munchies at their elbow and the British have risen to the occasion.
When it's game time, just head to one of the local taverns that carry the sports you so desperately crave in an atmosphere that makes you feel right at home. Our guest poster AnyTrip has scoured London and found three sports bars where American travelers will love to cheer and jeer for their favorite teams:
The Famous 3 Kings
Where: 171 North End Road, Fulham, London, W14 9NL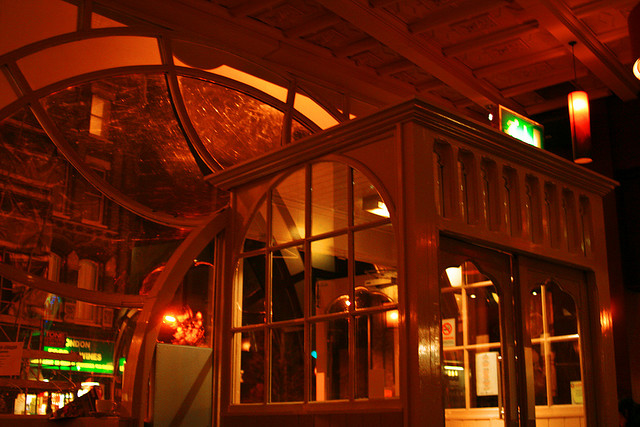 Image: Entrance to the Famous 3 Kings in Fulham, London. Credit: Erika
Easy to find but not easy to leave, the Famous 3 Kings with its prestigious location right next to the West Kensington tube station may not look like a sports bar from outside but the glass portal entranceway leads into one of London's favorite places to share the love of sports in every shape, form and fashion with fans from around the world.
Designed like a warren, the interior is divided into a maze of interconnecting rooms with 13 flat screen TVs showing sports from all over the world. For those who have a knack for real-time competition, there are pool tables, air hockey, and even an old Space Invaders game. Good hearty "man food" is served along with happy hour priced beer and cocktails.   The exposed brick walls hung with sports memorabilia creates such a cozy atmosphere that it can be hard to leave so it's lucky to be located right next to the tube station so you can safely find your way home in case you've celebrated your team's victory (or defeat) with a few too many.
The Sports Café
Where:  80 Haymarket, London, SW1Y 4TE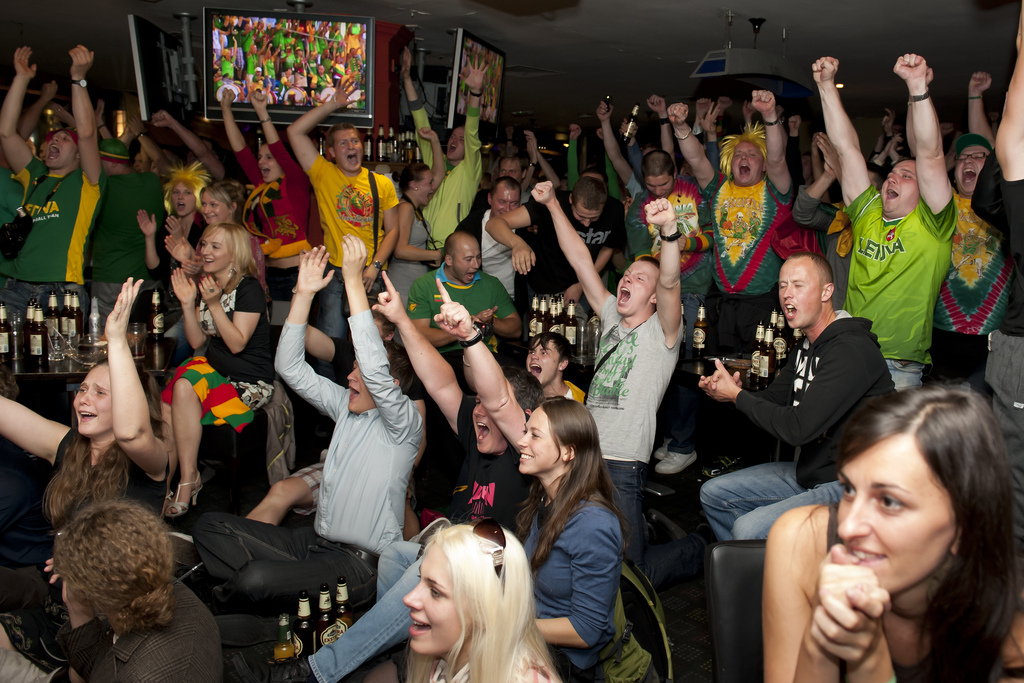 Image: The Sports Café in London erupts during a Lithuania vs Spain game. Credit: Andrius Petrucenia
During the day, this aptly name club is all about sports with an extensive selection of flat screens brimming with channels to watch competitions from every corner of the globe.  Jump into the Wii tournaments or just settle back to enjoy the "resident commentator" who offers colorful remarks about the game in progress which usually stirs up the crowd's enthusiasm for their team even more.
You will find more tourists than locals here as a rule since their "bar food" is slanted towards American tastes but by all reports the hat check girl does an exceptional job making sure everyone feels right at home as soon as the step in the door. Be aware that after the sun goes down the atmosphere changes to a throbbing night club, making it a labor of love to concentrate on a sporting match.
The Underdog Bar
Where: 16a Clapham Common Southside, Clapham, London, SW4 7AB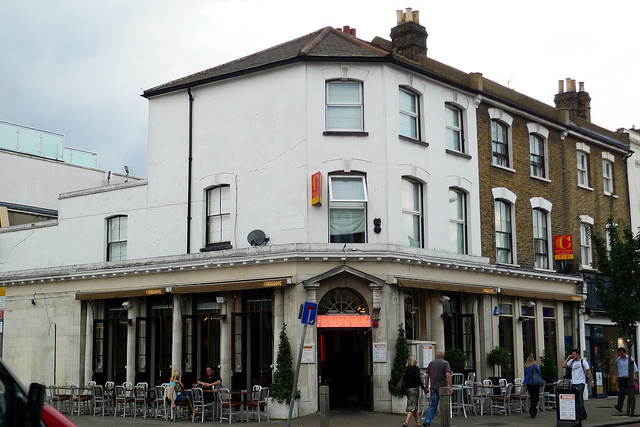 Image: The Underdog Bar is host to basketball, baseball, American football and more. Credit:  Ewan
If you are in search of a sports bar that welcomes kids during the day, The Underdog is the place to head with its tolerant policy towards their young (and young at heart) patrons.
Along with big screens showing international sporting events you'll find low prices and even free WiFi to keep everyone happily amused. The American themed menu will make kids feel right at home and the extensive drink lists will make the adults feel they've found a new home away from home.
Want some more insider tips about London? Check out our guide to Five Secret Bars in London and London's 10 Best Winter Pubs (on a map!).  Happy travels!