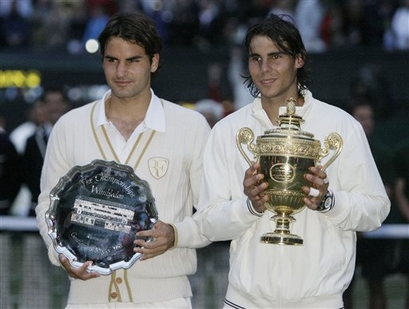 The best tennis players in the world are currently gathered in Flushing-Meadows, NY for the fourth and final major of the 2011 tennis tournament schedule.  Action at the U.S. Open has been great so far, minus the weather delays, and all of the sport's biggest names are still competing for a major singles title. 
This is an exciting time for tennis fans everywhere.  For the first time in a while the sport has multiple superstars that are capable or winning several majors.  Before Rafael Nadal starting contending for majors there was pretty much one name when it came to tennis (Roger Federer). For the last few years we have seen these two battle in legendary matches for major titles.  At this point we are looking at 4 men that have a legitimate shot to win any tournament.  Federer, Andy Murray, Nadal, and Novak Djokovic are 4 guys that can beat anyone and they all carry the popularity of tennis on their shoulders.  Sports fans love rivalries and tennis has an opportunity to offer a few different combinations of great rivalries.  Just think back to the 2008 Wimbledon Championships...
Imagine if tennis could feature final matches like this all the time!  With an increasing amount of highly talented tennis stars, the chances of seeing epic battles like this one will only increase.  We could be on the verge of a tennis "Golden Era" and Sports Traveler is here to help usher in the next chapter in tennis history.
Summer may be coming to a close but an intriguing 2012 is on the horizon.  Next year represents the chance of a lifetime for the All England Club in London.  Not one, but two major tournaments will be held on the green grasses of Wimbledon during the summer of 2012.  Along with the annual Championships held every year, Wimbledon will also host matches for the 2012 London Olympic Games.  This rare occasion displays an impressive combination of the oldest and most prestigious tennis tournament in the world with mankind's oldest organized athletic tradition.
On June 25, all the fun starts with the Championships at the All England Club in Wimbledon, London.  Don't skip out on the chance to visit the most famous tennis venue during one of the most important years of its existence.  At Sports Traveler, we have Wimbledon travel packages available for opening and final rounds of the tournament!  Our wonderful travel packages offer comfortable lodging, tickets to the tournament, admission to the Wimbledon Lawn Tennis Museum, VIP access to the Gatsby Club, and all the great times you can handle.  2012 will be a big year for tennis and Sports Traveler is here to offer you the best trip you can hope for.  Book your trip to Wimbledon or any other sporting event today!
Written by: Craig Kibler