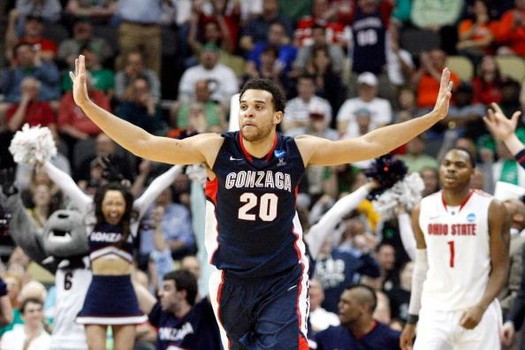 Early season tournaments are all over and the non-conference schedules will be coming to end for college teams across the country.  The road to the Final Four truly begins in January when all schools enter conference play.  We have witnessed some great basketball in the early going but any good coach would tell you that nothing compares to games played in conference.  Your conference opponents are the teams that know you the best and vice versa.  Conference play is also a true measuring stick for those who have national championship aspirations.
The real season begins in January and the students will be returning from their break to their designated sections in arenas throughout college basketball.  For Duke its the "Cameron Crazies", for Michigan State its the "Izzone", and for the University of Illinois its the "Orange Crush".  The lifeline of college basketball is the crazy atmosphere created by student sections like the ones I just mentioned.  The cheers, the slams, and the creative signs give these student sections character in the chaos.  As a fan I love what each student sections brings to the arena and I can't wait for conference play to begin.
Moving Forward
We are on the brink of conference play and this has me wondering which conferences are the strongest heading into 2013.  The top 3 are not much of a mystery but I have put together a conference power ranking of sorts.  These are the top 6 conferences in college hoops as of right now.
1.  Big Ten
The Big Ten looks to be very strong this year with Indiana and Michigan leading the way.  The Hoosiers have been picked by many as a Final Four favorite and they are lead by pre-season All-American Cody Zeller.  Michigan is currently undefeated and sits at number 2 in both polls.  Indiana has suffered only 1 loss and is currently ranked #5 in both polls.  Minnesota, Ohio State, and Illinois also find themselves ranked in the top 15 in both polls.  Michigan State is also ranked and brings the total to 6 ranked teams from the Big Ten.
2. Big East
The Big East is always a basketball powerhouse and this season will be no different.  They also currently feature 6 teams in the top 25 but that is somewhat to be expected given the conference has 15 teams.  There may be more contenders in the Big East than any other conference but I just feel the Big Ten has the most talent from top to bottom.  Syracuse, Cincinnati, and Louisville all find themselves in the top 10 and all 3 should contend for top seeds come tournament time.
3. ACC
The ACC is down this year but their top team is still a championship contender.  Hard to imagine there will ever be a year where Duke isn't in the top 25 and once again they can be found at #1 in the country.  I think that there are some sleepers in this conference but we really won't know who they are until conference play begins.  UNC could be a threat but talent is down in Chapel Hill this year.  N.C. State is currently ranked but I think this team is just another middle of the pack tournament team.  Perhaps Maryland proves to be a real threat after a light early season schedule.
4. Big XII
Kansas, Oklahoma State, and Kansas State are the 3 ranked teams from this conference and they represent the 3 best teams based on talent.  The Big XII has gone through a lot of changes over the last few years and the departure of Missouri really hurts the conference as a basketball conference.  The conference is solid from top to bottom but I don't believe anyone other than Kansas could compete for a spot in the Final Four.  Look for Kansas to steamroll through this conference.

5. SEC
It was a toss up between the Big XII and the SEC for 4th and 5th in my conference power rankings.  Both conferences are very similar this year.  I think that the SEC is solid like the Big XII but I'm not sure how many, if any, team has what it takes to make it to Atlanta for the Final Four.  Missouri looked great against Illinois over the weekend but I'm not sure how they stack up against other top teams.  Illinois has yet to prove what their potential is this year.  Florida has a talented back court but I think the team lacks depth overall.  Kentucky is defending champ but they are very young and very raw.
6. PAC 12
The Pac 12 is always one of the hardest conferences to gauge.  The one absolute in this conference is Arizona.  The Wildcats have yet to lose a game and have registered wins against 2 top 25 opponents in Florida and San Diego State.  Oregon and Arizona State look to be decent this year but the second tier of this conference is more like the third or fourth tier of the top 2 or 3 conferences right now.
Quick Picks
As a parting gift I present my prediction for #1 seeds come NCAA Tournament time.
Duke, Syracuse, Indiana, Kansas
Happy New Year!
Written by: Craig Kibler