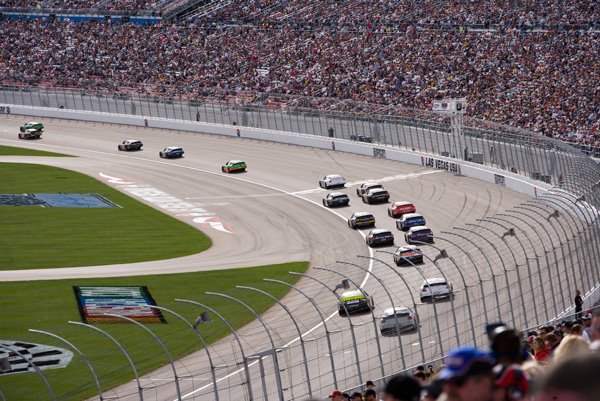 One of the most popular races on the NASCAR Sprint Cup series is the Kobalt Tools 400 at Las Vegas Motor Speedway.  Las Vegas is also one of the biggest tour attractions in the country.  Combining the natural excitement of a trip to Vegas and the thrill of stock car racing creates a recipe for an incredible experience.  Lucky for NASCAR fans that the race takes place on March 10, 2013 so the sun shouldn't be too intense for patrons attending the race.
Las Vegas: By the Numbers
First Race - March 1, 1998
First Winner - Mark Martin
2012 Winner - Tony Stewart*
Most Wins - 4, Jimmie Johnson* (2005-07, 2010)
Laps - 267
Miles - 400.5
*Tony Stewart's 2012 Kobalt Tools 400 victory scratched another track off his list.  There are now only 2 tracks that the 3 time champion has not won at.  (Darlington & Kentucky)
*Jimme Johnson is 1 of 3 drivers to win this event in consecutive years.  Jeff Burton did it first in 1999 & 2000, and Matt Kenseth did it from 03-04.
Playing The Odds
Since this week's featured blog focuses on the 2013 Kobalt Tools 400, we will also assign the odds for the 15 drivers with the best chance to win the championship next season.  These odds come directly from the Wynn Hotel & Casino in Las Vegas.
1. Jimmie Johnson - 7/2
2. Denny Hamlin - 7/1
3. Kyle Busch - 8/1
4. Clint Bowyer - 9/1
5. Tony Stewart - 10/1
6. Matt Kenseth - 10/1
7. Jeff Gordon - 11/1
8. Brad Keselowski - 11/1
9. Kasey Kahne - 12/1
10. Carl Edwards - 14/1
11. Greg Biffle - 14/1
12. Dale Earnhardt Jr. - 15/1
13. Kevin Harvick - 16/1
14. Martin Truex Jr. - 22/1
15. Jamie McMurray - 30/1
I would agree with this assessment for the most part.  I personally would have assigned better odds for Tony Stewart but these odds seem pretty legitimate otherwise.  I am little surprised that Carl Edwards is ranked so low but he is coming off a season where he struggled throughout.  It will be interesting to see if he can turn things around in 2013.  Perhaps he can score his second career victory at Las Vegas Motor Speedway to get his 2013 season going in the right direction.  Edwards should have a pretty good opportunity with a career average finish of 10.25, which ranks him second all-time among drivers.
Parting Thoughts
The winner of this race has gone on to win the Sprint Cup championship in 5 out of the 15 seasons that the Sprint Cup has run at Las Vegas Motor Speedway.  The drivers are as follows:
Jeff Gordon (2001), Matt Kenseth (2003), Jimmie Johnson (2006-07, 2010)
This year's champion Brad Kesolowski has never finished higher than 26th position in 4 career starts.
Jimmie Johnson leads all drivers with an average finish of 9.82 in 11 career starts.
Written by: Craig Kibler