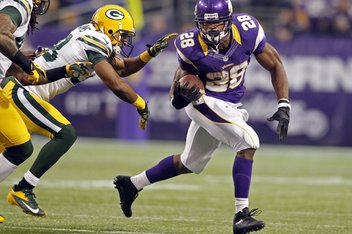 The grind of the NFL regular season has come to an end.  The slates have been cleared and nothing from the regular season matters any more.  This is what is known as "crunch time".  We are now in the 2 minute drill of the NFL season and its win or go home.  It is hard to believe that this incredible season is already over.  There were stories of triumph, episodes of tragedy, as well as many amazing achievements in 2012.  One of the most intriguing stories this season has been the success of 3 rookie quarterbacks.
The first and second overall picks in last year's draft have already brought their teams to the post-season.  Andrew Luck and Robert Griffin III have been tremendous for their teams but ROY honors might go to third rounder Russell Wilson in Seattle.  All three sensations will be in action on Wild Card weekend including a showdown between RG3 and Wilson in Landover, MD.
Here is a detailed look at the NFL Playoff games this weekend and a look ahead to Divisional match-ups.
Wild Card - Saturday, January 5
Cincinnati Bengals @ Houston Texans
Reliant Stadium - Houston, TX
4:30 PM (ET) on NBC
Minnesota Vikings @ Green Bay Packers
Lambeau Field - Green Bay, WI
8:00 PM (ET) on NBC
Wild Card - Sunday, January 6
Indianapolis Colts @ Baltimore Ravens
M&T Bank Stadium - Baltimore, MD
1:00 PM (ET) on CBS
Seattle Seahawks @ Washington Redskins
FedEx Field - Landover, MD
4:30 PM (ET) on FOX
Divisional - Saturday, January 12
Bengals/Ravens/Colts @ Denver Broncos
Sports Authority Field - Denver, CO
4:30 PM (ET) on CBS
Packers/Redskins/Seahawks @ San Francisco 49ers
Candlestick Park - San Francisco, CA
8:00 PM (ET) on FOX
Divisional - Sunday, January 13
Redskins/Seahawks/Vikings @ Atlanta Falcons
Georgia Dome - Atlanta, GA
1:00 PM (ET) on FOX
Texans/Ravens/Colts @ New England Patriots
Gillette Stadium - Foxborough, MA
4:30 PM (ET) on CBS
Take a look folks.  This is what is lined up for the next couple of weekends.  I think it is pretty exciting to see all the playoff match-ups coming our way.  It is really hard to pick my favorite game this weekend but I think I'm going to go with the Seattle and Washington game.  It is a rare feat for a rookie QB to lead his team to a playoff berth and in this case we have 2 of them facing off against each other.  Both teams feature a similar game plan and I think the outcome is a coin flip.  This game might determine which QB has more confidence moving forward and down the line.
It will also be interesting to see how the Texans respond to a less than momentous finish to their regular season.  The Texans appeared to be the strongest team in the AFC a few weeks ago but things might be coming undone at the worst time.  Cincinnati has now made it to the playoffs in back-to-back years for the first time in a while but this is a team that Texans should beat easily if they play like the Texans of the first 12 games.  On the other side, Marvin Lewis is looking for his first playoff victory.  This also a rematch of last year's Wild Card game.  The Texans won the battle of the back-up QB's in 2012 but both starters will be healthy and in action for Saturday's rematch.
Winners?
I think 3 of the games this weekend are easy to pick and I am fickle on the fourth.  Nonetheless, here are my picks for the games this weekend.
Texans over Bengals
Packers over Vikings
Ravens over Colts
Seahawks over Redskins
Hint: The hard game to pick was the Seattle and Redskins game.
Enjoy the games this weekend and I will check back in next weekend for a NFL Playoff update.
Written by: Craig Kibler