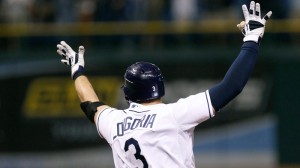 In late March 30 teams started their journey towards earning a playoff spot and ultimately winning the World Series.  After a total of 4,860 games, all the stats have been recorded and the tale of the regular season comes to a end.  This season was full of milestones, wild finishes, and lots of really good pitching.  The last few weeks of the season provided fans with a great preview of what is to come this October.  At the end of the day we are left looking at 8 teams who could possibly win the fall classic.*
*Point To Ponder:  In the last 3 seasons there have been 42 starting pitchers (5 pitchers repeated: 3 pitchers repeated twice & 2 repeated 3 times)  who have finished the season with an ERA under 3.  The entire league only had 50 pitchers reach this feat 50 times in the 9 years prior.
It took until the final day of the regular season to complete the playoff picture.  The St. Louis Cardinals and Tampa Bay Rays pulled off amazing runs to capture the Wild Card in their respective leagues.  Evan Longoria provided one of the most thrilling moments of the season when he clinched a playoff spot for the Rays with a walk-off home run in the 12th inning of game #162.  The long ball capped off an unbelievable comeback that started in the 8th inning with the Rays down 7 runs to the AL East champion New York Yankees.
The rest of the playoff landscape is shaping up nicely with some intriguing match-ups.  In the National League, the Milwaukee Brewers will have home field advantage and they will face the Arizona Diamondbacks in the divisional round.  The other National League series will feature the hot St. Louis Cardinals and World Series favorite Philadelphia Phillies.  In the American League, the previously mentioned Tampa Bay Rays will play the AL West Champion Texas Rangers and the New York Yankees will square off against the Central division champion Detroit Tigers.
Anything can happen in baseball when the calendar flips to October.  Who will go down as a hero and who will leave the field with heads hung low?  It all starts tomorrow and Sports Traveler has tickets and travel packages available to any MLB playoff game.  Our nation's past-time is preparing for the most exciting moments of this historical season.  Catch all the action for any playoff game with tickets from Sports Traveler.  Need hotel accommodations too?  Don't worry.  We have you covered all the way to the World Series with travel packages that include comfortable lodging in any playoff city, tickets to the game, and more.  Check our MLB playoff schedule and purchase your tickets or travel package today!
Written by: Craig Kibler