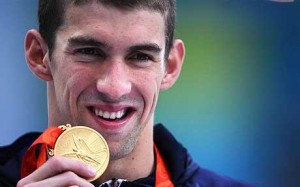 Only 310 days until the London Olympics begin!  The countdown continues for the thousands of patrons and athletes across the globe who anxiously await the arrival of the Summer Games.  At Sports Traveler we are also getting excited for what looks to be a very special Olympics.  Soon we will see increasingly more news stories on high profile competitors like Michael Phelps, Usain Bolt, and the U.S. Men's Basketball team.
Two of the biggest story lines for any country will be wold's fastest man Usain Bolt and the human fish Michael Phelps.  Both athletes have already achieved athlete immortality, but their legend can grow next summer.  Last Olympics, Jamaican sprinter Bolt took the world by storm as he coasted across the finish line while breaking the world record in the 100m dash.  In that same Olympics, Michael Phelps proceeded to win more Olympic gold medals than anyone in Olympic history.  We can't expect Bolt to break the record again, but after his DQ during the World Championships a few weeks ago we can expect him to be running with a chip on his shoulder.  During that race he would've had a tail wind that could have provided him with an opportunity to break his own world record.
At this point in his career Phelps has little left to accomplish.  He has already set 39 world records, 6 more then Mark Spitz, and has 16 Olympic medals.  With 2 more medals he will tie Larisa Latynina for the record for most medals.  It figures to be a historical Summer Olympics and you can be there to catch all the action.
At Sports Traveler we travel packages available right now for trips to the 2012 London Olympics.  Choose from several different hotel and travel date options.  You can also book side trips to visit historical sites in Ireland, Scotland, Wales, and other European locations.  The Summer Olympics may only come around every 4 years, but you can't count on Sports Traveler every day to offer you the best deals on tickets and travel packages to events around the world.  Book your trip to the 2012 London Summer Olympics today!
Written by: Craig Kibler