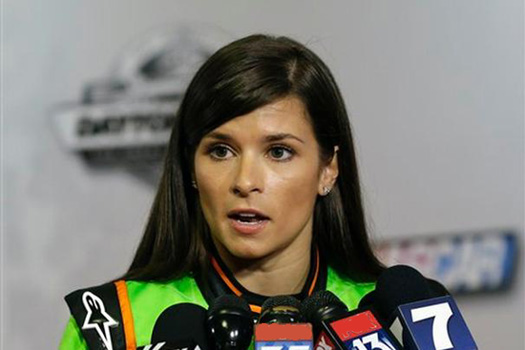 History was made this weekend when Danica Patrick became the first woman to qualify on the pole position for the Daytona 500 or any other NASCAR Sprint Cup race.  Her first full Sprint Cup season could not be starting out any better.  Congrats to Danica and hopefully this serves as inspiration to women everywhere.  The racing world has been waiting for Danica to make her big splash and it might finally be here.  She has a realistic shot at winning the Daytona 500 and what a story that would be.  It seems her goal is to be good enough to challenge for a championship but her next hurdle is just to finish consistently in the Sprint and possibly win a race.  Thankfully Danica has a great team and owner  who has knowledge of what it takes to be successful in open and closed wheel racing.
Danica won't want to hear this but history tells us she won't win on Sunday.  Winning the pole is normally a nice accomplishment and comes with a nice paycheck but it is by no means a indicator of who will win the race.  The last Daytona 500 pole winner to win the race was current ESPN analyst Dale Jarrett in 2000.  That was DJ's third and he is one of just 5 drivers to win the 500 3 times (Petty, Gordon, Allison, Yarborough).  Since the opening race in 1959, the pole winner has only won the actual race on 8 occasions.
It is also important to mention that Dale Earnhardt, Jr. won the 2004 Daytona 500 from the first position but he was not the pole winner.  Greg Biffle won the pole but his engine change bumped him to the back of the pack and promoted Junior to the lead spot.  So technically that victory does not count as a win from the point even though he did start in the pole position.  The lesson to be learned here is that it is very difficult to win the Dayton 500 from the pole.  The biggest factor is the lack of cars during qualifying.  The speed of the car and the way it handles is much different on an empty superspeedway track than a full one.  At Talladega and Daytona the pole winning speeds do not translate in the actual race because of the draft.  The biggest advantage to starting the front is avoiding major wrecks early on.  The big one can still happen at the front of the pack but it is far less likely.
Danica By The Numbers
This is the track record that Danica brings to the table.  As you can see it leaves a lot to be desired.  I also think it is safe to say that there are very few drivers who would be competing in the Sprint Cup with such a sub par Nationwide career.  Take a look at the numbers below so you have a idea of what to realistically expect from Patrick this season.
Nationwide Series
Starts:  58
Wins:  0
Top 5's:  1
Top 10's:  4
Poles:  1
DNF's: 11
Avg. Finish:  20.6
Avg. Start:  18.6
Sprint Cup 
Starts:  10
Wins:  0
Top 5's:  0
Top 10's:  0
Poles:  0
DNF's:  2
Avg. Finish:  28.3
Avg. Start:  36.1
After looking at the stats you can see that numbers don't lie and Danica has made a very mediocre start to her NASCAR career and that might be a generous statement.  The good news for Danica is that her arrow is currently pointing straight up.  By winning the pole she has proved that she at least knows how to learn the groove of a track.  Granted Daytona is not a complicated track to figure out but it shows progress and most importantly it shows she has confidence.  Both in her driving and her team.  Success is not contingent on these things alone but it is practically impossible without them.
I'm predicting that Danica will not win but I am confident that she will finish the race in the top 20.  That might not sound like much after winning the pole but I think she would be perfectly happy with a top 20 finish in the first race of her first full Sprint Cup season.  I'm going with the 3 time Daytona 500 winner and 4 time Sprint champion Jeff Gordon to win his fourth.  Still some racing and fine tuning before the main event on Sunday so anything can happen between now and then.  Until then, good luck Danica and be well fellow race fans.
Written By:  Craig Kibler