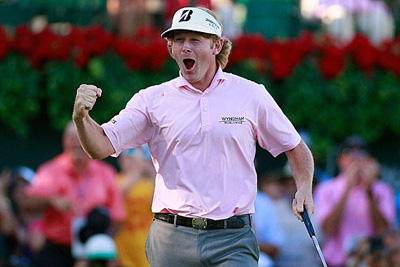 It has been a hot minute since we checked in with the world of golf so this week we are going to reconnect with that pesky little white ball.  There has been some early excitement thus far in the PGA season.  Tiger has already pulled off another dominating win at Torrey Pines and Phil Mickelson was a lipper away from breaking 60 in the first round of the Waste Management Phoenix Open.
We are just 6 tournaments into this young season and the action picked up again this past weekend at the famous Pebble Beach Resort.  The AT&T Pebble Beach Pro-Am has been a tradition since the mid 1900's.  In modern times it still a great tournament that offers up some entertainment with celebrities and gives golfers a chance to begin fine tuning for the Master's.  The defending champion of this event was Phil Mickelson but he was unable to take the win to give him back-to-back victories in 2013.  Instead, Brandt Snedeker took the win and has put together a nice run in the last 3 weeks.  Snedeker finished second to Tiger at Torrey Pines and Phil at the Phoenix Open.  Pretty impressive 3 tournament run.  One might goes as far to say that Brandt is a favorite heading into the Masters this year.  I won't go that far, but some might.  So in light of this recent surge from Snedeker, lets take a look at the current world rankings in golf.
Top 5
1. Rory McIlroy
2. Tiger Woods
3. Luke Donald
4. Brandt Snedeker
5. Justin Rose
Other Notables:  9. Bubba Watson, 10. Phil Mickelson
One Step Closer to Augusta
Heading into the Masters I am personally interested to see how Bubba Watson plays.  To me Watson is still an unknown when it comes to his potential and legitimacy as a top 10 golfer on the PGA Tour.  I am not convinced that Bubba is here to stay and I'm not sure he has what it takes to win more than 1 major.  I like his style and I find his game fun to watch but I need more time to accurately judge Mr. Watson.
Is it just me or has the Tiger buzz gone away a little bit.  Granted all things relevant in sports is managed by ESPN (sarcasm), but where is the Tiger talk.  Have we started to move on from Tiger?  This year we appear to be less interested in Tiger and whether or not he can win another major.  I think that the "greatness" of Tiger is starting to wear off.  When his personal life came tumbling down I think we all expected some delay in a return to dominance on the course but there has been much more than a delay.  Its like meeting someone for a date and they haven't arrived yet.  Depending on the date, usually there is about a 15 minute grace period where the person could just be running late.  After 20 minutes you start to think I'm being stood up and after 30 minutes its pretty much a guarantee.  In other words, we are about 15 minutes in to our wait with Tiger Woods.  Last year I blogged that he might not ever win another major and I believed that was a real possibility as I do now.  Like Bubba Watson, I want things to work out for Tiger but I just don't know if its in the cards.  One thing is for certain.  Golf needs these 2 men to be at the top of their game.
The future appears to be solely in the hands of Rory McIlroy but I think he still has plenty to prove as well.  Rory's talent level is not in question and neither is his ability to win.  However, I question his longevity at the top of this game.  I know he is young and his arrow is pointing straight up but this is a hard game to be the best and stay there.  Historically speaking, only legends like Arnold Palmer, Jack, Tiger, and a few others have had that ability to stay at the top for a long time.  I think the future of golf is up in the air right now but it sure is exciting.  The influx of young talent on the Tour is at an all-time high and I am very encouraged about the days ahead of us.  I think the winner of the Masters will give us a perfect indication of where the sport is heading.  Until then be well my fellow golfing companions.
Written By: Craig Kibler