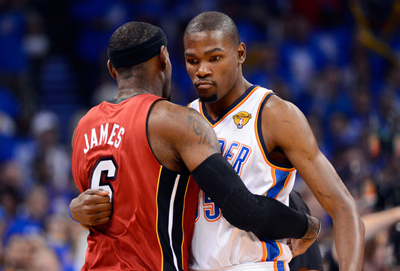 This week the NBA regular season began with several early season marquis match-ups.  It is a little too early for much meaning to come from these games but the bottom line is the NBA has returned.  It is becoming increasingly more obvious that there will be no NHL season so the NBA will have the undivided attention of most sports fans.  Of course the NFL is only half done but NBA doesn't really interfere with football.  Which is perfect for a sports nut like myself.
So let me welcome back the NBA with brief guide to the 2013 regular season.  There is a lot oh hype going around several teams this year and I'm here to clear up a few things and let you know the real story when it comes to NBA basketball in 2012-13.  Follow the bullet points to all the answers for your upcoming NBA season.
The OKC Thunder trade was necessary and will help them in the long run
James Harden will produce but the Rockets will not
Steve Nash will average less then 9 assists per game
At least 1 Star will be traded this season (LaMarcus Aldridge?)
Derrick Rose should not play this year
The new All-Star Game voting is unfair
San Antonio will defy age yet again with another #1 seed
Kevin Durant will win 4th straight scoring title
Miami Heat will go back-to-back
Knicks will fire their head coach again
Anthony Davis will win ROY
Tom Thibodeau will scream a lot
LeBron James wins MVP #4
This season is sure to be full of excitement and drama.  The good news is we won't have to listen to Dwight Howard drama all season long.  Or will we??  I sure hope not.  He did already mention that he wishes the trade to the Nets would have worked out.  Really Dwight?  Just be quiet.  In the end I think he will happily stay in Los Angeles.  Big market, big money, and lots of history.  Lets just hope the Lakers don't tank and bring up Howard drama 2.0.
The big questions heading into this season will be how will OKC play without Harden?  Can the Rockets make some noise on the court after making plenty off it?  Will Rose play for the Bulls this season?  Can Amar'e ever produce like he did in Phoenix?  Will the Nets be able to compete with the big dogs in the East?  And how good can the Heat be?
Answers In Order:  The Thunder will be fine, not in the West, probably but not until late, not ever again, yes to an extent, and really really good.
One thing is clear when you look at all the teams across the NBA.  The Heat are the best.  No question.  The rest of the NBA appears to be up for grabs.  I love having things seem so unclear.  It is much more entertaining as a sports fan to watch things unfold that way.  One year after the lockout the NBA appears to alive and well.  Last season counted but it almost deserves an asterisk with the shortened season.  Now we are back to a full 82 game season.  Game on men.
Written by: Craig Kibler