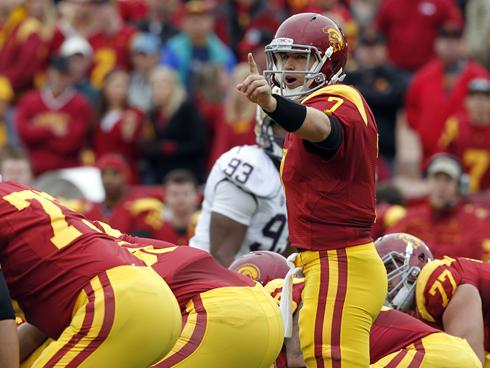 Football season is so close I can taste it.  Every year around this time you can feel the excitement in the sports community.  Football is by far the most popular sport in this country and everyone has a favorite pro team and a school that they are passionate about.  In the world of college football there are high expectations right now on many different campuses across the country.  [So called] Experts have already begun making predictions for teams and individual awards.  At this moment everything is up in the air.
Which teams or players will surprise you this season?  Who will win the Heisman?  Which teams will meet in the National Championship game?  These are all questions that everyone, including myself, can take a stab at answering but nothing is certain right now.  We have reached the calm before the storm.  In a few short weeks the thunderous cheers of tens of thousands will echo in college stadium across America.  But before we get to opening weekend,  here is a list of 10 things you should know about college football as we head into the 2012 regular season.
*The order of this list does not determine value or importance.  The numbers are simply there for organization.
Things To Know In 2012
1.  Michigan will make back-to-back BCS games for the first time since the 03-04 and 04-05 seasons.
2.  People will still complain that a 4 team playoff is not good enough.
3.  USC will make a grand return to bowl eligibility by claiming a spot in the BCS Championship game.
4.  Conference Moves:
- West Virginia & TCU move to the Big XII
- Texas A&M & Missouri move to the SEC
- Temple moves to the Big East
5.  LSU or Alabama will make a repeat appearance in the BCS Championship game.
6.  Denard Robinson will win the Heisman over Monte Ball and Matt Barkley.
7.  Monte Ball will achieve the rare accomplishment of leading the nation in rushing in back-to-back seasons.
8.  Boise State will not contend for a BCS game.
9.  Notre Dame will finish below .500.
10.  Eight FBS teams are currently ineligible to make a bowl game in 2012-13.
- North Carolina  (29 bowl appearances all-time: 13-16)
- Penn State  (38 bowl appearances all-time: 21-15-2)
- Ohio State  (42 bowl appearances all-time: 19-23)
- Central Florida  (4 bowl appearances all-time: 1-3)
- Massachusetts  (2 bowl appearances all-time: 1-1)
- South Alabama  (0 bowl appearances all-time)
- Texas State  (2 postseason appearances all-time: 2-0)
- UTSA  (0 bowl appearances all-time)
The wait is almost over.  Soon the bands will be marching and the student sections will be going crazy.  Don't forget that season will kick off again with the annual Cowboys Classic in Arlington, TX.  This year the highly publicized game at Cowboys Stadium will feature the Wolverines of Michigan and the Alabama Crimson Tide.  I honestly can;t imagine a more historically intriguing match-up.  Should be a good game and a great season to come.  What will be the great moments of 2012-13?  Will it top 2011-12?...  TBD
Written by: Craig Kibler