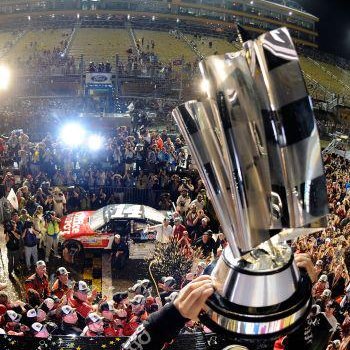 Only 2 races remain until the Sprint Cup Chase for the Cup kick off at Chicagoland Speedway in Joliet, IL.  Hard to imagine that we have already come this far in 2012.  This season has been an exciting one and different than those of recent past.  For the first time in a while it seems that several drivers not named Jimmie Johnson or Tony Stewart have a chance to win the Cup this year.  A lot can change over the next 3 months but if all goes well we could be looking at another exciting finish to the season at the Ford EcoBoost 400 in Miami, FL.
Coming to the last race of 2011 it was a two horse race for the Cup.  Carl Edwards and Tony Stewart were practically dead even and at the end of the race they shared the exact same point total.  Edwards had a 3 point lead at the beginning of the race, finished second, and lost the championship in a tie-breaker situation.  What a rough ride for Edwards who has suffered since the race last November.  On the other hand Tony Stewart provided the performance he needed to win the race and the championship.  As a NASCAR fan you really couldn't have asked for a better finish to the 2011 season.  With no clear favorite in 2012, I am excited for the possibilities of another incredible finale at Homestead Speedway.
Food For Thought
Tony Stewart won the first two races in Miami and his victory last year tied him with Greg Biffle for most wins at Homestead Speedway.
Drivers qualified for the Chase with a Ford 400 victory - Denny Hamlin, Tony Stewart, Greg Biffle, & Matt Kenseth
On A Side Note
This summer Lebron James celebrated his first NBA Championship as a member of the Miami Heat.  When he spoke those famous words, "I'm taking my talents to South Beach", did he realize that every year NASCAR brings it's talents to Homestead Speedway for the crowning of a champion?  So regardless of the success of James & Company, a Sprint Cup driver will celebrate a championship in Miami every year.
Lebron James is the biggest name in professional basketball right now and has been for years.  This past season he got his chance to shine and capture that elusive NBA title in his 9th season.  Can Dale Jr accomplish the same feat as Lebron this season?  Now there are obvious differences between Lebron and Junior but both carry a lot of fan power in both directions.  For Junior it is what it is.  Being the son of arguably the sport's best driver ever is no easy task.  Like James, Junior has been expected to win from the beginning.  I think the expectations were unfair to both these athletes at the time they entered their respective sports but such is the world of professional sports.
Lebron showed the world that he could live up to what was expected of him after so many of us had labeled him a disappointment in terms of championships.  Now Junior has a chance to make his own legacy.  One that isn't attached to his fathers.  For Junior it would mean so much more than a championship.  Junior can finally make his own chapter in NASCAR history instead of being a footnote of his father's.  Do you think he can do it?
Written by: Craig Kibler