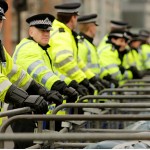 This past Tuesday police officials in London began conducting security tests for the 2012 Summer Olympics.  In order to prepare for every situation the London police have teamed up with the Met, UK Border Agency, and other surrounding police forces.  At this point there has been 600 million pounds set aside for the operations of all security during the 2012 Olympics.  The 600 million is just a piece of the reported 9.3 billion pounds that is required to host the 2012 Summer Games.  It has also been reported that the Olympic Security committee will use up to 12,000 officers at the peak of Olympic traffic.
In their attempt to prepare for anything, members of Olympic security will be trained in several live counter-terrorism exercises.  This announcement comes at a time where the threat level for an international terrorist attack is currently at severe.  Given the current threat level I would call these tests and exercises an absolute necessity.   Many experts are claiming that Islamic Fundamentalist groups will target the London Olympics.
This thought stems from a past attack on the public transit in London where 52 people were killed in July 2005.  In order to prevent any similar attack the Olympic security committee will also treat local rail transportation like airline travel.  Officers will set up at stations to search and screen Olympic spectators and travelers.  This strategy is similar to that of the Beijing Olympics, and the 2008 Summer Olympics were completed without any notable security incidents.  Everything coming from the Home Department seems to state the London will be prepared and ready for any security risk that might be posed during the 2012 London Games.
Don't forget that Sports Traveler has a great selection of  Olympic travel packages.  Travel to London and stay in outstanding lodging and experience the Olympics the best way possible.  Let Sports Traveler send you on the trip of a lifetime to see the 2012 Summer Games!  So most importantly be safe and always remember that you can count on Sports Traveler to be your best resource for sports travel.
Written by: Craig Kibler