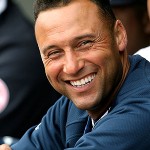 In baseball the phrase "sure thing" is reserved for a select few.  Many baseball players are drafted out of high school and are often praised for their skills from a very young age.  The translation is not easy for scouts to be able to accurately predict MLB superstars.  Occasionally we run across "can't miss" players like Joe Mauer or Derek Jeter.  As a high school athlete Derek was a highly touted prospect whose accolades were only matched by his skills on the baseball field.  In 1992 Derek Jeter received many national high school awards that included Gatorade's Best Male Athlete.  He then went on to be selected by the Yankees in the 1992 draft where he made an impact almost immediately.  He batted .295 with 5 homers in his first minor league season and then gave a great encore performance the next season and was awarded Minor League Player of the Year in 1994.  Fast forward to 2011.
This past Saturday Derek Jeter became the 28th player in MLB history to register 3000 hits when he hit a home run in the 3rd inning of a game where he went 5 for 5.  Derek Jeter hit a laser on a full count from electric Rays pitcher David Price to put him into the 3000 hit club.  He became only the second player ever (Wade Boggs) to go yard on hit number 3000.
In the post steroids age players like Derek Jeter will be glamorized for their "clean" reputation along with their superb accomplishments on the field.  It seems poetic that a hitter like Jeter would get a home run for 3000 in a generation full of power hitters and steroid users.
At this moment there are currently only 21 shortstops in the MLB Hall of Fame.  Derek Jeter will certainly be a first ballot Hall of Famer.  A crazy stat to think about it when he goes into the Hall of Fame is he will be either the 21st or 22nd (Omar Vizquel) shortstop, but he will also be the 23rd player to wear a Yankee cap in the Hall.  It is fair to say the Yankees have had a few good players.  The Yankee legacy (and money) is probably what kept Jeter in New York all these years, but in a time of crafty acquisitions and lucrative free agent markets it is very impressive to see someone of Jeter's caliber stay with the same team for a whole career.  Jim Rice (Boston Red Sox, '74 - '89) was the last player to play his entire career for the same team and be inducted into the Hall of Fame (2009).  As Jeter's career winds down he will be remembered for the 3 World Series victories, the 3000 hits, the incredible defense, and an unforgettable smile.  Derek Jeter was "The" Yankee of this generation.  For most teams that might not mean much but we are talking about the Yankees here.  It is unclear whether Jeter will retire at the end of the year but his absence from this year's All-Star game might suggest that the end is soon.  And with nothing left to prove who can blame him?
If you want a chance to see one of the greatest players of our generation one more time, then look to Sports Traveler to handle all of your booking needs.  Whether you are just looking for New York Yankees tickets or a New York Yankees travel package, Sports Traveler is your best resource for sports travel.  Any true baseball fan can appreciate the wonderful career of Derek Jeter.  Don't miss out on a final chance to see a Yankee legend.
Written by: Craig Kibler