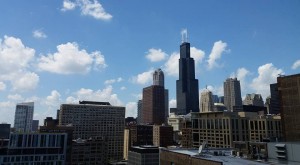 A sea of red was all I could see as I shuffled into the Intercontinental Ballroom of the Hilton Chicago, the excitement growing as the fans waited for the opening ceremonies of the 2015 Chicago Blackhawks convention. I decided to make the trip this year to get a more personal glimpse of my favorite team in a more casual setting. The weekend began with a red carpet arrival of Blackhawks stars and alumni from years past, all of which greeted fans lining the runaway. At this point I could tell this was not going to be your typical team convention.
The rest of the weekend was a mix of autograph signings, photo ops, and panels among Blackhawks teammates and staff. A few of my personal favorites included the "Showtime" panel which included hockey legend Denis Savard, and current NHL All-Star Patrick Kane. Both players discussed their style of play and NHL careers, including the one year Savard coached Kane on the Blackhawks. The highlight of the panel was Savard explaining how he personally engraved the inside of the Stanley Cup with his name during his one day with the Stanley Cup. I began to wonder if anyone had ever noticed that engraving within the Stanley Cup itself.
As panels continued through the weekend, a wide variety of players from the past and present passed through, truly displaying the renaissance that the team has experienced in recent years. There were even appearances from new players including Viktor Tikhonov, the grandson of famed Soviet Olympic coach Viktor Vasilyevich Tikhonov who coached the 1980, 1984, 1988, and 1992 Soviet teams. Viktor Tikhonov recalled learning his hockey skills through unique training exercises including juggling pucks while skating around the ice rink as a child.
I even had a good laugh as Second City, Chicago's premiere comedy improv club, performed with Blackhawks players in an hour-long show. It is quite a sight to see your favorite players act like private detectives, human puppeteers, and an assortment of inanimate objects. Of course these players probably should not quit their day jobs; there are quite enough improv comedians out there.
The weekend was a blast and it reminded me of the passion hockey fans have for their hometown team. I am amazed we are only 2 months from the start of NHL training camps, and I look forward to see my Blackhawks hit the ice to defend their title! We offer travel packages, tickets, and luxury suites for all Blackhawks games. If you plan to see your favorite team, or need help planning your next hockey adventure feel free to give the Sports Traveler office a call.