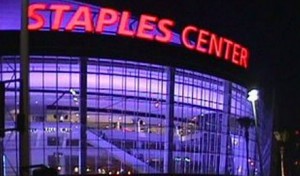 I haven't been to the Staples Center for a few years, so when I had a trade show to attend at the Los Angeles Convention Center I was in! The convention center is part of an area called "LA Live" that features an impressive array of hotels, restaurants, bars, and entertainment venues including the Staples Center. The Staples Center is home to the LA Lakers and LA Clippers NBA teams as well as the LA Kings NHL team.
If you are heading to the area, I highly recommend staying at the JW Marriott LA Live. The hotel has large modern rooms, oversized bathrooms, and a lovely pool area with a hot tub. The views from the rooms are also fantastic. My room faced the famous Hollywood sign in the hills. Try to upgrade your room to the Executive Club level and get your breakfast, wine-time, evening appetizers and desserts served in the club's 4th floor. It's well worth the upgrade cost.
It seems most everything is within walking distance to the LA Live area. The shopping district is 6 blocks away and there is also affordable shopping nearby including a Target. Dining options are plentiful with over 22 options to choose from. Affordable options included Rock n Fish. Higher end options include Wolf Gang Pucks Bar and Grill. I loved LA Market, located in the lobby of the JW. It's not your typical hotel restaurant and had a great seasonal menu. I had a delicious grilled Halibut sandwich.
If you are staying on a non-game day, take in a movie or head over to the Grammy Museum. If you get the desire to head to the beach, take the #10 bus (The Big Blue Bus, $2 one-way) over to Santa Monica or rent a car for the day from Hertz, located in the lower level of the JW Marriott.
The Staples Center is a great venue but try to sit on the first level, if at all possible. The distance between the first levels and the upper deck is huge. If this is your one and only trip to a game, sit low.
LAX airport transfer was a $47.50 cab fare one-way or take the Super Shuttle for $16 one-way, shared ride.
I'd love to help you plan your sports trip to LA. Give our office a call at 1-888-654-7755!