The Blitz 53 at Hard Rock Cafe Atlanta
The Blitz 53 Super Bowl Party - Feb. 3, 2019

Experience the VIP hospitality at the Atlanta Super Bowl! Party pre-game with right near the gates of the Mercedes-Benz Stadium. Enjoy all-you-can-eat top quality food and top shelf liquor plus NFL player appearances and live entertainment.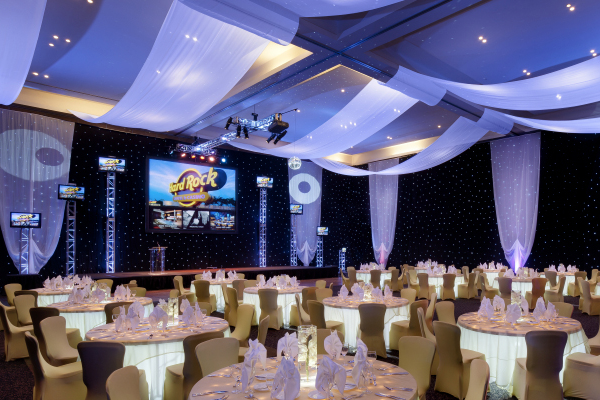 About The Blitz 53.
It is the premier pre-game hospitality event at Super Bowl 53. Enjoy all-you-can eat buffet, premium liquor, beer, and wine. Former and current NFL player appearances, plus live entertainment! 4 hours in duration (1:00pm - 5:00pm). Super Bowl kickoff is 6:30pm ET.
Where is the party located?
We are located within walking distance to Mercedes-Benz Stadium at the Hard Rock Cafe Atlanta, in an indoor, climate controlled facility. Restrooms are indoors and on-site. Parking is available in neighboring lots.
Who can attend The Blitz 53?
Everyone! Our party is a family-friendly event with reserved tables available for groups. Food is served buffet style and there are servers for drinks at all tables. Children are allowed. Only those 21 years of age & older will be served alcohol.
New this year: Private Tables!
Do you have special clients or guests to entertain before the Super Bowl? The Blitz 53 now has private tables available for purchase in our new VIP area! These tables include all the inclusions of our general admission tickets, PLUS exclusive reserved seating at 8-top tables next to the Velvet Underground Main Stage! Be front and center for our NFL Player Interviews and live entertainment! Call for pricing details 1-888-654-7755.

Additional information. Our tailgate is un-branded and the only signage allowed is The Blitz 53 related. Feel free to host your most important clients at this annual pre-game hospitality party!
Call 1-888-654-7755 to make your reservations or book online.
Admission to The Blitz 53. Includes admission to the Super Bowl Pre-Game Party. Does not include game ticket.

Browse more Super Bowl Options
Want to witness Super Bowl 53?
Buy Tickets - Hospitality - Lodging Packages
Click here to begin planning