Kentucky Derby Tickets
Tickets On-Sale Now!
May 4, 2019 - Louisville, Kentucky - Churchill Downs
Buy Kentucky Derby Tickets for the 2019 Kentucky Derby and the Kentucky Oaks. The 2019 Kentucky Derby will take place at Churchill Downs in Louisville, Kentucky. Tickets to the Derby are some of the most coveted in all of horse racing.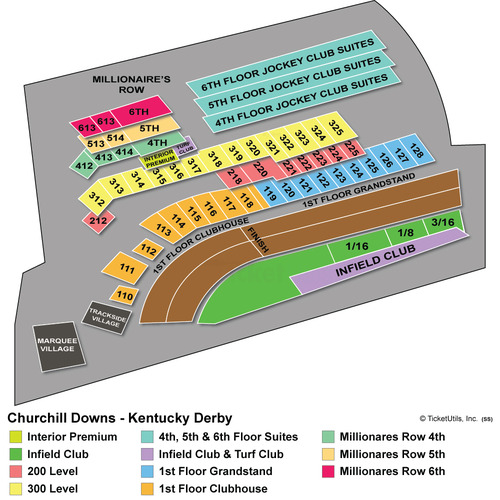 Choose from the following Derby ticket options:

1st Floor Grandstand: Travelers can expect to have clear views of the front stretch of Churchill Downs, however will not be able to see the entire track. This ticket is an excellent choice for travelers on a budget.

2nd Floor Grandstand: For the Kentucky Derby traveler who is on a budget, but wants elevated seating, a 2nd Floor Grandstand ticket is for you. Have a great view of the front stretch and a better view of the entire track. See the Kentucky Derby at an inexpensive price.

3rd Floor Grandstand: 3rd Floor Grandstand or Clubhouse Tickets provide an excellent view of the entire track for your enjoyment of the entire race. Some higher rows are covered by an overhang roof.

4th, 5th, 6th Floor Millionaires Row: Enjoy luxury Kentucky Derby tickets with premium seating on the 4th, 5th, or 6th Floor Millionaire's Row, the most exclusive at Churchill Downs. Fantastic views of the entire track plus exclusive VIP treatment! All tickets are at reserved tables. Step onto the balcony to view the races.

About Kentucky Derby Tickets
Purchase Tickets to the 2019 Kentucky Derby. Tickets to the Derby are some of the most coveted in all of sports. Whether you choose to sit in the Grandstand or the Clubhouse, the views of Churchill Downs are epic and historic.
When will I receive my Kentucky Derby Tickets?
All 2019 Kentucky Derby tickets will be shipped 1-2 weeks prior to the 2019 Derby.
Does Sports Traveler offer tickets to the 2019 Kentucky Oaks?
Yes! Inventory for the Kentucky Oaks will be available later this year, or you can call out office at 1-888-654-7755 for more details.