Summer Games
August 5-21, 2016 - Rio de Janeiro, Brazil
The 2016 Rio Summer Games will mark Sports Traveler's 8th Olympic Games assisting travelers from around the globe. Rio 2016 Travel Packages with hotel rooms in Rio during the Summer Games and transportation to the Olympic venues are included in every Rio Tour Package. Thousands of travelers have chosen Sports Traveler since 2000 to travel to the finest sporting events across the globe.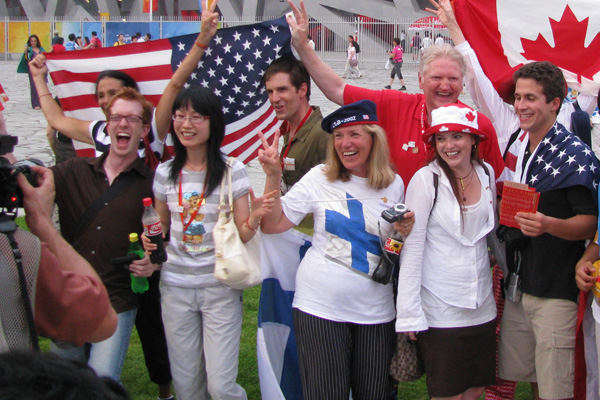 Planning a trip to Rio in 2016?
Sports Traveler Rio Travel Packages can include airfare to Rio de Janeiro, hotel lodging close to the Olympic venues and top beaches, ground transportation, sightseeing tours, and more!
About the Rio 2016 Games:
The 2016 Rio Games will be the first time Brazil and South America has hosted an Olympics and are the most anticipated Summer Games of all time.
Book your hotel in Rio with us!
Hotels will be limited in Rio de Janerio area during the games but we have secured access to several room blocks to accommodate our clients. Most hotel rooms will be in the Copacabana area.
How to plan your Rio 2016 trip:
We offer complete travel planning services to assist you on your once-in-a-lifetime trip to Brazil. The first step is to decide which Olympic events you would like to see, then let us plan your airfare to Rio, sightseeing tours, and lodging around those dates. Your Rio 2016 Travel Package includes hotel reservations in Rio in some of the best tourist-friendly areas. Travel to the venues will be provided by the Olympic Transportation System. Note: Most air carriers will allow flight reservations beginning 330 days prior to departure.
The offiical website for the 2016 Rio Games is www.rio2016.com. Sports Traveler base packages listed do not include tickets.
Rio Games Guide
Event Schedule
Customize Your Trip
2016 Rio Summer Games Guide

Where is the 2016 Summer Olympics? The 2016 Olympic Games will take place in Rio de Janeiro, Brazil. Most venues will be located about 40 miles from the famed Copacabana Beach and Ipanema Beach.
Traveling to Brazil: All U.S. Residents will require a valid passport and a Brazilian Visa to enter the country of Brazil. Visa's applications must be filled out after you secure your airline reservations. The cost of a Brazilian Tourist Visa is currently $160 per person. Sports Traveler has a full service travel desk that can assist you with booking your flight and obtaining your Brazilian Visa using our Visa Processing Service partner. Please call us to learn more.
Where to stay - What to see - How to get there: There will be 4 main venue areas for the 2016 Rio Games - Barra, Copacabana, Deodoro, and Maracana. Note that Soccer venues will also be in the neighboring cities Belo Horizonte, Brasilia, Manaus, Salvador, and Sao Paulo. These year marks the return of two sporting events, Golf and Rugby! Every seasoned Olympic Traveler knows the best way to get around the Olympic host city during the Games is to use the Olympic Transportation System. Every host city sets up a network of buses and trains to shuttle fans to and from the host venues. This system is free to use, as long as you have an Olympic ticket in your hand upon boarding. The transportation plan will be announced by the host city in time for the start of the Games.
All information listed is tenative and is subject to change.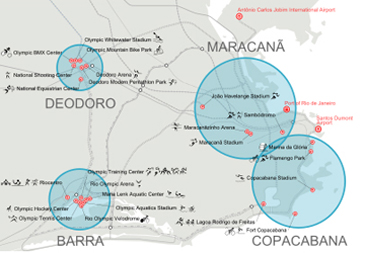 Barra:

Badminton
Basketball
Boxing
Diving
Fencing
Gymnastics
Handball
Judo
Taekwondo
Syncro Swimming
Swimming
Table Tennis
Tennis
Water Polo
Weightlifting
Wrestling

Copacabana:

Beach Volleyball
Canoe
Cycling (Road Course)
Rowing
Sailing
Swimming (Marathon)
Triathlon

Deodoro:

Basketball
BMX
Canoe
Equestrian
Field Hockey
Mountain Bike
Modern Pentathlon
Rugby
Shooting

Maracana:

Athletics (Track and Field)
Archery
Athletics (Marathon)
Football (Soccer)
Volleyball
Water Polo
Sports Traveler, LLC is NOT an official box office for the 2016 Rio Summer Olympics or the 2018 Winter Olympics. We are NOT affiliated with the United States Olympic Committee (USOC) or the International Olympic Committee (IOC). Sports Traveler is an independent travel provider that specializes in making travel arrangements to sold out sporting events world-wide. Any use of trademarked terms on any pages of our website is used solely for descriptive purposes.