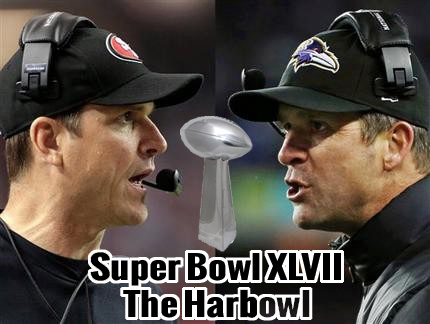 San Francisco 49ers vs. Baltimore Ravens
Jim vs. John
Harbaugh vs. Harbaugh
Brother vs. Brother
Brah vs. Brah
Unless you have been living under a rock, you should be quite aware that this year's Super Bowl will feature a showdown between brothers Jim and John Harbaugh.  Twitter peeps have been going hastag crazy with orginials such as #superbaugh, #harbowl, and#superbraugh.  One fan even tried to go as far as trademarking "Harbowl" but the NFL has discouraged him from continuing his efforts.  I think for the first time in Super Bowl history the coaches might be more of a story than the 2 teams.   The circumstances are incredibly unique and I think this is great for the league.  I hoped for this last year and we all got lucky to have the opportunity again this year.  Amazingly I got my wish and we have an all-Harbaugh Super Bowl.  So in spirits of the Harbowl I would like to offer a tale of the tape for these two brothers as they head into the game of their life.  Think of all the times these two have competed.  Whether its a card game, board game, a romantic interest, or even the love of their parents.... I wonder if there is a favorite in this long history of competition?  The brothers seem so similar but is there a historical advantage in this match-up?  Either way I think the loser of this game will face an uphill battle in trying to deal with defeat.
Jim Harbaugh
Height: 6 ft 3 in 
Weight: 215 lb
Age: 49
Career NFL Record:  27-8-1
Winning %:  .764
Years of Coaching Experience: 19 Years
Years in NFL:  16 Years  (14 as player & 2 as coach)
John Harbaugh
Height: N/A
Weight: N/A
Age: 50
Career NFL Record:  62–30
Winning %:  .674
Years of Coaching Experience: 29 Years
Years in NFL:  15 Years  (all as coach)
Well there you have it folks.  The tale of the Super Bowl tape.  Although I do not know John's height and weight I think we can pretty much assume that it is pretty similar to Jim.  Don't forget how important that will be when deciding the winner of the Super Bowl (sarcasm).  John has the clear advantage when it comes to coaching experience but what Jim lacks in coaching could be compensated for by his knowledge from actually playing the game from the toughest position on the field.  I will leave my pick for next week but in a fight I think I'm taking Jim.  John looks like more of a lover than a fighter.  Jim looks ready to fight at any given moment (Jim Schwartz handshake).  Who are you taking?
Written By: Craig Kibler