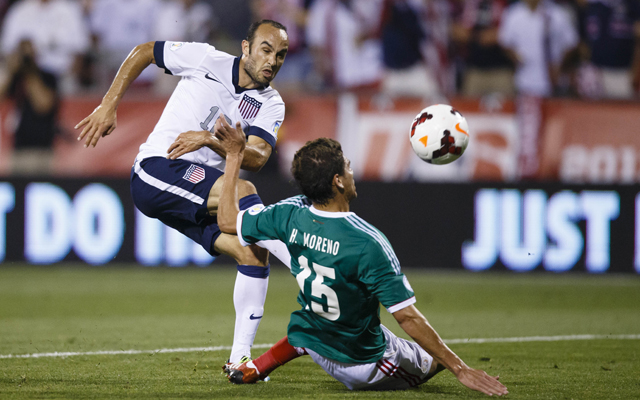 There are still some qualifying games left before the 2014 Brazil World Cup schedule is complete, but some teams have already claimed their spot in the World Cup. Among those teams is the Netherlands, Italy, and Team USA.
A rocky start to international play has turned into a wonderful stretch for the Americans. Surprisingly the opposite can be said for North American counterpart Mexico. Team Mexico is on the verge of elimination and faces the first World Cup absence since the nation was banned from competition in 1990. Team USA now appears to be the strongest representative from North America. Jurgen Klinsmann has the Americans playing better than ever and it would be nice to see them make a legitimate run in the 2014 World Cup.
In light of the recent Team USA World Cup qualification, I have prepared a look at the World Cup schedule as the tournament in Brazil grows closer to a reality. Please note that we do not know where each team will be playing yet. That information will become available after the World Cup draw in December. The one thing we do know is that Team Brazil should be A1 and will play the opening match in Sao Paulo.
World Cup Schedule by Date
Round Robin: Game 1 (June 12-17)

Match

Date

Game

Host City

1
June 12
Brazil vs Croatia
Sao Paulo
2
June 13
Mexico vs Cameroon
Natal
3
June 13
Spain vs Netherlands
Salvador
4
June 13
Chile vs Australia
Cuiaba
5
June 14
Colombia vs Greece
Belo Horizonte
6
June 14
Ivory Coast vs Japan
Recife
7
June 14
Uruguay vs Costa Rica
Fortaleza
8
June 14
England vs Italy
Manaus
9
June 15
Switzerland vs Ecuador
Brasilia
10
June 15
France vs Honduras
Porto Alegre
11
June 15
Argentina vs Bosnia
Rio De Janeiro
12
June 16
Iran vs Nigeria
Curitiba
13
June 16
Germany vs Portugal
Salvador
14
June 16
Ghana vs USA
Natal
15
June 17
Belgium vs Algeria
Belo Horizonte
16
June 17
Russia vs Korea Republic
Cuiaba

Round Robin: Game 2 (June 17-22)

Match

Date

Game

Host City

17
June 17
Brazil vs Mexico
Fortaleza
18
June 18
Croatia vs Cameroon
Manaus
19
June 18
Spain vs Chile
Rio De Janeiro
20
June 18
Netherlands vs Australia
Porto Alegre
21
June 19
Colombia vs Ivory Coast
Brasilia
22
June 19
Greece vs Japan
Natal
23
June 19
Uruguay vs England
Sao Paulo
24
June 20
Costa Rica vs Italy
Recife
25
June 20
Switzerland vs France
Salvador
26
June 20
Ecuador vs Honduras
Brasilia
27
June 21
Argentina vs Iran
Belo Horizonte
28
June 21
Bosnia vs Nigeria
Cuiaba
29
June 21
Germany vs Ghana
Fortaleza
30
June 22
Portugal vs USA
Manaus
31
June 22
Belgium vs Russia
Rio De Janeiro
32
June 22
Algeria vs Korea Republic
Porto Alegre

Round Robin: Game 3 (June 23-26)

Match

Date

Game

Host City

33
June 23
Brazil vs. Cameroon
Brasilia
34
June 23
Croatia vs. Mexico
Recife
35
June 23
Spain vs. Australia
Curitiba
36
June 23
Netherlands vs. Chile
Sao Paulo
37
June 24
Columbia vs Japan
Cuiaba
38
June 24
Greece vs. Ivory Coast
Fortaleza
39
June 24
Uruguay vs. Italy
Natal
40
June 24
Costa Rica vs. England
Belo Horizonte
41
June 25
Switzerland vs. Honduras
Manaus
42
June 25
Ecuador vs. France
Rio De Janeiro
43
June 25
Argentina vs. Nigeria
Porto Alegre
44
June 25
Bosnia vs. Iran
Salvador
45
June 26
Germany vs. USA
Recife
46
June 26
Portugal vs. Ghana
Brasilia
47
June 26
Belgium vs. Korea Republic
Sao Paulo
48
June 26
Algeria vs. Russia
Curitiba

Round of 16: Game 4 (June 28-July 1)

Match

Date

Game

Host City

49
June 28
1A vs 2B
Belo Horizonte
50
June 28
1C vs 2D
Rio De Janeiro
51
June 29
1B vs 2A
Fortaleza
52
June 29
1D vs 2C
Recife
53
June 30
1E vs 2F
Brasilia
54
June 30
1G vs 2H
Porto Alegre
55
July 1
1F vs 2E
Sao Paulo
56
July 1
1H vs 2G
Salvador

Quarterfinals: Game 5 (July 4-5)

Match

Date

Game

Host City

57
July 4
W49 vs W50
Fortaleza
58
July 4
W53 vs W54
Rio De Janeiro
59
July 5
W51 vs W52
Salvador
60
July 5
W55 vs W56
Brasilia

Semifinals: Game 6 (July 8-9)

Match

Date

Game

Host City

61
July 8
W57 vs W58
Belo Horizonte
62
July 9
W59 vs W60
Sao Paulo

Finals: Game 7 (July 12-13)

Match

Date

Game

Host City

63
July 12
Third Place Match
Brasilia
64
July 13
World Cup Final Match
Rio De Janeiro
Congrats to the teams who have already qualified and are now examining this World Cup schedule. Is it too much to ask for Team USA to make the final in Rio? Perhaps but go big or go home right?
I don't know about you but I'm getting excited just talking about the World Cup! I will be one of the millions anxiously waiting to hear where each team will be playing and who their group opponents will be.
Who do you think is the favorite to win the 2014 Brazil World Cup?