Kentucky Derby Tickets

Tickets On-Sale Now!
May 4, 2019 - Louisville, Kentucky - Churchill Downs
Buy Kentucky Derby Tickets for the 2019 Kentucky Derby and the Kentucky Oaks. The 2019 Kentucky Derby will take place at Churchill Downs in Louisville, Kentucky. Tickets to the Derby are some of the most coveted in all of horse racing.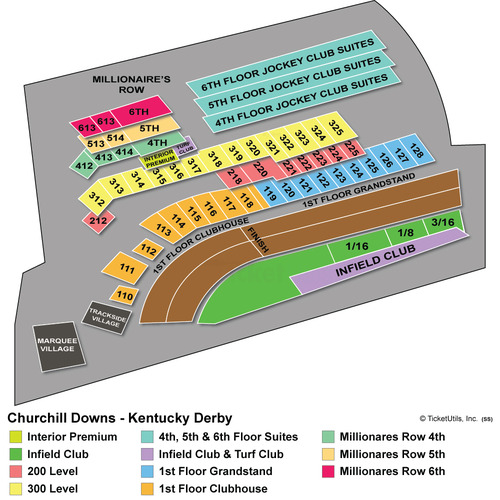 Choose from the following Derby ticket options:

1st Floor Grandstand: Travelers can expect to have clear views of the front stretch of Churchill Downs, however will not be able to see the entire track. This ticket is an excellent choice for travelers on a budget.

2nd Floor Grandstand: For the Kentucky Derby traveler who is on a budget, but wants elevated seating, a 2nd Floor Grandstand ticket is for you. Have a great view of the front stretch and a better view of the entire track. See the Kentucky Derby at an inexpensive price.

3rd Floor Grandstand: 3rd Floor Grandstand or Clubhouse Tickets provide an excellent view of the entire track for your enjoyment of the entire race. Some higher rows are covered by an overhang roof.

4th, 5th, 6th Floor Millionaires Row: Enjoy luxury Kentucky Derby tickets with premium seating on the 4th, 5th, or 6th Floor Millionaire's Row, the most exclusive at Churchill Downs. Fantastic views of the entire track plus exclusive VIP treatment! All tickets are at reserved tables. Step onto the balcony to view the races.
2019 Kentucky Derby Tickets
Churchill Downs - Louisville, KY
May 4, 2019 - 8:00 AM
Section
Price
Qty
Action
Section: GENERAL ADMISSION
Row: GA
Description: mobile
$95.16 each
Buy
Section: General Admission
Row: GA
Description: eTicket
$98.27 each
Buy
Section: GA131
Row: GA5
Description: xfer Mobile Transfer. Scan your tickets from your mobile phone for this event.
$98.88 each
Buy
Section: GA136
Row: GA2
Description: XFER Mobile Entry Ticket. Must have smart device on hand to enter event.
$100.12 each
Buy
Section: GA121
Row: GA9
Description: XFER Mobile Entry Tickets. Must have smart device on hand to enter event.
$100.12 each
Buy
Section: GENERAL ADMISSION
Row: GA
Description: mobile
$101.34 each
Buy
Section: GA122
Row: GA
Description: XFER Mobile Entry Tickets. Must have smart device on hand to enter event. XFER Mobile Entry. Scan your tickets from your mobile phone for this event.
$102.59 each
Buy
Section: GA129
Row: GA1
Description: MOBILE MOBILEQR MobileQR Entry. Scan your tickets from your mobile phone for this event. Do not print these tickets.
$103.81 each
Buy
Section: GA130
Row: GA2
Description: MOBILE MOBILEQR MobileQR Entry. Scan your tickets from your mobile phone for this event. Do not print these tickets.
$103.82 each
Buy
Section: INFIELD
Row: GA4
Description: XFER Mobile Entry. Scan your tickets from your mobile phone for this event. Do not print these tickets.
$103.82 each
Buy
Section: GA122
Row: GA8
Description: Mobile
$106.06 each
Buy
Section: GENERAL ADMISSION
Row: GA
Description: mobile
$107.52 each
Buy
Section: GA130
Row: GA0
Description: MOBILE MOBILEQR MobileQR Entry. Scan your tickets from your mobile phone for this event. Do not print these tickets.
$107.71 each
Buy
Section: GA129
Row: GA5
Description: MOBILE MOBILEQR MobileQR Entry. Scan your tickets from your mobile phone for this event. Do not print these tickets.
$108.01 each
Buy
Section: GA130
Row: GA2
Description: MOBILE MOBILEQR MobileQR Entry. Scan your tickets from your mobile phone for this event. Do not print these tickets.
$109.01 each
Buy
Section: GA130
Row: GA0
Description: MOBILE MOBILEQR MobileQR Entry. Scan your tickets from your mobile phone for this event. Do not print these tickets.
$109.02 each
Buy
Section: GA130
Row: GA0
Description: MOBILE MOBILEQR MobileQR Entry. Scan your tickets from your mobile phone for this event. Do not print these tickets.
$110.32 each
Buy
Section: GA129
Row: GA8
Description: MOBILE MOBILEQR MobileQR Entry. Scan your tickets from your mobile phone for this event. Do not print these tickets.
$112.21 each
Buy
Section: GENERAL ADMISSION
Row: GA
Description: mobile
$113.70 each
Buy
Section: GA139
Row: GA
Description: TM MOBILE
$114.95 each
Buy
Section: General Admission
Row: GA
Description: XFER
$114.95 each
Buy
Section: GA129
Row: GA1
Description: MOBILE MOBILEQR MobileQR Entry. Scan your tickets from your mobile phone for this event. Do not print these tickets.
$116.44 each
Buy
Section: GA130
Row: GA2
Description: MOBILE MOBILEQR MobileQR Entry. Scan your tickets from your mobile phone for this event. Do not print these tickets.
$116.68 each
Buy
Section: General Admission
Row: GA1
Description: MobileQR, No view of the track
$117.42 each
Buy
Section: General Admission
Row: GA
Description: TM Mobile XFER
$118.66 each
Buy
Section: GENERAL ADMISSON
Row: GA14
Description: N/A
$119.77 each
Buy
Section: INFIELD
Row: GA
Description: xfer Mobile Transfer. Scan your tickets from your mobile phone for this event.
$122.36 each
Buy
Section: GA129
Row: GA9
Description: XFER Mobile Entry. Scan your tickets from your mobile phone for this event. Do not print these tickets.
$122.36 each
Buy
Section: General Admission
Row: GA
Description: XFER
$123.60 each
Buy
Section: General Admission
Row: GA
Description: eTicket
$124.46 each
Buy
Section: GENERAL ADMISSION
Row: GA1
Description: N/A
$148.32 each
Buy
Section: GA127
Row: GA1
Description: Mobile
$150.67 each
Buy
Section: INFIELD GENERAL ADMISSION
Row: GA5
Description: No view (printed on ticket).
$245.96 each
Buy
Section: 126
Row: S
Description: N/A
$503.05 each
Buy
Section: 128
Row: I
Description: Xfer Mobile Entry. Scan your tickets from your mobile phone for this event. Do not print these tickets
$517.88 each
Buy
Section: 128
Row: D
Description: Xfer Mobile Entry. Scan your tickets from your mobile phone for this event. Do not print these tickets
$525.30 each
Buy
Section: 128
Row: P
Description: MOBILE MOBILE XFER
$527.77 each
Buy
Section: 128
Row: M
Description: N/A
$528.98 each
Buy
Section: 127
Row: O
Description: xfer Mobile Transfer. Scan your tickets from your mobile phone for this event.
$533.51 each
Buy
Section: 126
Row: L
Description: N/A
$537.35 each
Buy
Section: 127
Row: J
Description: xfer Mobile Transfer. Scan your tickets from your mobile phone for this event.
$539.63 each
Buy
Section: 126
Row: S
Description: TM Mobile XFER
$543.78 each
Buy
Section: 127
Row: I
Description: Xfer Mobile Entry. Scan your tickets from your mobile phone for this event. Do not print these tickets
$543.84 each
Buy
Section: 127
Row: J
Description: MOBILE MOBILE XFER
$547.55 each
Buy
Section: 127
Row: T
Description: MOBILE MOBILE XFER
$547.55 each
Buy
Section: 125
Row: R
Description: Mobile Tickets: You will need to set up a separate account to access your tickets (instructions will be emailed). Mobile Transfer XFER
$548.78 each
Buy
Section: 125
Row: H
Description: xfer Mobile Transfer. Scan your tickets from your mobile phone for this event.
$554.30 each
Buy
Section: 127
Row: F
Description: MOBILE MOBILE XFER
$554.96 each
Buy
Section: 126
Row: G
Description: Xfer Mobile Entry. Scan your tickets from your mobile phone for this event. Do not print these tickets
$554.96 each
Buy
Section: 128
Row: H
Description: MOBILE MOBILE XFER
$554.96 each
Buy
Section: 127
Row: D
Description: MOBILE MOBILE XFER
$554.96 each
Buy
Section: 128
Row: H
Description: N/A
$556.20 each
Buy
Section: 125
Row: R
Description: Xfer Mobile Entry. Scan your tickets from your mobile phone for this event. Do not print these tickets
$556.20 each
Buy
Section: 125
Row: G
Description: xfer Mobile Transfer. Scan your tickets from your mobile phone for this event.
$564.10 each
Buy
Section: 125
Row: N
Description: Xfer Mobile Entry. Scan your tickets from your mobile phone for this event. Do not print these tickets
$567.32 each
Buy
Section: 126
Row: Q
Description: MOBILE MOBILE XFER
$568.56 each
Buy
Section: 125
Row: D
Description: xfer Mobile Transfer. Scan your tickets from your mobile phone for this event.
$572.66 each
Buy
Section: 124
Row: P
Description: TM Mobile XFER
$573.50 each
Buy
Section: 127
Row: B
Description: N/A
$575.48 each
Buy
Section: 125
Row: M
Description: N/A
$576.47 each
Buy
Section: 128
Row: P
Description: XFER Mobile Entry. Scan your tickets from your mobile phone for this event. Do not print these tickets.
$578.45 each
Buy
Section: 128
Row: H
Description: N/A
$585.96 each
Buy
Section: 127
Row: J
Description: N/A
$587.10 each
Buy
Section: 123
Row: O
Description: Mobile Tickets: You will need to set up a separate account to access your tickets (instructions will be emailed). xfer TMX
$587.10 each
Buy
Section: 125
Row: Q
Description: MOBILE MOBILE XFER
$601.93 each
Buy
Section: 125
Row: M
Description: MOBILE MOBILE XFER
$601.93 each
Buy
Section: 124
Row: M
Description: N/A
$604.40 each
Buy
Section: 124
Row: S
Description: Xfer Mobile Entry. Scan your tickets from your mobile phone for this event. Do not print these tickets
$604.40 each
Buy
Section: 125
Row: D
Description: N/A
$606.88 each
Buy
Section: 123
Row: H
Description: TM Mobile TMX Mobile Entry Tickets. Must have smart device on hand to enter event. Do not print these tickets.
$608.53 each
Buy
Section: 126
Row: G
Description: N/A
$610.49 each
Buy
Section: 126
Row: F
Description: N/A
$610.49 each
Buy
Section: 124
Row: N
Description: N/A
$610.58 each
Buy
Section: 123
Row: K
Description: Mobile Tickets: You will need to set up a separate account to access your tickets (instructions will be emailed). xfer TMX
$616.76 each
Buy
Section: 125
Row: C
Description: Xfer Mobile Entry. Scan your tickets from your mobile phone for this event. Do not print these tickets
$616.76 each
Buy
Section: 123
Row: R
Description: XFER
$616.76 each
Buy
Section: 126
Row: K
Description: N/A
$618.00 each
Buy
Section: 128
Row: E
Description: Tickets will be ready for delivery by Apr 27, 2019.
$618.00 each
Buy
Section: 127
Row: K
Description: Tickets will be ready for delivery by Apr 27, 2019.
$618.00 each
Buy
Section: 126
Row: I
Description: N/A
$618.00 each
Buy
Section: 123
Row: M
Description: N/A
$622.33 each
Buy
Section: 125
Row: B
Description: TM Mobile XFER
$624.18 each
Buy
Section: 125
Row: B
Description: Xfer Mobile Entry. Scan your tickets from your mobile phone for this event. Do not print these tickets
$626.65 each
Buy
Section: 123
Row: G
Description: Xfer Mobile Entry. Scan your tickets from your mobile phone for this event. Do not print these tickets
$627.89 each
Buy
Section: 124
Row: Q
Description: N/A
$630.36 each
Buy
Section: 125
Row: C
Description: MOBILE MOBILE XFER
$634.07 each
Buy
Section: 124
Row: K
Description: MOBILE MOBILE XFER
$634.07 each
Buy
Section: 123
Row: M
Description: N/A
$634.81 each
Buy
Section: 123
Row: T
Description: N/A
$636.54 each
Buy
Section: 126
Row: I
Description: N/A
$636.54 each
Buy
Section: 123
Row: E
Description: Mobile Tickets: You will need to set up a separate account to access your tickets (instructions will be emailed). xfer TMX
$636.54 each
Buy
Section: 124
Row: P
Description: xfer Mobile Transfer. Scan your tickets from your mobile phone for this event.
$639.96 each
Buy
Section: 122
Row: Q
Description: N/A
$641.63 each
Buy
Section: 128
Row: K
Description: N/A
$646.43 each
Buy
Section: 128
Row: O
Description: N/A
$647.28 each
Buy
Section: 124
Row: C
Description: Xfer Mobile Entry. Scan your tickets from your mobile phone for this event. Do not print these tickets
$648.90 each
Buy
Section: 125
Row: L
Description: N/A
$648.90 each
Buy
Section: 123
Row: N
Description: XFER Mobile Entry. Scan your tickets from your mobile phone for this event. Do not print these tickets.
$648.90 each
Buy
Section: 123
Row: K
Description: N/A
$652.61 each
Buy
Section: 125
Row: I
Description: N/A
$655.08 each
Buy
Section: 124
Row: F
Description: MOBILE MOBILE XFER
$661.26 each
Buy
Section: 122
Row: L
Description: N/A
$661.26 each
Buy
Section: 124
Row: F
Description: MOBILE MOBILE XFER
$661.26 each
Buy
Section: 126
Row: H
Description: N/A
$662.50 each
Buy
Section: 122
Row: O
Description: TM Mobile TMX Mobile Entry Tickets. Must have smart device on hand to enter event. Do not print these tickets.
$667.09 each
Buy
Section: 127
Row: T
Description: Mobile Aisle
$667.43 each
Buy
Section: 124
Row: J
Description: Xfer Mobile Entry. Scan your tickets from your mobile phone for this event. Do not print these tickets
$672.38 each
Buy
Section: 122
Row: O
Description: N/A
$675.16 each
Buy
Section: 122
Row: Q
Description: TM Mobile XFER
$678.56 each
Buy
Section: 124
Row: M
Description: N/A
$679.80 each
Buy
Section: 122
Row: P
Description: XFER
$679.80 each
Buy
Section: 125
Row: N
Description: N/A
$679.80 each
Buy
Section: 127
Row: J
Description: N/A
$679.80 each
Buy
Section: 122
Row: I
Description: N/A
$679.80 each
Buy
Section: 123
Row: L
Description: XFER Mobile Entry. Scan your tickets from your mobile phone for this event. Do not print these tickets.
$679.80 each
Buy
Section: 122
Row: P
Description: XFER
$679.80 each
Buy
Section: 122
Row: P
Description: XFER
$679.80 each
Buy
Section: 124
Row: M
Description: Mobile Tickets: You will need to set up a separate account to access your tickets (instructions will be emailed). Mobile Transfer XFER
$682.27 each
Buy
Section: 122
Row: M
Description: Xfer Mobile Entry. Scan your tickets from your mobile phone for this event. Do not print these tickets
$692.16 each
Buy
Section: 122
Row: N
Description: XFER
$698.34 each
Buy
Section: 123
Row: G
Description: N/A
$699.06 each
Buy
Section: 123
Row: E
Description: xfer Mobile Transfer. Scan your tickets from your mobile phone for this event.
$701.15 each
Buy
Section: 122
Row: E
Description: N/A
$704.52 each
Buy
Section: 122
Row: N
Description: TM Mobile TMX Mobile Entry Tickets. Must have smart device on hand to enter event. Do not print these tickets.
$705.29 each
Buy
Section: 123
Row: H
Description: N/A
$708.60 each
Buy
Section: THIRD FLOOR WALK
Row: GA
Description: N/A
$710.70 each
Buy
Section: 123
Row: K
Description: XFER Mobile Entry. Scan your tickets from your mobile phone for this event. Do not print these tickets.
$710.70 each
Buy
Section: 122
Row: M
Description: N/A
$718.02 each
Buy
Section: 122
Row: H
Description: N/A
$720.59 each
Buy
Section: 122
Row: F
Description: N/A
$720.59 each
Buy
Section: 122
Row: H
Description: N/A
$720.59 each
Buy
Section: 122
Row: H
Description: N/A
$720.59 each
Buy
Section: 123
Row: C
Description: N/A
$720.59 each
Buy
Section: 123
Row: C
Description: N/A
$720.59 each
Buy
Section: 3rd Floor Walkaround
Row: Walk
Description: N/A
$720.59 each
Buy
Section: 111
Row: N
Description: 1st Floor Clubhouse seat with back. Horses are paraded over from barns to paddock every race. Numerous places to access food, drink, and betting areas.
$723.06 each
Buy
Section: 125
Row: E
Description: QR
$724.30 each
Buy
Section: 123
Row: C
Description: N/A
$727.68 each
Buy
Section: 3RD FLOOR WALKAROUNDS
Row: WALKS
Description: N/A
$729.24 each
Buy
Section: 111
Row: O
Description: N/A
$730.75 each
Buy
Section: 123
Row: P
Description: N/A
$735.42 each
Buy
Section: 111G
Row: 9
Description: N/A
$735.42 each
Buy
Section: 122
Row: K
Description: TM Mobile TMX Mobile Entry Tickets. Must have smart device on hand to enter event. Do not print these tickets.
$735.84 each
Buy
Section: 123
Row: F
Description: N/A
$735.84 each
Buy
Section: 122
Row: L
Description: TM Mobile TMX Mobile Entry Tickets. Must have smart device on hand to enter event. Do not print these tickets.
$735.84 each
Buy
Section: 128
Row: S
Description: Must buy in multiples of 2
$741.60 each
Buy
Section: 128
Row: T
Description: Must buy in multiples of 2
$741.60 each
Buy
Section: 128
Row: S
Description: Must buy in multiples of 2
$741.60 each
Buy
Section: 123
Row: I
Description: XFER Mobile Entry. Scan your tickets from your mobile phone for this event. Do not print these tickets.
$741.60 each
Buy
Section: 3RD FLOOR WALKAROUND
Row: WALK
Description: Tickets will be ready for delivery by Apr 27, 2019.
$741.60 each
Buy
Section: 128
Row: U
Description: Must buy in multiples of 2
$741.60 each
Buy
Section: 128
Row: Z
Description: Must buy in multiples of 2
$741.60 each
Buy
Section: 128
Row: V
Description: Must buy in multiples of 2. 1st floor grandstand. Bleacher seating.
$741.60 each
Buy
Section: 128
Row: R
Description: Must buy in multiples of 2
$741.60 each
Buy
Section: 128
Row: C
Description: XFER Xfer Mobile Entry. Scan your tickets from your mobile phone for this event. Do not print these tickets
$741.60 each
Buy
Section: 128
Row: A-J
Description: Must buy in multiples of 2
$741.60 each
Buy
Section: 3RD FLOOR WALKAROUND
Row: GA
Description: N/A
$760.14 each
Buy
Section: 122
Row: L
Description: XFER Mobile Entry. Scan your tickets from your mobile phone for this event. Do not print these tickets.
$761.38 each
Buy
Section: 127
Row: S
Description: Must buy in multiples of 2
$772.50 each
Buy
Section: 127
Row: R
Description: Must buy in multiples of 2
$772.50 each
Buy
Section: 127
Row: T
Description: Must buy in multiples of 2
$772.50 each
Buy
Section: 122
Row: M
Description: N/A
$772.50 each
Buy
Section: 126
Row: K
Description: XFER Xfer Mobile Entry. Scan your tickets from your mobile phone for this event. Do not print these tickets
$772.50 each
Buy
Section: 111
Row: K
Description: Must buy in multiples of 2
$772.50 each
Buy
Section: 111
Row: M
Description: Must buy in multiples of 2
$772.50 each
Buy
Section: 121
Row: K
Description: N/A
$772.50 each
Buy
Section: 111
Row: L
Description: Must buy in multiples of 2
$772.50 each
Buy
Section: 3rd Floor Walkaround
Row: GA
Description: N/A
$772.50 each
Buy
Section: 127
Row: Z
Description: Must buy in multiples of 2
$772.50 each
Buy
Section: 111
Row: R
Description: Must buy in multiples of 2
$772.50 each
Buy
Section: 125
Row: D
Description: N/A
$779.92 each
Buy
Section: 122
Row: Q
Description: N/A
$783.55 each
Buy
Section: 121
Row: F
Description: N/A
$786.10 each
Buy
Section: 121
Row: D
Description: N/A
$786.10 each
Buy
Section: 121
Row: D
Description: N/A
$786.10 each
Buy
Section: 121
Row: J
Description: N/A
$791.04 each
Buy
Section: 122
Row: I
Description: XFER Mobile Entry. Scan your tickets from your mobile phone for this event. Do not print these tickets.
$799.44 each
Buy
Section: 125
Row: B
Description: N/A
$803.40 each
Buy
Section: 126
Row: R
Description: Must buy in multiples of 2
$803.40 each
Buy
Section: 126
Row: Z
Description: Must buy in multiples of 2
$803.40 each
Buy
Section: 126
Row: S
Description: Must buy in multiples of 2
$803.40 each
Buy
Section: 126
Row: U
Description: Must buy in multiples of 2
$803.40 each
Buy
Section: 126
Row: T
Description: Must buy in multiples of 2
$803.40 each
Buy
Section: 112
Row: F
Description: N/A
$803.40 each
Buy
Section: 112
Row: L
Description: N/A
$803.40 each
Buy
Section: 121
Row: M
Description: N/A
$803.40 each
Buy
Section: 3rd Floor
Row: Walks
Description: Must buy in multiples of 2
$803.40 each
Buy
Section: 223
Row: J
Description: XFER TICKET TRANSFER PLEASE NOTE THAT YOU WILL NEED TO USE AN IOS OR ANDROID MOBILE DEVICE TO GAIN ENTRY TO YOUR EVENT.
$806.99 each
Buy
Section: 222
Row: J
Description: TM Mobile TMX Mobile Entry Tickets. Must have smart device on hand to enter event. Do not print these tickets.
$807.13 each
Buy
Section: 111
Row: H
Description: N/A
$809.58 each
Buy
Section: 126
Row: R
Description: XFER Xfer Mobile Entry. Scan your tickets from your mobile phone for this event. Do not print these tickets
$809.58 each
Buy
Section: 111
Row: G
Description: xfer Mobile Transfer. Scan your tickets from your mobile phone for this event. Even Numbers Only
$811.13 each
Buy
Section: 122
Row: M
Description: N/A
$816.25 each
Buy
Section: 222
Row: I
Description: TM Mobile TMX Mobile Entry Tickets. Must have smart device on hand to enter event. Do not print these tickets.
$819.86 each
Buy
Section: 222
Row: H
Description: TM Mobile TMX Mobile Entry Tickets. Must have smart device on hand to enter event. Do not print these tickets.
$819.86 each
Buy
Section: 111
Row: E
Description: Must buy in multiples of 2
$834.30 each
Buy
Section: 112
Row: H
Description: 1st Floor Clubhouse Seat with Back-easy access to food, drink, and betting. Ability to watch activities from outside paddock area with these seats.
$834.30 each
Buy
Section: 124
Row: C
Description: N/A
$834.30 each
Buy
Section: 225
Row: G
Description: MOBILE MOBILE XFER
$834.30 each
Buy
Section: 224
Row: J
Description: Must buy in multiples of 2
$834.30 each
Buy
Section: 225
Row: D
Description: MOBILE MOBILE XFER
$834.30 each
Buy
Section: 3rd Floor Walkaround
Row: Walk
Description: N/A
$834.30 each
Buy
Section: 124
Row: P
Description: N/A
$835.54 each
Buy
Section: 223
Row: H
Description: N/A
$837.08 each
Buy
Section: 125
Row: A
Description: xfer Mobile Transfer. Scan your tickets from your mobile phone for this event. Even Numbers Only
$843.58 each
Buy
Section: 222
Row: D
Description: TM Mobile TMX Mobile Entry Tickets. Must have smart device on hand to enter event. Do not print these tickets.
$845.33 each
Buy
Section: 225
Row: F
Description: N/A
$850.37 each
Buy
Section: 128
Row: A
Description: xfer Mobile Transfer. Scan your tickets from your mobile phone for this event. Actual 1st row of section.
$855.13 each
Buy
Section: 222
Row: I
Description: QR
$857.78 each
Buy
Section: 112
Row: D
Description: N/A
$859.02 each
Buy
Section: 112
Row: D
Description: N/A
$859.02 each
Buy
Section: 221
Row: J
Description: TM Mobile TMX Mobile Entry Tickets. Must have smart device on hand to enter event. Do not print these tickets.
$863.15 each
Buy
Section: 222
Row: C
Description: TM Mobile TMX Mobile Entry Tickets. Must have smart device on hand to enter event. Do not print these tickets.
$863.15 each
Buy
Section: 223
Row: G
Description: TM Mobile XFER
$863.96 each
Buy
Section: 125
Row: K
Description: Must buy in multiples of 2
$865.20 each
Buy
Section: 125
Row: E
Description: Must buy in multiples of 2
$865.20 each
Buy
Section: 125
Row: Z
Description: Must buy in multiples of 2
$865.20 each
Buy
Section: 125
Row: Q
Description: Must buy in multiples of 2
$865.20 each
Buy
Section: 125
Row: L
Description: Must buy in multiples of 2
$865.20 each
Buy
Section: 125
Row: V
Description: Must buy in multiples of 2
$865.20 each
Buy
Section: 125
Row: I
Description: Must buy in multiples of 2
$865.20 each
Buy
Section: 111L
Row: 21
Description: N/A
$867.67 each
Buy
Section: 224
Row: I
Description: MOBILE MOBILE XFER
$867.67 each
Buy
Section: 225
Row: A
Description: N/A
$876.01 each
Buy
Section: 124
Row: C
Description: N/A
$883.30 each
Buy
Section: 224
Row: B
Description: N/A
$888.61 each
Buy
Section: 224
Row: A
Description: N/A
$888.61 each
Buy
Section: 123
Row: D
Description: N/A
$892.22 each
Buy
Section: 123
Row: D
Description: N/A
$892.22 each
Buy
Section: 124
Row: R
Description: Must buy in multiples of 2
$896.10 each
Buy
Section: 124
Row: T
Description: Must buy in multiples of 2
$896.10 each
Buy
Section: 112
Row: D
Description: Must buy in multiples of 2. Boxes of 6 folding chairs per box. 1st floor clubhouse. Not covered.
$896.10 each
Buy
Section: 124
Row: V
Description: Must buy in multiples of 2
$896.10 each
Buy
Section: 112
Row: M
Description: Must buy in multiples of 2
$896.10 each
Buy
Section: 112
Row: N
Description: Must buy in multiples of 2
$896.10 each
Buy
Section: 124
Row: Z
Description: Must buy in multiples of 2
$896.10 each
Buy
Section: 124
Row: S
Description: Must buy in multiples of 2
$896.10 each
Buy
Section: 124
Row: U
Description: Must buy in multiples of 2
$896.10 each
Buy
Section: 112
Row: T
Description: Must buy in multiples of 2
$896.10 each
Buy
Section: 111
Row: C
Description: N/A
$896.10 each
Buy
Section: 112
Row: K
Description: Must buy in multiples of 2
$896.10 each
Buy
Section: 112
Row: R
Description: Must buy in multiples of 2
$896.10 each
Buy
Section: 111
Row: M
Description: N/A
$899.81 each
Buy
Section: 112
Row: G
Description: N/A
$899.81 each
Buy
Section: 112
Row: H
Description: N/A
$899.81 each
Buy
Section: 224
Row: G
Description: MOBILE MOBILE XFER
$901.04 each
Buy
Section: 113
Row: E
Description: BOX 12
$901.04 each
Buy
Section: 223
Row: F
Description: TM Transfer Mobile Entry XFER
$916.72 each
Buy
Section: 123
Row: T
Description: Must buy in multiples of 2
$927.00 each
Buy
Section: 123
Row: C
Description: N/A
$927.00 each
Buy
Section: 124
Row: C
Description: N/A
$927.00 each
Buy
Section: 113
Row: G
Description: Must buy in multiples of 2
$927.00 each
Buy
Section: 223
Row: H
Description: Must buy in multiples of 2
$927.00 each
Buy
Section: 123
Row: Q
Description: Must buy in multiples of 2
$927.00 each
Buy
Section: 123
Row: S
Description: Must buy in multiples of 2
$927.00 each
Buy
Section: 123
Row: U
Description: Must buy in multiples of 2
$927.00 each
Buy
Section: 225
Row: J
Description: Must buy in multiples of 2
$927.00 each
Buy
Section: 226
Row: H
Description: N/A
$927.00 each
Buy
Section: 228
Row: A
Description: Front Row No Obstructions Stadium Chair-back Seats.
$927.00 each
Buy
Section: 123
Row: R
Description: Must buy in multiples of 2
$927.00 each
Buy
Section: 113
Row: H
Description: Must buy in multiples of 2
$927.00 each
Buy
Section: 225
Row: I
Description: Must buy in multiples of 2
$927.00 each
Buy
Section: 223
Row: J
Description: Must buy in multiples of 2
$927.00 each
Buy
Section: 113
Row: I
Description: Must buy in multiples of 2
$927.00 each
Buy
Section: 223
Row: I
Description: Must buy in multiples of 2
$927.00 each
Buy
Section: 223
Row: I
Description: MOBILE MOBILE XFER
$928.24 each
Buy
Section: 224
Row: D
Description: MOBILE MOBILE XFER
$928.24 each
Buy
Section: 223
Row: F
Description: MOBILE MOBILE XFER
$934.42 each
Buy
Section: 113
Row: F
Description: N/A
$957.90 each
Buy
Section: 222
Row: J
Description: Must buy in multiples of 2
$957.90 each
Buy
Section: 122
Row: S
Description: Must buy in multiples of 2
$957.90 each
Buy
Section: 122
Row: V
Description: Must buy in multiples of 2
$957.90 each
Buy
Section: 222
Row: H
Description: Must buy in multiples of 2
$957.90 each
Buy
Section: 122
Row: Z
Description: Must buy in multiples of 2
$957.90 each
Buy
Section: 122
Row: T
Description: Must buy in multiples of 2
$957.90 each
Buy
Section: 122
Row: U
Description: Must buy in multiples of 2
$957.90 each
Buy
Section: 122
Row: H
Description: Must buy in multiples of 2
$957.90 each
Buy
Section: 223
Row: D
Description: TM Transfer Mobile Entry XFER
$962.54 each
Buy
Section: 121
Row: I
Description: Must buy in multiples of 2
$982.62 each
Buy
Section: 121
Row: V
Description: Must buy in multiples of 2
$982.62 each
Buy
Section: 121
Row: U
Description: Must buy in multiples of 2. 1st floor grandstand. Bleacher seating.
$982.62 each
Buy
Section: 121
Row: S
Description: Must buy in multiples of 2
$982.62 each
Buy
Section: 121
Row: R
Description: Must buy in multiples of 2
$982.62 each
Buy
Section: 222
Row: J
Description: XFER Mobile Entry. Scan your tickets from your mobile phone for this event. Do not print these tickets.
$987.56 each
Buy
Section: 227
Row: B
Description: N/A
$988.80 each
Buy
Section: 123
Row: B
Description: N/A
$988.80 each
Buy
Section: 111
Row: B
Description: N/A
$988.80 each
Buy
Section: 221
Row: H
Description: TM Mobile TMX Mobile Entry Tickets. Must have smart device on hand to enter event. Do not print these tickets.
$990.46 each
Buy
Section: 113
Row: H
Description: N/A
$999.92 each
Buy
Section: 223
Row: B
Description: TM Transfer Mobile Entry XFER
$1,008.40 each
Buy
Section: 114
Row: E
Description: Must buy in multiples of 2
$1,019.70 each
Buy
Section: 225
Row: A
Description: N/A
$1,019.70 each
Buy
Section: 114
Row: F
Description: Must buy in multiples of 2
$1,019.70 each
Buy
Section: 228
Row: I
Description: TRAVEL
$1,028.35 each
Buy
Section: 124
Row: A
Description: xfer Mobile Transfer. Scan your tickets from your mobile phone for this event.
$1,031.75 each
Buy
Section: 225
Row: Covered
Description: N/A
$1,050.60 each
Buy
Section: 225
Row: L-Covered
Description: Must buy in multiples of 2
$1,050.60 each
Buy
Section: 114
Row: F
Description: N/A
$1,050.60 each
Buy
Section: 223
Row: N UNDER COVER
Description: xfer Mobile Transfer. Scan your tickets from your mobile phone for this event.
$1,050.60 each
Buy
Section: 111
Row: A
Description: N/A
$1,070.66 each
Buy
Section: 221
Row: G
Description: Must buy in multiples of 2
$1,081.50 each
Buy
Section: 221
Row: H
Description: Must buy in multiples of 2
$1,081.50 each
Buy
Section: 221
Row: I
Description: Must buy in multiples of 2
$1,081.50 each
Buy
Section: 225
Row: F
Description: N/A
$1,092.62 each
Buy
Section: 111
Row: A
Description: xfer Mobile Transfer. Scan your tickets from your mobile phone for this event. Even Numbers Only
$1,103.14 each
Buy
Section: 223
Row: G
Description: N/A
$1,112.40 each
Buy
Section: 111
Row: A
Description: Must buy in multiples of 2
$1,112.40 each
Buy
Section: 114
Row: E
Description: 5th Row back from track-easy access to food, drink, make bets
$1,112.40 each
Buy
Section: 112
Row: C
Description: N/A
$1,112.40 each
Buy
Section: 124
Row: A
Description: N/A
$1,112.40 each
Buy
Section: 223
Row: H
Description: N/A
$1,116.11 each
Buy
Section: 113
Row: G
Description: N/A
$1,139.59 each
Buy
Section: 224
Row: M-Covered
Description: Must buy in multiples of 2
$1,143.30 each
Buy
Section: 224
Row: Covered
Description: Must buy in multiples of 2
$1,143.30 each
Buy
Section: 224
Row: N-Covered
Description: Must buy in multiples of 2
$1,143.30 each
Buy
Section: 113
Row: Covered
Description: Must buy in multiples of 2. Boxes of 6 or 8 folding chairs per box. 1st floor clubhouse. Covered from rain/sun.
$1,143.30 each
Buy
Section: 223
Row: L- COVERED
Description: Covered Seating
$1,154.74 each
Buy
Section: 223
Row: K- COVERED
Description: Covered Seating
$1,154.74 each
Buy
Section: 113
Row: P
Description: Obstructed/Limited View
$1,169.26 each
Buy
Section: 223
Row: J
Description: N/A
$1,174.20 each
Buy
Section: 223
Row: I
Description: N/A
$1,174.20 each
Buy
Section: 223
Row: G
Description: N/A
$1,174.20 each
Buy
Section: 115
Row: F
Description: N/A
$1,174.20 each
Buy
Section: 228
Row: Covered
Description: Under Cover Stadium Style chair back Seats
$1,174.20 each
Buy
Section: 114
Row: D
Description: N/A
$1,174.20 each
Buy
Section: 225
Row: H
Description: N/A
$1,174.20 each
Buy
Section: 115
Row: D
Description: N/A
$1,187.23 each
Buy
Section: 222
Row: D
Description: N/A
$1,197.68 each
Buy
Section: 227
Row: Covered
Description: N/A
$1,205.10 each
Buy
Section: 223
Row: Covered
Description: Must buy in multiples of 2
$1,205.10 each
Buy
Section: 226
Row: Covered
Description: N/A
$1,229.82 each
Buy
Section: 222
Row: A
Description: N/A
$1,236.00 each
Buy
Section: 224
Row: N
Description: N/A
$1,236.00 each
Buy
Section: 222
Row: M-Covered
Description: Under Cover Mid Stretch Must buy in multiples of 2
$1,236.00 each
Buy
Section: 222
Row: Covered
Description: N/A
$1,236.00 each
Buy
Section: 114
Row: Covered
Description: Must buy in multiples of 2
$1,236.00 each
Buy
Section: 222
Row: Covered
Description: Under Cover Mid Stretch Must buy in multiples of 2
$1,236.00 each
Buy
Section: 115
Row: COVERED
Description: N/A
$1,253.30 each
Buy
Section: 114
Row: E
Description: N/A
$1,259.48 each
Buy
Section: 112
Row: B
Description: Must buy in multiples of 2
$1,266.90 each
Buy
Section: 115
Row: F
Description: N/A
$1,346.00 each
Buy
Section: 113
Row: B
Description: N/A
$1,353.42 each
Buy
Section: 113
Row: J-Covered
Description: Must buy in multiples of 2 - FIRST ROW UNDER COVER
$1,359.60 each
Buy
Section: 221
Row: Covered
Description: Must buy in multiples of 2
$1,359.60 each
Buy
Section: 113
Row: J-Under Cover
Description: First Row UNDER COVER - Must buy in multiples of 2
$1,359.60 each
Buy
Section: 221
Row: B
Description: N/A
$1,384.56 each
Buy
Section: 112
Row: A
Description: Must buy in multiples of 2
$1,390.50 each
Buy
Section: 113
Row: A
Description: Must buy in multiples of 2. Row A on the rail- unobstructed views. 1st floor clubhouse. Boxes of 6 folding chairs per box.
$1,421.40 each
Buy
Section: 116
Row: F
Description: N/A
$1,421.40 each
Buy
Section: 112
Row: A
Description: N/A
$1,421.40 each
Buy
Section: 325
Row: B
Description: N/A
$1,430.94 each
Buy
Section: 115
Row: F
Description: N/A
$1,438.70 each
Buy
Section: 323
Row: A-C
Description: Must buy in multiples of 2
$1,452.30 each
Buy
Section: 323
Row: B
Description: Must buy in multiples of 2
$1,452.30 each
Buy
Section: 115
Row: F
Description: Must buy in multiples of 2
$1,452.30 each
Buy
Section: 115
Row: E
Description: Must buy in multiples of 2
$1,452.30 each
Buy
Section: 323
Row: B
Description: N/A
$1,462.46 each
Buy
Section: 114
Row: G-H Covered
Description: Must buy in multiples of 2 - FIRST ROW UNDER COVER. 1st floor clubhouse. Boxes of 6 folding chairs / box.
$1,483.20 each
Buy
Section: 221
Row: K-Covered
Description: must buy in multiples of 2 - FIRST ROW UNDER COVER
$1,483.20 each
Buy
Section: 115
Row: L
Description: N/A
$1,499.27 each
Buy
Section: 117
Row: E
Description: N/A
$1,499.27 each
Buy
Section: 117
Row: D
Description: N/A
$1,514.39 each
Buy
Section: 102
Row: E
Description: Food and beverages (including beer) included.
$1,517.51 each
Buy
Section: 120
Row: F
Description: N/A
$1,528.93 each
Buy
Section: 312
Row: H
Description: N/A
$1,545.00 each
Buy
Section: 312
Row: B
Description: N/A
$1,545.00 each
Buy
Section: 325
Row: A-C
Description: Must buy in multiples of 2
$1,545.00 each
Buy
Section: 324
Row: A-C
Description: Must buy in multiples of 2
$1,545.00 each
Buy
Section: 324
Row: C
Description: Must buy in multiples of 2. Section 324 located in 3rd floor grandstand. Row C just off aisle- walk right into box. Boxes of 6 folding chairs/box.
$1,545.00 each
Buy
Section: 324
Row: F
Description: N/A
$1,545.00 each
Buy
Section: 324
Row: B
Description: Must buy in multiples of 2
$1,545.00 each
Buy
Section: 116
Row: D
Description: N/A
$1,545.85 each
Buy
Section: 117
Row: F
Description: N/A
$1,573.43 each
Buy
Section: 117
Row: C
Description: N/A
$1,588.26 each
Buy
Section: 312
Row: B
Description: N/A
$1,591.85 each
Buy
Section: 116
Row: E
Description: N/A
$1,606.80 each
Buy
Section: 114
Row: A
Description: Must buy in multiples of 2
$1,606.80 each
Buy
Section: 322
Row: A-C
Description: Must buy in multiples of 2
$1,637.70 each
Buy
Section: 323
Row: C
Description: N/A
$1,637.70 each
Buy
Section: 117
Row: F
Description: N/A
$1,668.60 each
Buy
Section: 117
Row: F
Description: Must buy in multiples of 2
$1,668.60 each
Buy
Section: 117
Row: C
Description: Must buy in multiples of 2
$1,668.60 each
Buy
Section: 116
Row: E
Description: Must buy in multiples of 2
$1,668.60 each
Buy
Section: 116
Row: F
Description: Must buy in multiples of 2
$1,668.60 each
Buy
Section: 117
Row: E
Description: Must buy in multiples of 2
$1,668.60 each
Buy
Section: 313
Row: B
Description: Clubhouse admission included.
$1,730.40 each
Buy
Section: 312
Row: A-C
Description: Must buy in multiples of 2
$1,730.40 each
Buy
Section: 325
Row: COVERED
Description: N/A
$1,730.40 each
Buy
Section: 312
Row: B
Description: Must buy in multiples of 2
$1,730.40 each
Buy
Section: 325
Row: Covered
Description: N/A
$1,730.40 each
Buy
Section: 120
Row: G
Description: Includes 3rd Floor Access
$1,730.40 each
Buy
Section: 114
Row: J
Description: Even Numbers Only
$1,752.04 each
Buy
Section: 313
Row: B
Description: N/A
$1,766.59 each
Buy
Section: 312
Row: A
Description: Must buy in multiples of 2
$1,792.20 each
Buy
Section: 321
Row: A
Description: N/A
$1,792.20 each
Buy
Section: 116
Row: K
Description: N/A
$1,798.38 each
Buy
Section: 117
Row: F
Description: N/A
$1,798.38 each
Buy
Section: 324
Row: Under Cover
Description: Must Buy in multiples of 2 - Under Cover
$1,823.10 each
Buy
Section: 212
Row: Covered
Description: Must buy in multiples of 2
$1,823.10 each
Buy
Section: 323
Row: G
Description: N/A
$1,843.92 each
Buy
Section: 313
Row: A-C
Description: Must buy in multiples of 2. Not covered. 1st 3 rows of the section. 3rd floor clubhouse boxes of 6 folding chairs.
$1,854.00 each
Buy
Section: 321
Row: B
Description: N/A
$1,854.00 each
Buy
Section: 114
Row: A
Description: N/A
$1,854.00 each
Buy
Section: 313
Row: B
Description: Must buy in multiples of 2
$1,854.00 each
Buy
Section: 115
Row: Covered
Description: Must buy in multiples of 2
$1,884.90 each
Buy
Section: 322
Row: G
Description: N/A
$1,899.73 each
Buy
Section: 314
Row: B
Description: N/A
$1,903.40 each
Buy
Section: 321
Row: B
Description: Must buy in multiples of 2
$1,915.80 each
Buy
Section: 321
Row: C
Description: Must buy in multiples of 2
$1,915.80 each
Buy
Section: 116
Row: Covered
Description: Must buy in multiples of 2
$1,915.80 each
Buy
Section: 117
Row: M
Description: N/A
$1,915.80 each
Buy
Section: 117
Row: Covered
Description: Must buy in multiples of 2
$1,915.80 each
Buy
Section: 313
Row: A
Description: Must buy in multiples of 2
$1,915.80 each
Buy
Section: 321
Row: A-C
Description: Must buy in multiples of 2
$1,915.80 each
Buy
Section: 321
Row: B
Description: N/A
$1,929.22 each
Buy
Section: 115
Row: Covered
Description: N/A
$1,946.70 each
Buy
Section: 321
Row: J
Description: N/A
$1,965.24 each
Buy
Section: 314
Row: B
Description: N/A
$1,971.42 each
Buy
Section: 321
Row: A
Description: N/A
$1,977.60 each
Buy
Section: 321
Row: A
Description: Must buy in multiples of 2
$1,977.60 each
Buy
Section: 314
Row: B
Description: Must buy in multiples of 2
$1,977.60 each
Buy
Section: 314
Row: A-C
Description: Must buy in multiples of 2
$1,977.60 each
Buy
Section: 117
Row: L
Description: N/A
$1,978.84 each
Buy
Section: 314
Row: A
Description: Must buy in multiples of 2
$2,039.40 each
Buy
Section: 323
Row: K
Description: Must buy in multiples of 2
$2,039.40 each
Buy
Section: 320
Row: A-C
Description: Must buy in multiples of 2
$2,039.40 each
Buy
Section: 320
Row: B
Description: Must buy in multiples of 2
$2,039.40 each
Buy
Section: 320
Row: C
Description: Must buy in multiples of 2
$2,039.40 each
Buy
Section: 321
Row: H
Description: Covered seating. These are Club Section seats.
$2,039.40 each
Buy
Section: 320
Row: B
Description: N/A
$2,039.40 each
Buy
Section: 320
Row: B
Description: N/A
$2,053.68 each
Buy
Section: 315
Row: B
Description: N/A
$2,070.30 each
Buy
Section: 321
Row: H
Description: Covered seating. These are Club Section seats.
$2,070.30 each
Buy
Section: 220
Row: A-D
Description: Must buy in multiples of 2
$2,095.02 each
Buy
Section: 315
Row: B
Description: N/A
$2,095.02 each
Buy
Section: Churchill Downs Lounge
Row: Hospitality
Description: Must buy in multiples of 2., Obstructed/Limited View
$2,101.20 each
Buy
Section: 320
Row: J
Description: N/A
$2,101.20 each
Buy
Section: 320
Row: C
Description: N/A
$2,101.20 each
Buy
Section: 322
Row: K
Description: Must buy in multiples of 2
$2,132.10 each
Buy
Section: 320
Row: COVERED
Description: N/A
$2,132.10 each
Buy
Section: PLAZA BALCONY
Row: A
Description: xfer Mobile Transfer. Scan your tickets from your mobile phone for this event. Even Numbers Only
$2,141.38 each
Buy
Section: 117
Row: B
Description: N/A
$2,151.88 each
Buy
Section: Aristides
Row: Hospitality
Description: Must buy in multiples of 2 - Hospitality Area - Need 3rd Floor Clubhouse Access to use
$2,163.00 each
Buy
Section: 320
Row: Covered
Description: Must buy in multiples of 2
$2,163.00 each
Buy
Section: 321
Row: A
Description: N/A
$2,163.00 each
Buy
Section: 312
Row: Under Cover
Description: Must buy in multiples of 2
$2,163.00 each
Buy
Section: 116
Row: Covered
Description: N/A
$2,163.00 each
Buy
Section: 117
Row: Covered
Description: N/A
$2,163.00 each
Buy
Section: 319
Row: C
Description: Must buy in multiples of 2
$2,163.00 each
Buy
Section: 320
Row: K
Description: N/A
$2,184.16 each
Buy
Section: 315
Row: C
Description: N/A
$2,218.62 each
Buy
Section: 120
Row: Box
Description: Must buy in multiples of 2
$2,218.62 each
Buy
Section: 320
Row: A
Description: Must buy in multiples of 2. 3rd floor clubhouse. Boxes of 6 folding chairs per box. Row A- front row/unobstructed views. Not covered.
$2,224.80 each
Buy
Section: 319
Row: A
Description: Must buy in multiples of 2
$2,224.80 each
Buy
Section: 312
Row: COVERED
Description: N/A
$2,224.80 each
Buy
Section: 318
Row: M
Description: Obstructed/Limited view
$2,286.60 each
Buy
Section: 117
Row: A
Description: N/A
$2,286.60 each
Buy
Section: 116
Row: A
Description: N/A
$2,286.60 each
Buy
Section: 321
Row: J
Description: Must buy in multiples of 2
$2,286.60 each
Buy
Section: 319
Row: C
Description: N/A
$2,286.60 each
Buy
Section: 313
Row: Covered
Description: Must buy in multiples of 2
$2,286.60 each
Buy
Section: 321
Row: J.
Description: Must buy in multiples of 2
$2,286.60 each
Buy
Section: 322
Row: B
Description: N/A
$2,307.88 each
Buy
Section: 318
Row: C
Description: Must buy in multiples of 2
$2,348.40 each
Buy
Section: 318
Row: A-C
Description: Must buy in multiples of 2
$2,348.40 each
Buy
Section: 318
Row: L
Description: N/A
$2,348.40 each
Buy
Section: GRANDSTAND SILVER
Row: PACKAGE
Description: Grandstand Silver Package includes a 3rd Floor Grandstand ticket in sections 326-327 to the Kentucky Derby (orders of 3 or more may be split) | Access to hospitality in the Grandstand Pavilion featuring complimentary beer, wine and soft drinks, lunch buffet, celebrity jockey meet and greets with photo and autograph opportunities | VIP Fast Access Pass to Churchill Downs |
$2,348.40 each
Buy
Section: 313
Row: F
Description: N/A
$2,379.25 each
Buy
Section: 312
Row: A
Description: N/A
$2,397.84 each
Buy
Section: 322
Row: A
Description: N/A
$2,397.84 each
Buy
Section: 318
Row: A
Description: Must buy in multiples of 2
$2,410.20 each
Buy
Section: 314
Row: Covered
Description: Must buy in multiples of 2
$2,410.20 each
Buy
Section: 320
Row: I
Description: Must buy in multiples of 2
$2,410.20 each
Buy
Section: 314
Row: I
Description: Must buy in multiples of 2
$2,410.20 each
Buy
Section: 320
Row: J
Description: Must buy in multiples of 2
$2,410.20 each
Buy
Section: 319 COVERED
Row: J
Description: UNDERCOVER box located Deep Stretch before finish line
$2,472.00 each
Buy
Section: Turf Club Tables
Row: Walks
Description: N/A
$2,472.00 each
Buy
Section: 319
Row: K
Description: Must buy in multiples of 2
$2,533.80 each
Buy
Section: 319
Row: J
Description: Must buy in multiples of 2
$2,533.80 each
Buy
Section: 319
Row: Covered
Description: Must buy in multiples of 2
$2,533.80 each
Buy
Section: 119 COURTYARD
Row: H
Description: N/A
$2,589.42 each
Buy
Section: 119 COURTYARD
Row: J
Description: N/A
$2,589.42 each
Buy
Section: 315
Row: C
Description: N/A
$2,657.40 each
Buy
Section: 315
Row: C
Description: Must buy in multiples of 2
$2,657.40 each
Buy
Section: 315
Row: B
Description: Must buy in multiples of 2
$2,657.40 each
Buy
Section: 315
Row: A-C
Description: Must buy in multiples of 2
$2,657.40 each
Buy
Section: 315
Row: A
Description: Must buy in multiples of 2
$2,657.40 each
Buy
Section: 314
Row: A
Description: N/A
$2,698.19 each
Buy
Section: Turf Club Tables
Row: Walks
Description: Must buy in multiples of 2 Need 3rd Floor Clubhouse Access to use. NOT AN ADMISSION TICKET
$2,781.00 each
Buy
Section: 318
Row: B
Description: N/A
$2,781.00 each
Buy
Section: 218
Row: B
Description: N/A
$2,781.00 each
Buy
Section: 319
Row: F
Description: N/A
$2,842.80 each
Buy
Section: 320
Row: D
Description: Must buy in multiples of 2
$2,904.60 each
Buy
Section: 316
Row: B
Description: N/A
$2,904.60 each
Buy
Section: 219
Row: B
Description: Must buy in multiples of 2
$2,960.22 each
Buy
Section: 318
Row: L
Description: N/A
$2,997.30 each
Buy
Section: 321
Row: A
Description: N/A
$2,997.30 each
Buy
Section: 318
Row: H
Description: N/A
$2,997.30 each
Buy
Section: 320
Row: K
Description: N/A
$2,997.30 each
Buy
Section: 318
Row: A
Description: N/A
$3,028.20 each
Buy
Section: 319
Row: D
Description: Must buy in multiples of 2
$3,028.20 each
Buy
Section: 318
Row: L
Description: N/A
$3,028.20 each
Buy
Section: 315
Row: H
Description: Covered seating. These are Club Section seats.
$3,083.82 each
Buy
Section: 316
Row: A
Description: N/A
$3,083.82 each
Buy
Section: 218
Row: B
Description: Must buy in multiples of 2
$3,083.82 each
Buy
Section: 316
Row: B
Description: Must buy in multiples of 2
$3,090.00 each
Buy
Section: 315
Row: C
Description: N/A
$3,090.00 each
Buy
Section: 317
Row: B
Description: N/A
$3,090.00 each
Buy
Section: Gold Room
Row: Table
Description: Must buy in multiples of 2
$3,090.00 each
Buy
Section: 316
Row: A-C
Description: Must buy in multiples of 2
$3,090.00 each
Buy
Section: 315
Row: A
Description: N/A
$3,177.76 each
Buy
Section: 318
Row: J
Description: Must buy in multiples of 2
$3,275.40 each
Buy
Section: 318
Row: Covered
Description: Must buy in multiples of 2
$3,275.40 each
Buy
Section: 319
Row: K
Description: N/A
$3,297.65 each
Buy
Section: 317
Row: A-C
Description: Must buy in multiples of 2. Section 317 on the finish line in 3rd floor clubhouse. Row A-C not covered. Boxes of 6 folding chairs per box.
$3,337.20 each
Buy
Section: 317
Row: B
Description: Must buy in multiples of 2
$3,337.20 each
Buy
Section: 317
Row: A
Description: N/A
$3,397.76 each
Buy
Section: 316
Row: C
Description: N/A
$3,399.00 each
Buy
Section: 316
Row: A
Description: Must buy in multiples of 2
$3,399.00 each
Buy
Section: 316
Row: A
Description: N/A
$3,399.00 each
Buy
Section: 316
Row: COVERED
Description: N/A
$3,460.80 each
Buy
Section: 317
Row: A
Description: N/A
$3,522.60 each
Buy
Section: 317
Row: A
Description: Must buy in multiples of 2
$3,522.60 each
Buy
Section: 317
Row: A
Description: N/A
$3,537.43 each
Buy
Section: 315
Row: Covered
Description: N/A
$3,584.40 each
Buy
Section: 318
Row: A
Description: N/A
$3,596.76 each
Buy
Section: 316
Row: B
Description: N/A
$3,596.76 each
Buy
Section: 315
Row: Covered
Description: Must buy in multiples of 2. 3rd floor clubhouse. Box of 6 folding chairs per box. Access to clubhouse.
$3,646.20 each
Buy
Section: 315
Row: G
Description: Must buy in multiples of 2
$3,646.20 each
Buy
Section: 315
Row: I
Description: Must buy in multiples of 2
$3,646.20 each
Buy
Section: 317
Row: C
Description: N/A
$3,646.20 each
Buy
Section: CLUBHOUSE SILVER
Row: PACKAGE
Description: Clubhouse Silver Package includes a 1st Floor ticket in the Clubhouse Courtyard (orders of 3 or more may be split) | Access to in-suite hospitality at the Clubhouse Courtyard featuring premium open bar, gourmet food buffets, private wagering stations, closed-circuit TV coverage and more| VIP Fast Access Pass to Churchill Downs |
$3,670.92 each
Buy
Section: TURF WALKAROUNDS
Row: GA
Description: N/A
$3,708.00 each
Buy
Section: SKY TERRACE
Row: TABLE
Description: N/A
$3,708.00 each
Buy
Section: 316
Row: G
Description: N/A
$3,708.00 each
Buy
Section: 315
Row: F
Description: N/A
$3,708.00 each
Buy
Section: GRANDSTAND GOLD
Row: PACKAGE
Description: Grandstand Gold Package includes a 3rd Floor Grandstand ticket in sections 323-325 to the Kentucky Derby (orders of 3 or more may be split) | Access to hospitality at the exclusive climate-controlled Affirmed Lounge featuring celebrity jockey meet and greet with photo and autograph opportunities, gourmet food stations, premium open bar, live entertainment, live wagering tellers, closed-circuit TV coverage, private restrooms and more | VIP Fast Access Pass to Churchill Downs |
$3,738.90 each
Buy
Section: 317
Row: C
Description: N/A
$3,777.22 each
Buy
Section: TRIPLE CROWN ROOM
Row: TABLE
Description: N/A
$3,856.32 each
Buy
Section: 316
Row: A
Description: N/A
$3,897.11 each
Buy
Section: TRIPLE CROWN ROOM
Row: TABLE
Description: Even Numbers Only
$3,958.30 each
Buy
Section: Skye Terrace
Row: Table
Description: Must buy in multiples of 2
$4,017.00 each
Buy
Section: 316
Row: G
Description: Must buy in multiples of 2
$4,140.60 each
Buy
Section: 316
Row: H
Description: Must buy in multiples of 2
$4,140.60 each
Buy
Section: 316
Row: G
Description: N/A
$4,196.22 each
Buy
Section: 317
Row: G
Description: N/A
$4,196.22 each
Buy
Section: 317
Row: G
Description: N/A
$4,202.40 each
Buy
Section: 318
Row: E
Description: Must buy in multiples of 2
$4,264.20 each
Buy
Section: 316
Row: C
Description: Must buy in multiples of 2. 3rd floor clubhouse. Row C just off aisle- walk right into your box. Section 316/317 finish line sections in 3rd floor clubhouse (boxes of 6 folding chairs/box).
$4,264.20 each
Buy
Section: 316
Row: Covered
Description: Must buy in multiples of 2
$4,264.20 each
Buy
Section: 317
Row: Covered
Description: Must buy in multiples of 2
$4,326.00 each
Buy
Section: 317
Row: Covered
Description: N/A
$4,326.00 each
Buy
Section: 317
Row: H
Description: Must buy in multiples of 2
$4,326.00 each
Buy
Section: 318
Row: D
Description: Must buy in multiples of 2. 3rd floor clubhouse. One section away from finish line. First row of covered seating--- unobstructed view.
$4,326.00 each
Buy
Section: 317
Row: C
Description: Must buy in multiples of 2
$4,326.00 each
Buy
Section: 317
Row: G
Description: Must buy in multiples of 2
$4,326.00 each
Buy
Section: CLUBHOUSE GOLD
Row: PACKAGE
Description: Clubhouse Gold Package includes a 3rd Floor Clubhouse Box ticket in sections 312-313 to the Kentucky Derby (orders of 3 or more may be split) | Access to hospitality at the exclusive climate-controlled Whirlaway Lounge featuring celebrity jockey meet and greet with photo and autograph opportunities, gourmet lunch buffet, complimentary beer, wine and soft drinks, self-service wagering stations and closed circuit TV covergae | VIP Fast Access Pass to Churchill Downs |
$4,400.16 each
Buy
Section: 317
Row: E
Description: Must buy in multiples of 2. Section 316/317 finish line sections. Row E is the 2nd row undercover. Boxes of 8 folding chairs/box.
$4,635.00 each
Buy
Section: 317
Row: D
Description: Must buy in multiples of 2
$4,882.20 each
Buy
Section: TURF BOX
Row: C
Description: N/A
$4,944.00 each
Buy
Section: TURF BALCONY
Row: TABLE
Description: N/A
$4,944.00 each
Buy
Section: MILLIONAIRES ROW FLOOR 4
Row: TABLE
Description: N/A
$5,555.82 each
Buy
Section: MILLIONAIRES ROW 4TH FLOOR
Row: TABLE
Description: Tickets will be ready for delivery by Apr 27, 2019.
$5,562.00 each
Buy
Section: MILLIONAIRE ROW
Row: TABLE
Description: N/A
$5,562.00 each
Buy
Section: STANDARD HOTEL
Row: PACKAGE
Description: Standard Hotel Package includes 3 nights at the Residence Inn Louisville Northeast or comparable property (check-in 5/2, check-out 5/5) | 3rd Floor Grandstand ticket in sections 323-325 to the Kentucky Derby (orders of 3 or more may be split) | Access to hospitality at the exclusive climate-controlled Affirmed Lounge featuring celebrity jockey meet and greet with photo and autograph opportunities, gourmet food stations, premium open bar, live entertainment, live wagering tellers, closed-circuit TV coverage, private restrooms and more | VIP Fast Access Pass to Churchill Downs | | Rate is based on double occupancy |
$5,722.68 each
Buy
Section: Millionaires Row Floor 6
Row: Table
Description: N/A
$6,180.00 each
Buy
Section: Millionaires Row Floor 4
Row: Table
Description: N/A
$6,180.00 each
Buy
Section: Millionaires Row 6th Floor
Row: Table
Description: Must buy in multiples of 2
$6,180.00 each
Buy
Section: TURF CLUB
Row: TABLE
Description: N/A
$6,180.00 each
Buy
Section: Millionaires Row 4th Floor
Row: Table
Description: Must buy in multiples of 2
$6,180.00 each
Buy
Section: Turf Club Tables
Row: Box
Description: Must buy in multiples of 2
$6,180.00 each
Buy
Section: Trophy Room
Row: Table
Description: Must buy in multiples of 2, Obstructed/Limited View
$6,489.00 each
Buy
Section: Turf Club Tables
Row: Table
Description: N/A
$6,798.00 each
Buy
Section: DELUXE HOTEL
Row: PACKAGE
Description: Deluxe Hotel Package includes 3 nights at the Hampton Inn Louisville Downtown or comparable property (check-in 5/2, check-out 5/5) | 3rd Floor Clubhouse Box ticket in sections 312-313 to the Kentucky Derby (orders of 3 or more may be split) | Access to hospitality at the exclusive climate-controlled Whirlaway Lounge featuring celebrity jockey meet and greet with photo and autograph opportunities, gourmet lunch buffet, complimentary beer, wine and soft drinks, self-service wagering stations and closed circuit TV covergae | VIP Fast Access Pass to Churchill Downs | Rate is based on double occupancy |
$6,865.98 each
Buy
Section: Turf Club Tables
Row: Table
Description: Must buy in multiples of 2
$7,107.00 each
Buy
Section: TROPHY ROOM
Row: PACKAGE
Description: Trophy Room Package includes premium indoor table seating in the 5th floor Trophy Room to the Kentucky Derby (orders of 3 or more may be split) | Access to exclusive Trophy Room in-suite hospitality featuring viewing platform, gourmet food buffets, premium open bar, private wagering stations, close-circuit TV coverage and more | VIP Fast Access Pass to Churchill Downs | Kentucky Derby gift bag |
$7,335.66 each
Buy
Section: TURF CLUB
Row: C
Description: N/A
$7,416.00 each
Buy
Section: Turf Club Table
Row: FRONT ROW A
Description: VIP table located right on the FRONT GLASS-great view of Turf Terrace, where a number of celebrities sit. All-Inclusive.FOOD & DRINK included.
$8,034.00 each
Buy
Section: Turf Club Tables
Row: D
Description: N/A
$8,652.00 each
Buy
Section: TURF CLUB
Row: A
Description: N/A
$8,652.00 each
Buy
Section: Turf Club Tables
Row: B
Description: N/A
$9,579.00 each
Buy
Section: TURF CLUB TABLES
Row: A
Description: Even Numbers Only
$9,733.50 each
Buy
Section: Millionaires Row Floor 4
Row: C
Description: Includes Front Row Veranda Access Privileges.
$9,826.20 each
Buy
Section: Turf Club Tables
Row: B
Description: Must buy in multiples of 2
$9,888.00 each
Buy
Section: Turf Club Tables
Row: A
Description: N/A
$10,506.00 each
Buy
Section: Millionaires Row 4th Floor
Row: B
Description: Must Buy in Multiples of 2 - Balcony Access
$10,506.00 each
Buy
Section: Turf Club Tables
Row: A
Description: Must buy in multiples of 2
$10,815.00 each
Buy
Section: Millionaires Row 4th Floor
Row: A
Description: Must Buy in Multiples of 2 - Balcony Access
$10,815.00 each
Buy
Section: TURF TERRACE
Row: TABLE
Description: N/A
$17,304.00 each
Buy