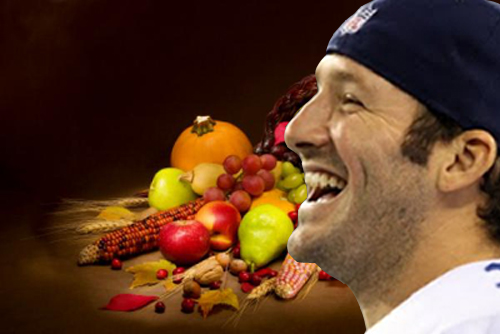 Tradition.  This is a word that is highly regarded among the NFL faithful.  When you think about tradition, names like Lombardi and Hallas come to mind.  Keeping tradition in the NFL has always been important to the fans, players,  and owners alike.  There has been one tradition in the NFL that has held true and is distinguished by a common link to our nation's past.
Every year families gather to eat turkey and stuffing, catch up with relatives, and watch football.  You could argue that NFL football is as much a part of Thanksgiving as the turkey or any Thanksgiving custom.  Professional football has been played on Thanksgiving Day since the 1920's but the modern Thanksgiving Day NFL tradition didn't start until 1970.  Since that time the Dallas Cowboys and Detroit Lions have played games on "turkey day" nearly every season*.  Both the Lions and the Cowboys had often frequented the game or games on Thanksgiving but it wasn't until 1970 that both teams played and thus the tradition began.
*Lions have played every year but the Cowboys did not play in '75 & '77.
Everyone knows that the Lions and Cowboys are going to show up on your television every Thanksgiving.  However, this tradition suffered criticism in 2008 when many people lobbied for the Lions to be taken away from their Thanksgiving game by fault of their 0-11 record at that point.  The Lions were not removed and suffered a 47-10 beating at the hands of the Tennessee Titans.  The lowly Lions then went on to finish 0-16 that year.  The only team ever to do so.
Turkey Day Success
In the modern era of Thanksgiving Day games the team with the highest winning percentage is the Minnesota Vikings at .833 (min of 5 games played).  The Vikings are 5-1 on Thanksgiving and below I have also listed the records for the Cowboys and Lions since 1970.
Dallas Cowboys: 24-16
Detroit Lions: 20-22
It has been almost 10 years since the Lions won on Thanksgiving (2003) so there hasn't been much to report in regards to success for the Lions.  The Cowboys, on the other hand, currently and historically have great success on Thanksgiving.  In more recent times QB Tony Romo has been dominant on Thanksgiving.  Romo is 5-0 with the Cowboys and has racked up over 1,300 yards passing, about 270 per game, and 14 TD's while only throwing 4 interceptions.  Big career numbers for Romo on Thanksgiving but 2012 brings a new challenge for Tony.
Thanksgiving Football 2012 - "Gobble, Gobble"
In 2006 the league added a third game to the Thanksgiving schedule and that same format is in place today.  Here is a look at the Thanksgiving NFL match-ups coming your way in 2012.
Houston Texans @ Detroit Lions - 12:30 ET on CBS
Washington Redskins @ Dallas Cowboys - 4:15 ET on Fox
New England Patriots @ New York Jets - 8:20 ET on NBC
Three very interesting games and perhaps the best lineup we have seen in a while.  The Lions are struggling right now but the talent is there to be successful.  Their game with the Texans should still be a good one.  Houston looks like they could be the best team in the NFL right now and they feature a very exciting offense.
The two games in the evening feature divisional rivals in games that most likely pose as playoff predictors.  The Pats and Jets just came off a good game this past weekend and their second meeting should be no different.  This game may prove to be the best of the day but my vote is going to the Cowboys and Redskins.
Cowboys and Indians.  A rivalry for the ages for both sports and our country's history.  It isn't every day that the Cowboys get to face a divisional opponent on Thanksgiving Day.  In fact, it has been a decade since the Cowboys had a divisional game on Thanksgiving.  The opponent that day?  The Washington Redskins.  In 2002 the Cowboys came away with a 7 point victory.  This year the Cowboys will face the Redskins in Arlington, TX and Cowboys Stadium will be rockin' for a game with playoff implications.  Oh, and some guy name RGIII will make his first career appearance in the house that Jerry built in his first career game against Dallas.
With parody all over the NFL we should feel comfortable in assuming that most if not all 6 teams could be in playoff contention at kickoff on Thanksgiving Thursday.  All I know is that I will give thanks that day for nearly 12 hours of NFL football.  What will you be thankful for?