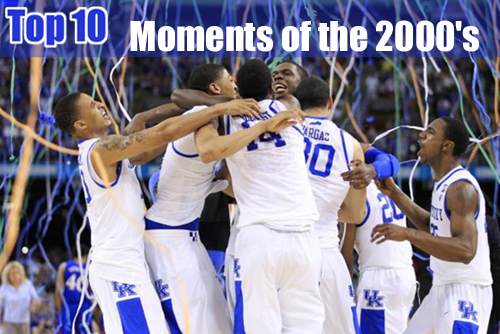 This current century is still relatively young but I think it is time to look back on the NCAA Tournament since the millennium changed over.  It was hard to narrow the list down to 10 so the Top 10 essentially becomes the most memorable for me.  A lot happens from year to year and sometimes it can be hard to remember a buzzer-beater or crazy comeback.  But then again, if it is hard to remember then perhaps it wasn't that great.
*I apologize in advance if I have done a disservice to an outstanding NCAA Tournament moment by leaving it off of this list.
The Tournament is my favorite postseason for any sport at any level.  It just does not get any better.  So many games.... So much on the line....  This is what sports fans live for.
Top 10 Moments Since 2000
10. 2011 - Final Four includes an #8 and #11 seed in first Final Four without a #1 or #2 seed.
9. 2012 - BYU completes largest comeback in NCAA tournament history.
8. 2006 - Northwestern State upsets #3 seed Iowa in the first round with a last second heave from the corner.
7. 2008 - Stephen Curry and Davidson collect the attention of the college basketball world in their incredible run to the Elite 8.
6. 2006 - George Mason goes on an incredible run as the second #11 seed in tournament history to make the Final Four.
5. 2000, 2001, 2005, 2009, 2010 - Tom Izzo (MSU) reaches the Final Four 5 times in 13 years.
4. 2005 - Illinois keeps dream season alive against Arizona in the Elite 8.
3. 2010, 2011 - Butler makes back-to-back championship games.
2. 2006, 2007 - Florida repeats as National Champions.
1. 2008 - Kansas stuns Memphis in OT to win the National Championship.

*Honorable Mention:  2004 - University of Connecticut Men's & Women's team claim the championship.
Lets Go!!!
The action starts tonight.  Hopefully 2013 can add a memory or two to this list!
If you feel like I messed up and there is a moment that has to be on this list then please feel free to comment.  Who deserves a spot on this list?  Who doesn't?  Let me know what you think and be sure to watch the play-in games tonight!
(16)Liberty vs. (16)NCA&T
Tru TV @ 6:40 pm ET
(11)St. Mary's vs. (11)Middle Tennessee
Tru TV @ 9:10 pm ET
Written By: Craig Kibler