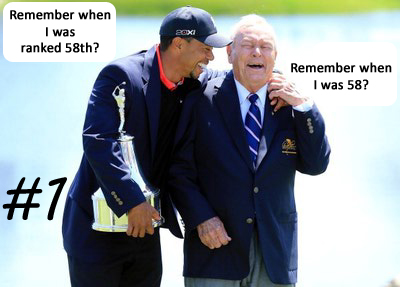 It has been quite some time since you could say Tiger is the best golfer in the world and be accurate.  Whether or not he is the best is up in the air right now but his world ranking indicates that he is currently the top dog.  Tiger climbs to number 1 after a 29 month hiatus from the top spot.
He does so by claiming his record tying eighth victory at the Arnold Palmer Invitational.  He already owns the record for most navy jackets but this time he ties the record with Sam Snead for most victories at a single event.  Woods also continues to chip away at the all time victories record which is also held by Snead.  Woods earned his 77th victory and is now just 5 behind Snead.
This victory has appeared to assign favorite status to Tiger as we get within 2 weeks of the Masters.  It certainly has not been overnight but Tiger now finally appears to have reached a moderate level of peace both on and off the course.  His personal life has finally turned to the positive and his golf game has now developed within the parameters of his swing and mechanics.  If I've said it once, I've said it a thousands times...  I really look forward to the day when Tiger shows us why he is the best ever.  All I think it will take is one major and the rest will come.
The journey has been a long one for Tiger and it has been up and down since his return to golf.  I believe that many of us, including myself, thought that he would be rusty for a bit for return to dominance within the year.  Well that didn't exactly happen but credit Tiger for his determination to keep with it and continue to get better week by week.  The most important thing I have noticed is the relaxation Tiger is showing on the course.  He looks to be in good spirits and smiling more on the course.  He also looks incredibly focused.  So right now we have a relaxed, focused, and swinging great Tiger.  Good luck to the rest of the field.  Barring anything unforeseen I am outright guaranteeing that Tiger Woods will win the 2013 Master Golf Tournament.  Don't be surprised if he gets more than one major this year.
Here is a look at the top 10 in the FedEx Cup as of today:
1. Tiger Woods
2. Brandt Snedeker
3. Matt Kuchar
4. Kevin Streelman
5. Phil Mickelson
6. Steve Stricker
7. Hunter Mahan
8. Charles Howell III
9. Russell Henley
10. Brian Gay
Here is also a look at the top 10 in the World Rankings as of today:
1. Tiger Woods
2. Rory McIlroy
3. Justin Rose
4. Luke Donald
5. Brandt Snedeker
6. Louis Oozthuisin
7. Adam Scott
8. Steve Stricker
9. Matt Kuchar
10. Keegan Bradley
The countdown is on!  Tiger's drive for five begins April 11, 2013.  He might enjoy his 8 navy jackets from winning the Arnold Palmer Invitational but I don't think anything is as important as winning that fifth green jacket.  I'll be checking back in with golf after the conclusion of the Masters and we will see if my guarantee holds up.  Until next time, enjoy the best time of the sports calendar!
Written By: Craig Kibler