With a capacity of 150,000 people, there are many seating options at Churchill Downs. Many people have a difficult time trying to decide on where to sit. Guess what, I don't blame you. For most people, attending the Kentucky Derby has been a dream and when it comes to where to sit, of course you want the best possible section.
Before you go ahead and purchase your Kentucky Derby seats, let me help make the decision much easier for you!
Clubhouse vs. Grandstand Seating:  This seems to be the most popular question with people making their first trip to the Derby. The Grandstand offers standard bleacher seating with no backs, however, the Clubhouse offers seating with chair backs. Keep in mind that the Clubhouse seating is A LOT more comfortable than the Grandstand. The Clubhouse also offers better amenities including more food & drink options, plus easier access to the betting tables and restrooms.

Clubhouse seating is located closer to the finish line in sections 111-118, 212, 218, 220, and 312-320. Granstand seating goes as close as the 1/16 pole and includes sections 119-128, 221-225, and 321-325. View our seating chart.

Do I want to sit higher or lower? To be able to view the horses in the backstretch, you would want to sit higher, either the second floor, third floor, or Millionaire's Row. On the first floor, you will not be elevated high enough to see anything, except for what's in front of you.

When you move up on each floor, the cost will increase, especially from the second floor to the third floor. Sports Traveler recommends upgrading to the second floor where you will be elevated to see more of the track and it's only a small upgrade price.

What are Infield "Seats?" Don't let the word "seat" make you believe you will be sitting. These seats are located in the infield of Churchill Downs. Infields seats are all general admission, which means there are no seats. You can go to any spot in the infield area, but you will be standing the entire time. People enjoy the infield area due to the large party atmosphere you will experience. These tickets are the least expensive "seats" at the Kentucky Derby.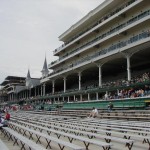 Sports Traveler has a large variety of Kentucky Derby Tickets & Kentucky Derby Travel Packages available for the 2011 race. If you have any further questions about the Kentucky Derby, please do not hesitate to call our office at 888-654-7755.