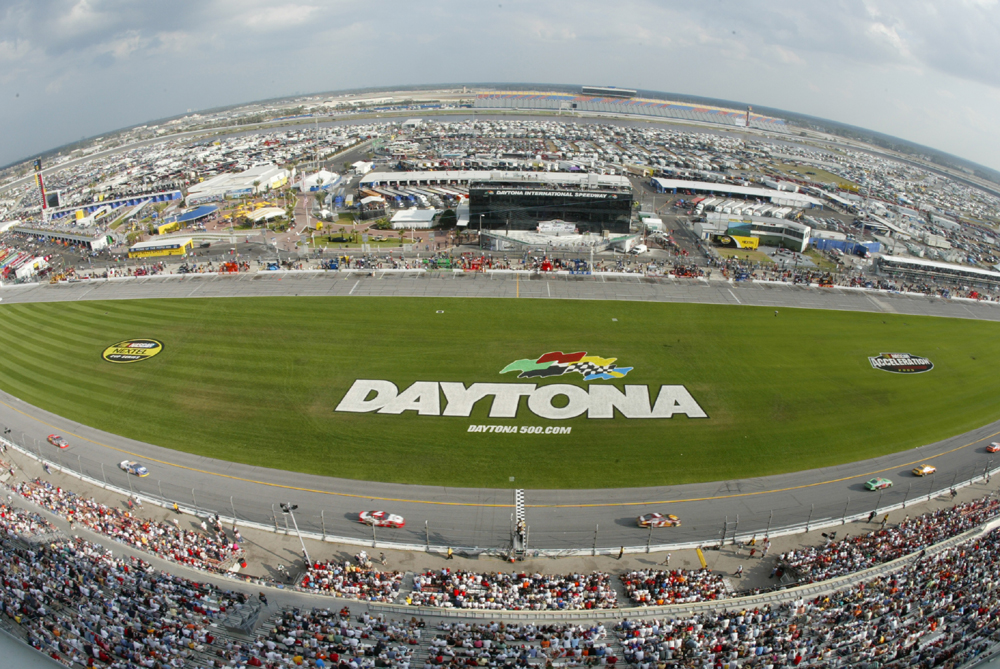 Every year NASCAR features 2 races at Daytona International Speedway.  One of course is the Daytona 500, and the other is the upcoming Coke Zero 400 in July.  These 2 races at Daytona represent half of the superspeedway races on the NASCAR circuit.  The other two races are held at Talladega Superspeedway in Alabama.
Superspeedway races are just  different monster than any other.  Nothing can compare to the soaring speeds and close quarters of a superspeedway race.  Tempers are easily flared and even the smallest of errors can cause "the big one".  The only tracks where you hear about the big one is Daytona and Talladega.
Most driver's biggest concern before a Daytona race is staying out of the big wrecks that can take out 5 to 10 cars or even more.  Often times during a Daytona race you will hear drivers and crew chiefs talking about keeping the car clean.  Keeping the car clean refers to the nose of the car and maintaining the overall aerodynamic package that the teams spend so much time on perfecting.  Smashing into 3 cars and bouncing off the wall while coasting into the infield is not keeping the car clean.
Not wrecking is always at the top of any driver's list of priorities, so what are the other ways to ensure success at a track like Daytona International?
Secrets to Success at Daytona
-  Having a good engine package is always important but it is necessary for success at Daytona.
-  Qualify well.  Starting deep in the pack is never a good recipe for avoiding "the big one".  "The big one" can happen at any moment.
-  Keep your cool.  It is easy to get frustrated during a race at Daytona.  A driver's position can change 20 spots in one lap.  Drivers need to keep their emotions in check and not take their aggression out on other cars.  The cars are traveling so close to each other at such high speeds that any extra nudge could send someone spinning, and at Daytona it would most assuredly mean more than just someone.
-  Everyone knows drafting is important at a superspeedway but timing and partner selection is also important.  Teams will often try to run together but it won't always be the fastest solution for the better car in the tandem.  Driver's must pick their spots wisely and only change lines when they have enough space and momentum.
-  Be friendly.  At a track where an enemy seems only a bump away, it is important to not intentionally aggravate someone.  "You scratch my back and I'll scratch yours".  This attitude can prove helpful to drivers in a position to win.
-  Choose the high line at the end of the race... if available.  The high line carries more speed coming out of turn 4.
Successful Active Drivers: Daytona Int'l Speedway
Jeff Gordon: 6 wins, 16.15 avg. finish, 39 races
Tony Stewart:  3 wins, 16.67 avg. finish, 27 races
Kevin Harvick: 2 wins, 15.05 avg. finish, 22 races
Matt Kenseth: 2 wins, 16.72 avg. finish, 25 races
Dale Earnhardt, Jr: 2 wins, 14.48 avg. finish, 25 races
Written by: Craig Kibler