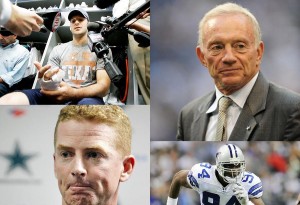 You could almost hear a collective sigh of relief from millions of people and businesses across the country this week when the NFL officially ended the lockout.  Players may now enter practice facilities and coaches can finally begin to start on work that normally gets taken care of in the spring.  Coaches will quickly realize which players worked hard during the time off.  It will be obvious which players take their profession seriously.  Adversely, there will be several players that did not stay in shape during the break and will have a slow start to say the least.  Look for the coaches across the NFL to intensify their efforts in an attempt to get their teams ready for the 2011-12 NFL season.
Teams are now put in a precarious situation with such a limited amount of time before the season starts.  Due to a lack of an off-season, front offices will be working around the clock to make any moves they feel are necessary.  Now that the lockout is over many owners will spend the next few weeks pulling out whatever hair they have left trying to get their team assembled by week 1.  One thing we can count on year after year is that Jerry Jones will be doing whatever he can with his beloved Dallas Cowboys.  The recent release of Cowboys WR Roy Williams has Dallas fans hoping that Mr. Jones can avoid making any terrible trades like the one that brought the former Texas Longhorn back to his home state.
The Cowboys are coming off one of their most tumultuous and sub par seasons of the last decade.  Jerry Jones will now try to piece together a squad that will hope to compete in 2011 and not suffer another frustrating season.  For the last few seasons the Cowboys have had one of the most talented rosters in the NFL but they have only managed one playoff win.  The poor play, bad discipline, and well.. bad coaching in 2010 brought a mid-season end to the Wade Phillips era in Dallas.  The injury to franchise QB Tony Romo didn't help anyone's cause but what was really damaging to Phillips was the fact that the defense was playing very poorly.  The defense spent the majority of the season healthy in 2010 and still suffered.  In 2009 the Cowboys sported one of the best defenses in the league by averaging the second fewest point per game.  In 2010 the Cowboys defense featured all of the major contributors from the year before but their results were much different.  Ironically the Cowboys finished a miserable 31st in points per game (27.3) last season with only the Denver Broncos being worse.
This year the Cowboys look to put all that behind them.  Jason Garrett will get his first full NFL season under his belt and Jerry Jones will most certainly have a very close watch on his head coach.  It will be interesting to see the identity of this team come September and October.  Along with Roy Williams, the Cowboys have also released RB Marion Barber, and G Leonard Davis.  Each of these players has had an important role in a talented offense over the last few seasons.  Leonard Davis has been a Pro Bowl guard and Marion Barber has been the starting running back for most of his time since the departure of Julius Jones.  You can debate the contributions of Roy Williams but the fact remains that he is a big athletic body that serves as a perfect target for an accurate QB like Romo.
Another point to ponder is how well will the Dallas defense perform this season?  Last season their was no "D" in Dallas and with a new defensive play caller and an offensive minded head coach it will be interesting to see if the Cowboys can make the right adjustments during the season.  One really bright spot on this defense is DE DeMarcus Ware.  Ware led the league last season with 15.5 sacks for the second time in his great young career.  The dominant defense that once had 2 Pro Bowl corners (Jenkins, Newman) and 2 Pro Bowlers (Ware, Ratliff) in the front seven seems to have vanished.  The most popular NFL team will look to re-establish hard nose defense and get their electric offense started off in rhythm.  Jason Garrett will need to be successful this season or he will truly understand the meaning of "hot seat".  No Cowboys coach is safe from the wrath of Jerry Jones.
If you are geared up for the NFL season and ready to see some hard hits on the gridiron then look to Sports Traveler to get you where you want to go.  We have travel packages and tickets available for the Dallas Cowboys and all 32 NFL teams!  Our Cowboys packages include wonderful lodging, tickets to the game, and you even get an opportunity to tour the architectural spectacle that is Cowboys Stadium.  Sports Traveler has had a special relationship with the Dallas Cowboys for several years and we continue to work hard to provide our clients with the most enjoyable Dallas Cowboys experience.  NFL football is back so don't hesitate to make your travel arrangements now to see your favorite NFL team!
Written by: Craig Kibler