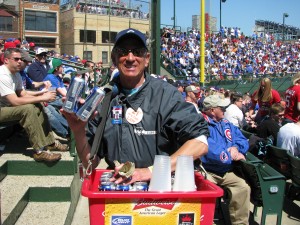 The following is an except from an interview with Kenneth Sherwin for the book Sports Traveler – Chicago. Sadly, the world lost Kenny this week. Thanks Kenny for the great stories and support of our company.
Kenny Sherwin – Your Beer Man
If you attend any games at the U.S. Cellular Field, United Center, or Wrigley Field you may recognize Kenny Sherwin as your "Beer Man". Kenny has been a beer vendor in Chicago's top sports arenas since 1981. He's served tens of thousands of beers to fans from all over the world with a smile and his trademark saying, "that will be $7, including shipping and handling". While serving up brews to us fans, Kenny has also been witness to some of Chicago's greatest sports moments.
He was there in the old Chicago Stadium when Michael Jordan first joined the team and was in the house to watch Jordan and the Bulls play for many of their Championship years. And when the team moved into the United Center, he watched the Bulls win three more titles, all while juggling our beers and navigating up and down the stairs. He also works most Cubs day games and White Sox games – sometimes pulling his own cross-town series by working them both on the same day.
He is an avid autograph collector and as you can imagine, after over 27 years of working games, he has accumulated countless autographs from some of sports most famous players. His favorite things to get signed are baseballs. He has the autographs of Michael Jordan, Sammy Sosa, John Garland, Jose Contreras, Ken Griffey, and Mark Buerhle to name a few. His favorites include Ichiro Suzuki and Cal Ripken, Jr.
Beer vendors are some of the first people let into the ballparks and arenas to get set up to serve. Over the years, this access has allowed Kenny to meet many of the players personally.
"They tell us (vendors) that we aren't supposed to ask for autographs, but after so many years of seeing these guys, you kind of form a relationship. And after all these years, who cares? I like talking to the guys and asking them to sign for me."
One of Kenny's favorite stories is about his meeting Cal Ripken, Jr. "In 1994 or 1995, I waited for his team bus to unload and for him to sign an autograph, and he signed a ball. And the next day he came back again and signed another ball. And the next day he came back, and he signed yet another ball. But this time I gave him a Michael Jordan signed baseball that I had because I already had 5 of them. He was such a nice guy and some players you meet are real jerks. We took a picture together. That was a real special moment for me. Thinking back over 25 years plus of doing this, that is probably my top moment."
He also has a collection of autographed Bulls basketballs signed by most of the Championship teams, including many pictures signed by Michael Jordan. He also has hundreds of signed hockey pucks from his days at the old Chicago Stadium including Wayne Gretzky, Bobby Hull, and "a bunch from guys that I can't tell who they are… hockey players are scribblers!"
Kenny says he does his job not just because he is a big sports fan, but because he likes to be outside at the ballpark and mingle with the crowds in the stands. "I do what I do because I like hanging out with the fans and talking to them during the game. It's always fun". So the next time you are at a Cubs, White Sox, Bulls or Blackhawks game, take a good look at your Beer Man and if it's Kenny be sure to say "hi" and when you pay for your beer remember include the "shipping and handling".
In memory of our friend Kenny. Gone too soon and will be missed!