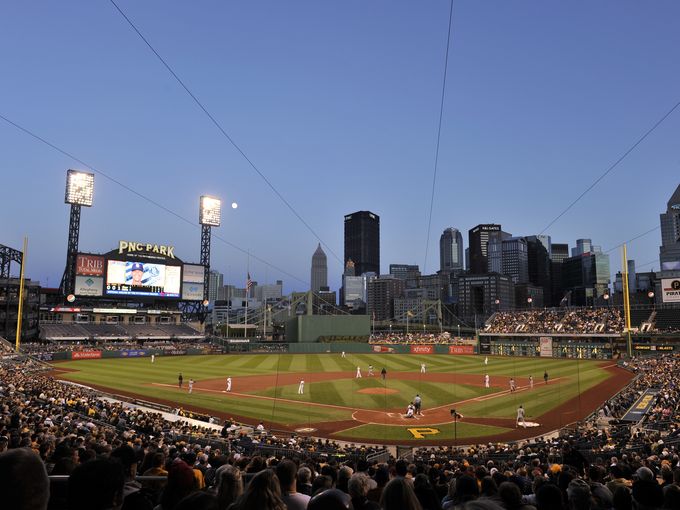 How long has it been since the Pittsburgh Pirates made the playoffs?  It has been 21 years since the drought began after their last division title in 1992.  Not only have they not made the Playoffs, but they have also failed to record a winning season.  Needless to say there has been some rough times during the summer in the "steel city".  At least the Pittsburgh faithful could rest their hat on 4 Super Bowl appearances and 1 Stanley Cup Final that yielded at total of 3 championships during that time.
A lot of things have happened in baseball since then as well.  So in honor of the drought ending I have come up with a list of notable moments in baseball history since the Pirates have joined the postseason party.
Mariano Rivera records 652 saves and becomes all time leader.
4 new teams - Rockies, Rays, Diamondbacks, & Marlins.
All 4 of those teams have made the World Series.  Marlins won twice and D'backs won in 2001.
The Montreal Expos were moved to Washington D.C. to become the Nationals.
MLB adds Wild Card Playoff spot.
MLB adds another Wild Card spot.
Interleague play begins.
20 new stadiums have been built.
Yankee Stadium is demolished.
Braves win 14 consecutive division titles.
Barry Bonds leaves Pittsburgh and wins 4 more MVP's.
Bonds also sets new career home run record. 862
Jim Abbott throws no-hitter.  The man had only 1 hand.
Johan Santana throws first Mets no-hitter.
Red Sox end 86 year championship drought.
White Sox end 88 year championship drought.
Yankees add 5 more World Series titles (most in MLB or any sport).
Phillies, team with most losses in MLB history, win the World Series.
Single season home run record broken 3 times.
Sammy Sosa hits 20 homers in 1 month.
Sosa also becomes only player to hit 60 home runs 3 times.
Steroids and PED policy dictated by Mitchell Report.
MLB All-Star decides home field for World Series after a tie.
MLB goes on strike.
Miguel Cabrera wins the triple crown.
7 no-hitters in 1 season.
Instant Replay is introduced.
Roy Halladay throws NLDS no-hitter.
Cal Ripken breaks Lou Gehrig's streak with his 2,131st consecutive game.
Joe Carter walks off in the World Series.
Steve Bartman helps the Cubs continue drought.  105 years and counting...
Just to name a few.
It is hard to tell what will happen this year for the Pirates but they will have to win tonight against the Reds if they want this great season to continue.
If they win tonight they will face their division rival St. Louis Cardinals in an attempt to return to the NCLS.  The first trip back since this happened.
The good news is the drought is over.  Pirates fans get to kills 2 birds with 1 stone and end their winning season and playoff droughts at the same time.  I guess they have waited long enough.  Speaking of waiting...
The other good news for the Pirates, and teams like the Royals, is the Chicago Cubs still play baseball and until the Cubs win the World Series the league-wide dunce cap will always be adorned by the north siders.  Two decades without a winning season is no fun but it pails in comparison to 105 years of championship ineptitude.
Congrats to the Pirates on ending 2 ugly streaks and good luck in the 2013 MLB Playoffs.