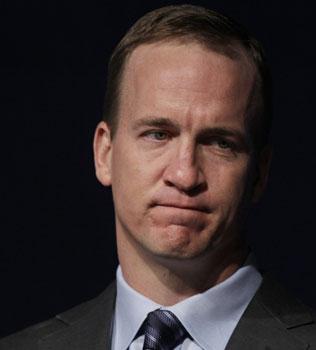 Today marks the beginning of a new era in the NFL.  Number 18 for the Colts will no longer be future Hall of Fame quarterback Peyton Manning.
Guess Roger Goodell and the people in the NFL scheduling department have to find a new team that the Patriots will magically play every year.
Calling this an emotional time for Peyton, the Manning family, the Colts organization, and Colts fans would be a colossal understatement.  It is too difficult to truly state how much value Peyton has to the Colts and the city of Indianapolis.  Not only is he a great QB but he has continually showed that he is just as great off the field.  Not to mention it is hard to find a personality so magnetic to go along with his skills on the football field.  Manning marketability is hard to come by and is comparable to the endorsement giants that are Tiger Woods and Michael Jordan.
"Thats if you like 6' 5", 230 lbs quarterbacks....  Laser rocket arm.."
If you watched the press conference today on ESPN2 then it wasn't difficult to see how much of a professional Peyton Manning is.  Certain circumstance have forced the Colts' hand here and it is great to see an athlete like Peyton respond to his release like a true professional.  He understands the business, he understands the reasons, and he understands life.  The whole situation was handled with class.  Only thing you could really ask for as a Colts fan is that maybe the team could have a done a better job re-stocking talent so they didn't have to do this but...  in the least cliche sense, it is what it is.
A little over a month ago I posted a blog on the possibility of trading Peyton Manning.  At the time a trade seemed more likely than a release but here we are.  No trade but no Manning.  In the previous blog I talked about possible landing spots for Peyton and I think those still ring true.  The one team with a blinking red light above it that reads "Obvious" is the New York Jets.  I still think that is the best place for him.  I think the Jets give him and themselves the best chance to win the Super Bowl.  Other teams like the Cardinals, Redskins and Dolphins are still being thrown around but I just don't see Manning ending up in either of those cities.
My guess is that Peyton Manning will end up on an AFC team simply because the NFC appears to have a deeper conference at this point.  The one surprise team I have heard is the Houston Texans but I think that could just be speculation.  If the Texans could find a good trade for Matt Schaub I think it might be a great move but hard to tell if that is something the Texans would seriously consider.  Maybe the Texans could trade Schaub to a team that loses out on the Peyton Manning sweepstakes.
Who knows at this point.  All I know is I'm really excited to see where he ends up.
Peyton Manning:  Numbers Don't Lie
Games Played - 208
Completion % - 64.9
Passing Yards - 54,828
Passing TD's - 399
Interceptions - 198
Passing Yard Per Game - 263.6
QB Rating - 94.9
Regular Season Record - 141-67
11 Pro Bowls - 1999-2000, 2002-2010
5 time All-Pro First Team - 2003, 2004, 2005, 2008, 2009
4 time NFL MVP - 2003, 2004, 2008, 2009
Super Bowl XLI Champion
Super Bowl XLI MVP
Indianapolis Colts All-time Leader - Wins, Passing TD's , Pass Attempts, Pass Completions and Passing Yards
Written by: Craig Kibler