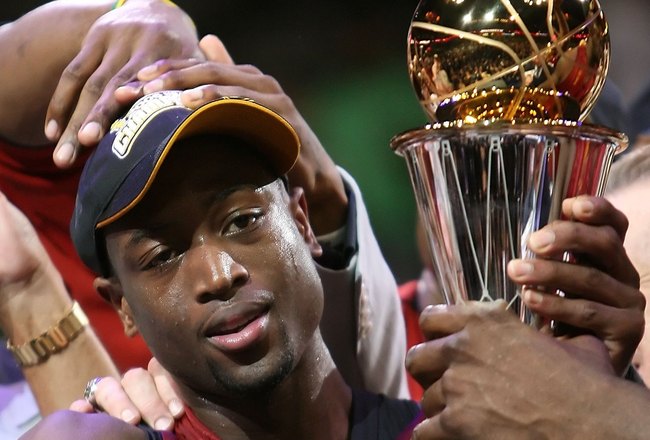 Heat vs. Thunder......  LeBron vs. Durant......  Wade vs. Harden......  Folks we got ourselves one heck of a talent filled Finals this year.  Game 1 of the 2012 NBA Finals kicks off tonight in Oklahoma City at 9:00 P.M. (ET) on ESPN ABC.  Before I get into some numbers and what I think they mean, here is a quick look at the schedule for the NBA Finals.
Game 2 - June 14:  Heat @ Thunder - 9:00 P.M. (ET),  ABC
Game 3 - June 17:  Thunder @ Heat - 8:00 P.M. (ET),  ABC
Game 4 - June 19:  Thunder @ Heat - 9:00 P.M. (ET),  ABC
Game 5 - June 21:  Thunder @ Heat - 9:00 P.M. (ET),  ABC  *
Game 6 - June 24:  Heat @ Thunder - 8:00 P.M. (ET),  ABC  *
Game 7 - June 26:  Heat @ Thunder - 9:00 P.M. (ET),  ABC  *
* if necessary
Tale of the Tape
This will of course be the first Finals appearance for Kevin Durant and the Oklahoma City version of the Thunder/Sonics franchise.  In fact there are only 3 players on the Thunder with finals experience.  The good news for the Thunder is that all 3 players with Finals experience also have a Championship under their belt.  So there is veteran leadership that knows what it takes to win an NBA title.  The 3 players are 5 time NBA champion Derek Fisher, former Celtic Kendrick Perkins, and journeyman center Nazr Mohammed.  And better yet, all 3 played important roles on their respective championship teams.
However, of these 3 it is no mystery which player could offer that Finals magic that Thunder fans hope for.  Perkins is ultimately a much more important player than Derek Fisher but with 7 Finals appearances, 5 rings, and oh yeah... this!
I think the 3 best offensive players on the Thunder (Durant, Westbrook, Harden) will perform great this Finals but they will need to call on an old vet' like Fisher in this series several times and most likely in clutch situations.  Take a look at Derek Fisher's stats in his 38 career Finals games.
Derek Fisher:  (points, assists, rebounds, turnovers, steals, field goal %, 3 point field goal %)
PPG - 9.2
APG - 2.5
RPG - 2.3
TOPG - 1.0
SPG - .97
FG% - .430
3 PT% - .426
Just for the record, Kobe won two titles without Shaq but none without Derek Fisher.
Now to the other side of the coin.  The Miami Heat will be treated like we expect them to win despite what odds makers might say.  Sure the Thunder are more talented top to bottom, but the sentiment is that as long as the "Big 3" are in Miami they are expected to win an NBA championship.  An expectation that the Heat brought on themselves two summers ago by celebrating before they won anything.
The wrap on the Heat is simple.  LeBron is the most hyped and scrutinized player in NBA history and he will carry that burden until he wins a championship.  If LeBron and the Heat can't win this year then I think this will go down as one of the biggest flops in NBA history.  And no I'm not talking about Lebron egregiously flopping on the court.  The great free agency pow-wow of 2010 will go for naught.  And if they lose this year I think the 3 of them will be broken up.  Wade and James will stick around but I think Bosh is out.  Their team deficiencies have been clear for the past 2 seasons.  They need depth and trading one of the big 3 is the only way for the Miami Heat to acquire depth.
Fair or unfair, the Heat will need to win this year or the legacy of both Wade and James will come into question.  And if they do win, what will all the haters do?  Skip Bayless might have to retire.
Info to Go
The "x-factor" for the Heat will be bench production.  I think the questions about Chris Bosh have been answered and we know what we are going to see from LeBron and Wade.  Although, I saw on ESPN last night that James only average 19.5 points per game in the Finals and has never scored more then 25 in a game.  This will have to change if the Heat are to derail the rolling Thunder and Kevin Durant.
Coaching for me in the series is a wash.  I still don't know how good of a coach Scott Brooks is.  He made some good adjustments in the Spurs series but I have also seem him fail to make obvious adjustments at times in this playoffs.
Erik Spoelstra is also a complete question mark to me.  I literally have no clue what kind of coach he is.  Mostly because I get the feeling that Pat Riley watches his every move like a hawk.  One thing I will give Spoelstra is that if Pat Riley has put in his vote of confidence then I feel like Spoelstra must be a good coach.  However, if it looks like a bad coach and smells like a bad coach..... then you got yourself a bad coach.  Jury is still out on you Erik.  If he does lead the Heat to a title amongst all the drama and bs then I might give him the nod as a good NBA coach, but not until I see bottles poppin'.
Prediction
As a Bulls fan it pains me to say this but I think the Heat will put and end to the scrutiny, relatively, and LeBron James will finally get his ring.  The Thunder are a more complete team but I have this feeling that Lebron James will erupt in this Finals.  His performance in game 6 of the Eastern Conference Finals was a blueprint to how he needs to perform on this stage and I think he knows it.  Over and over again we have seen LeBron play like the best player in the NBA but never in the Finals.  That all changes this year as I think the Thunder come up short in their first Finals since the move from Seattle.
The Miami Heat will be NBA champs in 2012 and they will do it in 6 games.  As for the MVP... given my prediction I'd say that's a simple pick.  LeBron James.  And don't look now but King James is already third all-time in points per game.  Throw the elusive championship in the mix with his outstanding numbers and he probably cements himself as a top 10 player in NBA history.
Should be a great match-up.  Enjoy the last few days of the NBA season everyone.  I will check back in with the hoops nation at the conclusion of this series as we get ready for the 2012 NBA draft.
Written by: Craig Kibler