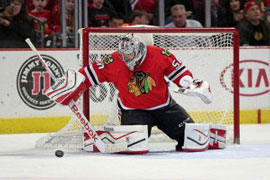 This month's Sports Traveler blog takes us to the "Windy City" in which I reside, Chicago! The city has its fair share of amazing sports venues, and this month's blog highlights "The Madhouse on Madison."
The United Center hosts both the NHL's Chicago Blackhawks and the NBA's Chicago Bulls, two teams always competitive in their respective divisions. And it was last Friday I attended a Blackhawks game right at the United Center. From the moment you pull unto Madison Avenue on the West side of Chicago you can feel the energy radiate from the fans on the street all marching towards the United Center! Half of the fun of the night was interacting with other fans, including fans of the opponents at the game.
I was just getting into the arena a few minutes late, side note always leave early to guarantee stress-free parking, and walked into a guttural rendition of O-Canada. One of the most famous traditions at the United Center came next, the cheering of the national anthem! The UC literally was rocking as the anthem was song by Chicago's very own Jim Cornelison.
The Blackhawks were taking on the Edmonton Oilers, the fast paced Canadian team riddled with young stars on the rise. The game was a close match and quite a few times you were on the edge of your seat as both teams jockeyed for rebounds and loose pucks.
The best part of the evening came during the shootout when the game became a one-on-one battle between goalie and skater. Of course my hometown Hawks came away with the win after Antoine Vermette sealed the game with his shootout goal!
What came next after the goal is what makes any Blackhawks experience a treat at the UC, Chelsea Dagger! The song blasts through the arena after every Hawks goal, and by the night's end every fan was up singing the tune as the building celebrated from the 300 level to the 100 level. If you are ever passing through the city of Chicago, I truly recommend taking in a Blackhawks game at the UC. The energy in that building truly lives up to its name, "The Madhouse on Madison." Just give us a call and ask for me Jake, I will be more than happy to help take you plan a trip to enjoy a hockey experience like mine!