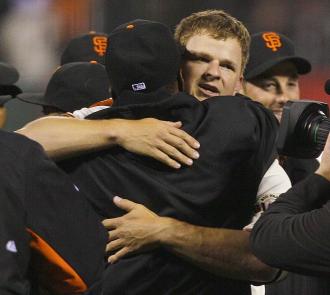 Last night Matt Cain became the first San Francisco Giant to throw a perfect game and he did so in exciting fashion.  It isn't often that you see a pitcher throw a complete game with 14 strikeouts and certainly not a perfect one at that.  Throwing 14 k's in a game is impressive enough but doing it while being perfect is practically unheard of.  His 14 punch-outs tied Sandy Koufax and his modern era record for most strikeouts during a perfect game.
There is a lot of buzz going around that this might be the greatest game ever pitched.  Now I did not get to see the game but the numbers are ridiculous.  Here is the stat line from Matt Cain's perfect game last night.
IP - 9.0
R - 0
SO - 14
GB - 6
FB - 7
P - 125
(innings pitched, runs, strikeouts, ground ball outs, fly ball outs, pitches thrown)
Many people have said over the years that Kerry Wood's 20 strikeout game was probably the best game ever pitched.  It wasn't a perfect game or a no-hitter but he carved up the Astros like no one had ever seen.  Wood allowed just one hit in that game and that one hit, an infield single, was on a close call at first.  Ironically enough Houston once again found itself on the wrong end of what could be the best game ever pitched.  The one difference here is that the Astros in '98 were a great hitting team and the 2012 version of the Astros is a far cry from an offensive powerhouse.
There has been way too baseball that has been played throughout the history of our nation's pastime to label any game the greatest game ever pitched.  Especially doing so with absolute certainty.  What we can say is that history was made and Matt Cain became just the 21st pitcher in MLB history to throw a perfect game.  Congrats to Matt and the entire San Francisco Giants franchise on a historic accomplishment for a legendary franchise.
Food For Thought
Before 2010, two perfect games had never been thrown in the same year.  So what took roughly 140 years to happen has now happened twice in just over 2 years.  To expand on that a little further, there have been 5 perfect games in under 3 years.  This constitutes for almost a fourth of the 21 perfect games in MLB history.
This was also the fifth no-hitter thrown this year and we haven't even reached the halfway point of this season.  Not to say that this means we will see 10 no-hitters this season, but it is the most through this point of the season since 1917.
There have been 12 no-hitters since the beginning of the 2010 season.
Since MLB implemented league wide testing of PED's in 2003, there have been 25 no-hitters and 6 perfect games.  This is not the most no-hitters in that length of time but it is easily the most perfect games in a nine year span.  Almost 30 percent (28.6%) of all perfect games have been throw since 2003.
I used to think that steroids didn't really matter.  My thought was you still have to hit the ball.  I also felt that steroids probably only added a little distance and perhaps added just a few long balls to an every day player's home run totals.  Now I'm no doctor but I am a student of the game.  The evidence is clear.  Look at ERA's, look at the recent surge of no-hitters and perfect games.  I hate to admit it but PED's did taint some of the games most sacred numbers.  It has caused hall of fame voters to waffle on who does and doesn't deserve to be a hall of famer.  Barry Bonds, one of the greatest hitters or all-time, even faces the possibility of being kept out of the hall.  I once thought it would be insane to even consider something like that.  But after years of mostly clean baseball, the numbers have told me everything I need to know.
Written by: Craig Kibler