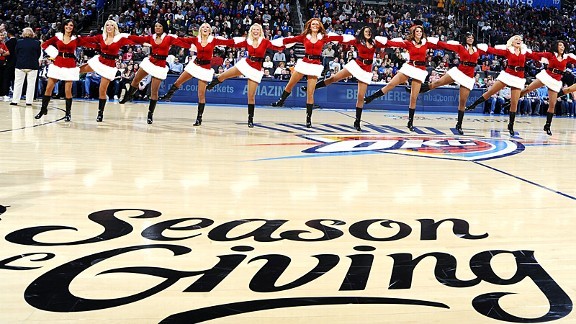 Just when it seemed like the NBA season was lost the players and owners came to an agreement on a new CBA.  Both sides of this battle took a stand at several points during the negotiations over the last few months.  In the beginning both sides were asking way too much and by the end of it the owners wound up compromising the most.  In the new deal the players will still receive over half the money.  With many teams struggling financially, something had to be done with the money and salary distribution.  For now everyone is happy but it will take some time to discover whether or not enough changes were made to the old CBA to ensure economic stability in the NBA.
In the meantime we get to watch some much needed NBA basketball.  With the NFL season coming down the playoff stretch it was hard to predict whether or not I would pay too much attention to the void left by the absence of NBA basketball.  Like many others I tried to ignore it but there just seemed to be a massive yet subtle hole in the sports world.  If the sports community existed as a Star Wars galaxy then you would have considered this a great disturbance in the force.  All sci-fi references aside I think we can all find solace in the fact that NBA is back and David Stern somehow managed to save the day in time for the season to not feel too tarnished despite the shortened schedule.
This Christmas all NBA fans were good in Santa's eyes as the season returns for its 2011-12 debut on December 25.  The NBA wasted no time in scheduling big match-ups on the national broadcast stage.  There will be 5 games on Christmas day that include  Bulls @ Lakers (5 p.m. ET on ABC), Celtics @ Knicks (12 p.m ET on TNT), Finals Rematch:  Heat @ Mavericks (2:30 p.m. ET on ABC), Magic @ Thunder (8 p.m. ET on ESPN), Warriors @ Clippers (10:30 p.m. ET on ESPN).  Should be a healthy dose of star players on opening night for the NBA.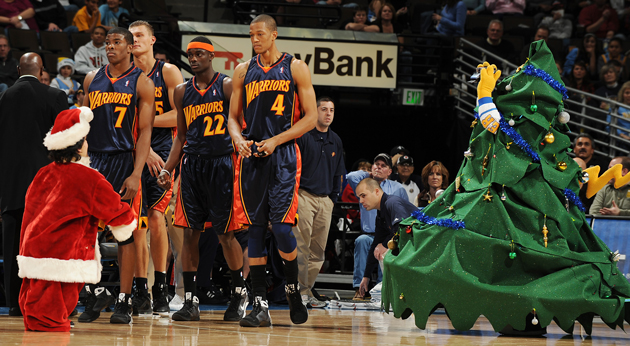 Some areas are yet to be determined for a few of those teams.  The Lakers and Mavericks are in the sweepstakes for Dwight Howard who could be traded from Orlando by opening day.  Chris Paul is also still trying to find a new home so the NBA landscape has not quite come to form yet.  Major changes in rosters could shift power throughout the NBA so it will be very interesting to see what deals if any get done to move Chris Paul and/or Dwight Howard.
Things to Look For in 2012:
True test for the Heat this season.  Can the "Big 3" figure out a way to win a championship?  The addition of Shane Battier will be huge for their titles hopes.
Derrick Rose became the youngest MVP in league history last season and I wouldn't anticipate any drop off.  Probably looking at the youngest repeat MVP as well.
What will happen with the Lakers?  Without any further roster moves this team is getting old and their championship window could be closing soon.  They need to get good young talent to pad the bench and their future.  Kobe probably only has about 2 years left compiling the numbers we have been accustomed to over the last decade.
Can the Mavericks repeat?  Probably not but if they get Dwight Howard then they become the clear favorite.
The Spurs and their "Big 3" (Duncan, Parker, Ginobili) are in the Lakers' boat.  Age and decreasing production make the Spurs appear at the end of their rope.  "Pop" will always have his team motivated and and playing fantastic defense, but San Antonio's days as a legitimate title contender have most likely come to an end.  What a great run since they drafted what many consider to be the best Power Forward of all-time, Tim Duncan.
Any Blake Griffin dunk.  Amazing season last year.  Interesting to see how his game has matured in his sophomore season.
Need game tickets or travel arrangements for an NBA game?  Sports Traveler has tickets and travel packages available for the NBA regular season, NBA All-Star Game, NBA Playoffs, and NBA Finals !
Written by: Craig Kibler