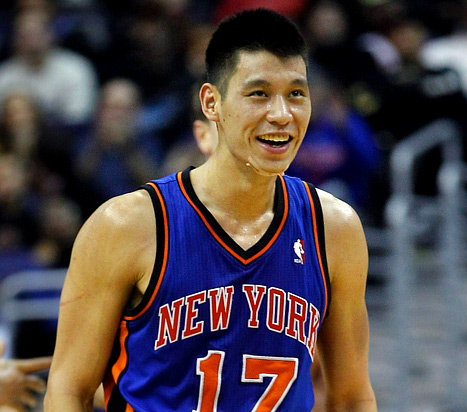 During the last two weeks there has been a new sensation in the NBA.  Whether you like it or not Jeremy Lin has taken the league by storm with a monumental run since his insertion into the starting lineup.  Injuries to star forwards Amar'e Stoudamire and Carmelo Anthony provided an opportunity for the Harvard grad to get his shot at making his mark in the NBA.  Prior to his recent surge of greatness, Lin was cut by the Warriors, the Rockets, and was fighting just to stay on an NBA roster with New York.  Fast forward to today and you can't watch sports highlights with out being assaulted with "Linsanity". 
His popularity has soared faster than any athlete I can remember in recent history.  Given his popularity before this stretch, Zero, its incredible that in just a few weeks he has become the talk of the NBA.  And unlike LeBron, he didn't need a Bachelor like ceremony to create this much press and attention.  Lin has generated this fame by simply letting his game talk for itself.
*Nike is already on board the Lin Train.
Aside from great performances, he also has a glowing personality that makes him very likeable.  He seems to have charisma and that childish enjoyment of the game.  A quality that sports fans love and an attribute that can make an athlete great.  (See Brett Favre)
Another major contributing factor in the height of "Linsanity" is his Asian descent.  If you remember way back when to Yao Ming entered the league...  Not that long ago but it seems like forever since Yao played.  Anyways, the popularity of Yao Ming was huge right away due to his Chinese support both domestically and internationally.
*Jeremy Lin is the first American born player from Chinese or Taiwanese descent to play in the NBA.
Where normally I am quick to downplay any sudden outburst of talent/production in any sport, I find myself at least wanting to see where the Lin train is going to take us.  The most recent comparison I can draw is Tim Tebow.  Lin isn't nearly as polarizing as Tebow but I think both athletes have generated somewhat of a cult following in a very short amount of time.  This country loves to root for the underdog and Tebow and Lin both fit into that category.
Harvard isn't exactly a basketball powerhouse and left handed QB's with no arm strength aren't exactly the lead pedigree for franchise quarterbacks.  American sports fans love to cheer for the guy who isn't supposed to be good.  This is why the NCAA tournament is so popular.  We are always anxious to see the next "Cinderella".
So for the month of February, Jeremy Lin has been crowned the Cinderella of the sports world.  Granted he was a solid player for Harvard and put up great numbers but I don't think its a stretch to say that no one other than Lin thought this guy could be a starter in the NBA.  Clearly the Rockets and Warriors didn't and the Knicks were just about ready to cut him before injuries to star players forced the Knicks to give Lin a chance.
The story is far from over with Lin but the first chapter has really started with a bang.  Lin is playing great basketball and has the Knicks on a seven game winning streak after coming off the heels of a 2-11 stretch.  Take a look at his stats over this 7 game span.  Hard to predict anyone would have numbers like these in their first 7 starts.
Jeremy Lin
MPG - 37.7
Minutes

FG% - 51.2
Field Goal Percentage

3PT% - 26.3
3 Point Field Goal Percentage

FT% - 71.4
Free Throw Percentage

RPG - 4.0
Rebounds

APG - 9.14
Assists
SPG - 1.57
Steals
TOPG - 5.3
Turnovers
Really hard to argue with these numbers but there are a few points of interest in regards to predicting the future success of Lin.  First of all this is only seven games where Lin has started so I won't jump to conclusions and call him a prospective superstar, yet.  As I try to assess Lin's talent and production curve, I think it is important to mention that I have watched Lin play 4 of the 7 games he has started.  Sometimes the numbers can fool you but after watching him play I am sure that Lin has the skills to be a contributing player in the NBA.  So at first glance he passes the preliminary eye test.
How good is he?  Honestly I don't know right now and I don't think anyone does.  I can tell you that he needs to watch his turnovers and needs to improve his 3 point shooting if he is going to have sustained success in the NBA.  Both of these points are directed at his decision making skills, and as a point guard he should always be focusing on making the best decision.  Yes he made the game winning 3 the other night but as a coach it should concern you that your PG took a 3 point shot at the end of a game when he shoots a miserable 26% from beyond the arc.  Not a huge issue yet but something to pay attention to as we watch the progression of the Lin Dynasty.
How good can he be?  Once again its too hard to say but in my eyes Lin's skills set makes him a consistent 15 and 8 guy.  It is hard to judge his defensive ability right now because the Knicks haven't played too many good teams during this 7 game stretch.  For now the Knick fans should just enjoy the ride and I think the rest of the NBA should do the same.  I do think that we are blowing his performances a little out of proportion but in this culture that is anything but surprising.
One Last Thought:
Lin is currently in a position to possibly save his coach's job.  Mike D'Antoni has been anything but great during his time in New York and the tolerance level for losing in that market is almost non-existent.  D'Antoni's system is great for Lin and has most likely been a big factor in Lin's great play for the Knicks.
Written by: Craig Kibler