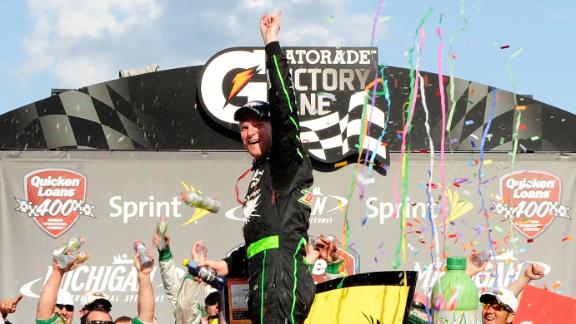 I'm sure if you asked Dale Earnhardt Jr. in June of '08 if he was going to enjoy his only win in the next four years...  He would probably look at you with the same dumbfounded look that he had after all 143 of those races where he failed to cross the finish line first.  Junior looks like he has finally found a groove for the first time in almost 10 years.  His seventh place finish in the 2011 standings gave him his first top 10 finish in the standings since 2006.
In 2003 Junior seemed to be coming into his own as one of the top driver's in NASCAR.  He competed for the championship throughout most of the season before falling off and eventually finishing third and 207 points off the lead.  The interesting thing about that season is who the competition was for Junior and eventual champion.  Current points leader Matt Kenseth led the standings for most of 2003 and his championship ways are what caused NASCAR to rethink the way the championship is won.
Thus, we get the Chase for the Cup.  Playoffs baby...  NASCAR has held on to this playoff format, although often altered, since Kenseth won his only championship by winning only 1 of 36 races.  How has Kenseth done since the changes?  Well no championships but he has racked up 15 wins and six top 10 finishes in the standings.
So in a flashback to 2003 we find ourselves in a familiar position.  After this race in 2003, the standings showed Kenseth first and Junior in second.  Much of the book is still to be written on the 2012 season but its nice to see both men compete for a championship again.
Early on I think we all had unrealistically placed high expectations on Junior.  Given who his father is it was understandable but still unfair.  Once the reality of Junior's potential began to sit in, it was clear that he was not going to be his father or anything close.  But then again we passed unfair judgement and deemed him a bust and not a good enough all-around driver to put together a championship season.  Well, to be honest, the doubters seemed to be right for a while.  And as Junior's career continued to creep along it seemed that he might just fade off into the sunset.
He could still fade away but it won't be anytime soon.  Junior has a great team, a great owner, and a crew chief that he seems to mesh with really well.  Congrats to little E and for the sake of the sport it would be great to see him compete for the Cup until the very end.
Parting Thought
This week NASCAR heads to Sonoma where Junior has never won.  He has never won on a road course and his best finish at Sonoma is 11th, which he has accomplished on 4 different occasions.
Written by: Craig Kibler