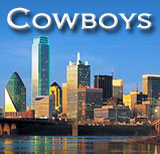 Sports Traveler is happy to announce our new hotel for all Dallas Cowboys home games will be the Hilton Arlington! The Hilton Arlington is located just blocks from both the new Cowboys Stadium and Rangers Ballpark.
Since the close of Texas Stadium and the move to Arlington, we have been searching for a new home for our fans that travel to Dallas. The Hilton Arlington is the perfect location and the quality of the hotel is fantastic.
Everything (restaurants, shopping, entertainment district) is close by so there will be no need to rent a car. All your transportation is included in the package price along with your breakfasts. It's a great value!
The Hilton Arlington is a full service hotel with two restaurants located on-site. There is also a business center, fitness room, sauna, outdoor pool, and whirlpool to relax and enjoy.
Travel packages at the Arlington Hilton include your game day tickets and 2 nights lodging PLUS airport shuttle service from DFW, full breakfast buffet daily, and round trip game day transfers.
As a special bonus, travelers will get access to September's Bar for entertainment and autograph sessions with former NFL players are sometimes available.
Every home game date is now on-sale!
View Dallas Cowboys Travel Packages