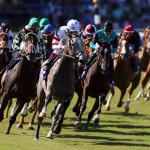 We are now in the middle of August and our attention in the sports world is either on a pennant race in baseball or the start of good 'ol fashioned tackle football.  Soon the leaves will change color and the cool nights of fall will become more frequent.  Many sports fans across the country are anxiously awaiting the arrival of football but if excitement is what you seek then don't forget about the year-end championship of North American horse racing.
The 28th running of the Breeders Cup will take place November 5 at the infamous Churchill Downs.  This spectacular event is referred to as the second richest day in sports.  The event used to hold the distinction of the richest day but it was recently passed by Dubai World Cup Night which is another thoroughbred event.  Every year thousands of people gather in late fall to watch these horses and jockeys give their all in a series of exciting and lucrative races.
Watch last year's winner Blame sneak away with a photo finish vicotry:
This will be the eighth time the Breeders Cup has been held at Churchill Downs.  No track has ever hosted the event more times.  In 2012, the Breeders Cup will return to Santa Anita Park who has hosted the event 2 out of the last four years and five times overall.  We are currently just over 2 months away from the Breeders Cup and Sports Traveler still has tickets and travel packages available!  Don't miss your chance to see the Fall championship of horse racing at the sport's most prolific track.
Also, it is never too early to start thinking about the event that made Churchill Downs famous.  The Kentucky Derby is one of the most culturally important sporting events in this country and Sports Traveler is already offering great deals for tickets, travel packages, and horse farm tours.  Our accommodating and affordable travel packages can include tickets to both the Kentucky Oaks and Derby, an elaborate tour of historical horse farms, convenient motorcoach transfers to every destination, and several other enjoyable amenities.  Sports Traveler is happy to accommodate horse racing fans all over the world and we look forward to sending you on a trip of a lifetime to the Breeders Cup or any event!
Written by: Craig Kibler