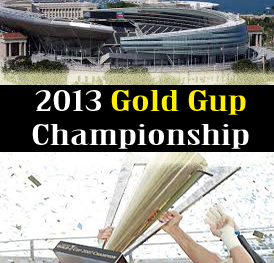 Are you a soccer fan?  Well I guess most soccer fans around the world refer to it as football but to save confusion I'll just stick with calling it soccer.  Besides, its pretty clear that there is only one sport of football in this country.  Anyways, if you are a soccer fan then you should know all about the Gold Cup.  If you don't know about the Gold Cup then you might need to re-commit your fan-hood and get with the program.  The Gold Cup is a very popular event and crucial in determining the best team in North America.
First, for those who don't know, lets go over who actually participates in the CONCACAF Gold Cup and the importance of the tournament.  The Gold Cup takes place every 2 years and it consists of teams from nations in North America, Central America, the Caribbean, and a few stragglers in South America.  There are a total of 40 nations that are members of CONCACAF.  Take a look at all 40 nations and who is a member.  It is important to note that only full members of CONCACAF & FIFA will compete in the Gold Cup.
So every 2 years the Gold Cup includes 12 teams.  Three nations qualify from North America, four from Caribbean, and five nations from Central America.  Here are the nations that have qualified and will begin Gold Cup competition in July.
Team Unites States
Team Canada
Team Mexico
Team Cuba
Team Trinidad & Tobago
Team Haiti
Team Martinique
Team Costa Rica
Team Honduras
Team El Salvador
Team Belize
Team Panama
The Gold Cup matches will begin on July 7, 2013 in Pasadena, CA.  The legendary Rose Bowl will be the site for the opening group in Gold Cup play.  After stops at the Georgia Dome, M&T Bank Stadium, and Cowboys Stadium, the Gold Cup will conclude with the Championship Game at Soldier Field in Chicago.  There are 8 group events that lead up to the Quarter Finals, Semi's, and the Finals.  As I mentioned before, the Final will take place in Chicago at the home of the Chicago Bears.  Da Bearssss!   Sorry I couldn't resist.
The final is scheduled for July 28, 2013.  The winner of the Gold Cup will take home the trophy and a chance to compete in the Confederations Cup.
*The Confederations Cup is a FIFA organized tournament that includes all 6 Federations (UEFA, CONCACAF, CONMEBOL, CAF, AFC, OFC) and it is held every 4 years.
Winning the Gold Cup is an important accomplishment for any nation and victory comes with more chances to become a champion.  Some people think International soccer is only happening every 4 years with the World Cup.  Well that notion is not correct.  There is meaningful international soccer matches occurring all the time.  This summer we get the pleasure of hosting the Gold Cup in many of this country's best cities.
If you are a soccer fan who doesn't get the chance to see international soccer very often then this might be your best chance.  We are just 1 year away from the World Cup so you know competitive spirits will be high and teams will be playing at a very high level.  As a soccer fan you should do yourself a favor and catch a match this summer!
Written By: Craig Kibler