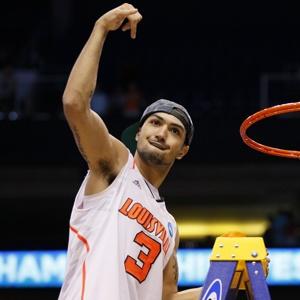 Well every year I get sad when the Final Four arrives.  I know that sounds crazy but when the Final Four is decided it means that the madness is coming to a close.  And usually by this time my bracket has been torn up and tossed across the room about 4 times before taking its final resting place inside of a pizza box.
Sure there are still 3 games left to be played to decide the National Championship, but every year the 2 weekends leading up to the Final Four provide more meaningful action than any other 2 week span in sports.
I just feel like I get used to the craziness.  So when it stops I get withdrawals.   Not to mention the feeling is amplified when my team doesn't even qualify for the NIT but I won't mention any names.   It helps my depression when there are so many games going on.  Now there are only four teams remaining so my thoughts wonder back to my disappointing team who doesn't even have a head coach.
Luckily, despite all that I am still super pumped for this powerhouse Final Four group.  Just take a look at all the success, symmetry, and accomplishments of this Final Four group of coaches and schools.
Kentucky vs. Louisville    -    Ohio State vs. Kansas
 Rick Pitino (Louisville)
John Calipari (Kentucky)
Thad Matta (Ohio State)
Bill Self (Kansas)
All of these coaches have been to at least one previous Final Four.  Don't worry about the whole vacated thing Calipari.
Rick Pitino - 6
Thad Matta - 2
Bill Self - 2
John Calipari - 2*  Both have been vacated by the NCAA
All of these coaches have been the to the National Championship game.  Again, don't worry about the whole vacated thing Calipari.
Both Rick Pitino and Bill Self have one National Championship.
Pitino coached Kentucky to their fifth National Championship in 1996.    Bill Self captured his title by defeating Calipari and Memphis in 2008.
Final Four Appearances:
Kentucky - 15
Ohio State - 11* 1999 Final Four was vacated
Kansas - 14
Louisville - 9
Roughly 80 miles between the campuses of the University of Kentucky and University of Louisville.
Combined 1,928 wins between the 4 remaining coaches:
Calipari - 503
Matta - 323
Pitino - 627
Self - 475
This year the Final Four was reserved for the big dogs.  Big time coaches and historic basketball programs.  It doesn't get any bigger than this and the time has finally arrived.  All of these coaches and schools have already written a pretty successful resume but only one of these teams can add another championship chapter to an already rich history.
The Finale
Not to pat myself on the back but my lively bracket still has Kansas, OSU, and Kentucky.  Sorry Louisville.  In my bracket I have Kansas and Kentucky moving on the the finals and Kentucky emerging as the National Champion.  Look for my predictions to hold true on this one.  Louisville has been playing great but I just don't think they will have enough to take down the best team in the country.  Kentucky has had its ups and downs this tournament but they looked poised in that Baylor game.
Ohio State has finally started consistently playing good basketball but Kansas just looked too good against UNC.  Granted the game was close but North Carolina played really well.  Kansas just played better.  OSU will have a hard time matching up with the more athletic Kansas team.  In the end I think Kansas has too much depth for the Buckeyes.
So now its Kentucky versus Kansas.  Although I think Kentucky is more talented, I think this match-up is a coin flip.  Kidd-Gilchrist has been great all tournament and look for him to be the determining factor in the Kentucky victory come Monday, April 2nd.  Enjoy the Final Four folks!  Should be a good one.
Written by: Craig Kibler