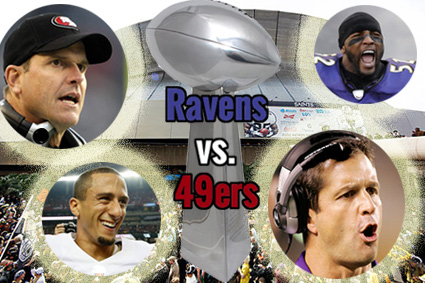 Super Bowl Sidebar
What a week folks.  As if there aren't enough headlines for the Super Bowl, we get slapped in the face with allegations from SI that Ray Lewis used a banned substance.  It seems no sport, including golf, is safe from PED's.  Vijay Singh also admitted that he was using the same product Lewis has allegedly used.  Miami New Times also released a story this week that a company down in Florida was selling PED's to several MLB players.  It is a sad state of affairs when every sports accomplishment seems tainted these days.  At some point I think we all just have to accept that PED's have been and will always be prevalent in professional and collegiate sports.  The drive to be the best is what put these athletes in the position they are in and many times an athlete will compromise integrity for success.  We can sit here and judge all day but can you honestly say you would do different?  I would like to think I would but until put in that position I'm not sure how I would respond.  We now know how athletes like Alex Rodriguez and Ray Lewis allegedly responded.
This puts quite a damper on the last dance for Lewis and leaves me feeling disappointed as I was pulling for Ray and the Ravens throughout the playoffs.  I just hope this PED talk doesn't take away from the spectacular nature of the Super Bowl and the game itself.
The first month of 2013 has been a roller coaster ride in the world of sports.  First its Lance's admission, then Manti, then the Harbowl, next we get more sad baseball news (Stan, Earl, and more PED's), then PED headline continues for Ray Lewis and others (Alabama football & Singh), and finally Dan Marino has a love child.  This is only the first month!!!  I'm not sure if I can handle the next 11 if January was any indication of what is to come.
The Reason Why We Are Here
Believe it or not they are actually playing a game of football on Sunday!  The culmination of the NFL season comes down to a meeting at the Superdome between the San Francisco 49ers and the Baltimore Ravens.  Last week we did a mock tale of the tape for the Harbaugh brothers and I picked Jim to win in a fight.  Well I'm also going to pick the Niners in the Super Bowl.  It has been pretty clear throughout the season that the 49ers had the most complete football team.  Many people felt very similar when it came to the Ravens but there were still questions as to what level the offense would perform at.  The insertion of Colin Kaepernick has made the 49ers more dynamic on offense and they can put up points in a hurry.  No disrespect to Alex Smith, but this is a more potent offense with Kaepernick at QB.
Both teams feature very solid defenses and special teams but I just think the 49ers are slightly better in every facet.  Many people think the game will be close but I calling for a chance of beat down on Sunday.  I'm taking the 49ers in a 31-17 victory.  The MVP will be Colin Kaepernick.
I think the Ravens will win the toss and defer to San Francisco.  The 49ers will then score on their first possession with a run by Frank Gore.  Oh, and the National Anthem will last 1 minute and 39 seconds.  If I missed anything leave a comment about it.  Game is at 6:30 pm ET on CBS.  Your broadcast team will be Jim Nantz and Phil Simms.  So be prepared to make a bet on the over/under of how many times Phil Simms says the word "football".  Enjoy the game, enjoy the parties, and be safe this weekend!
Written By: Craig Kibler