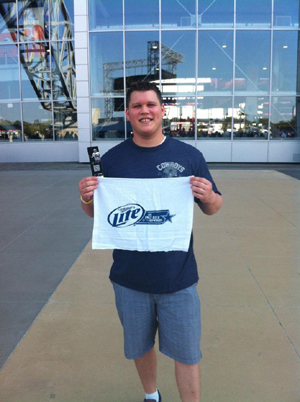 My History of a Dallas Cowboys Fan
It was all decided when my aunt bought me the first jersey I had ever owned.  Who did it belong to?  Hall of Fame RB Emmitt Smith.  Good 'ol #22.
From that moment on I became a Dallas Cowboys fan.  I will admit that this was right around 1990 so 3 Super Bowl victories during the early 90's made the selection pretty easy to stand by.
Through all the years of being a fan I was never able to see a Dallas Cowboys game.  Distance, time, and finances made it almost impossible to see the Cowboys play.  Especially a home game.
My Cowboys Tour of a Lifetime
I never had the fortune of seeing old Texas Stadium but I highly doubt it compares to the new Cowboys Stadium.
Cowboys Stadium is quite the modern marvel and it is even more amazing to experience in person.  In 2012 I went to Arlington, TX for my first opportunity to experience a Cowboys game.
I didn't know what to expect but I still had the anticipation of a young child seeing his first game.  I had no idea that I was in for the trip of a lifetime.
As a fan I cannot imagine a better to way to experience a Dallas Cowboys game and the environment that comes with it.
On a Cowboys Tour with Sports Traveler you barely have to do anything but show up.  Transportation is provided to and from the airport, to and from the game, and to and from the Cowboys Stadium Tour the day after the game.
Along with breakfast each day at the hotel, I was also able to enjoy a tailgate party close to the stadium before the game started.  Food was great and it is nice to be able to fill up on some food before entering the stadium and paying concession prices.
 My First Cowboys Game
Once I stepped into Cowboys Stadium I was instantly in awe.  It is hard to understand how big this place is until you see it in person, and the video board is incredible.  Cowboys Stadium has set a new standard.  Now stadiums are trying to trump Jerry Jones with larger screens.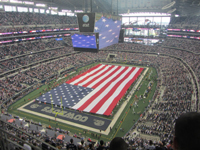 I spent the first several minutes taking pictures and then the game started.  At that moment I could not have had a bigger smile on my face if I tried.  What a treat.
It was my first Cowboys Tour and my first Cowboys game and I will never forget it.  All of the history, excitement, and prestige hit me all at once.
Thankfully the Cowboys ended up winning and beat the Tampa Bay Buccaneers 16-10 in a closely contested game.  The game had ended but my experience was not over.
My Cowboys Stadium Tour
The following day was another memorable part of the trip.  The Sports Traveler Cowboys Tour included an hour and a half guided tour of Cowboys Stadium.  Our guide was "G" and he was great.  Nice work "G"!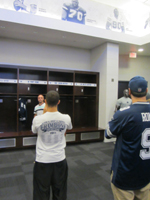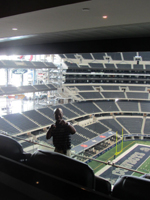 Along with learning all the amazing facts about the stadium, we also got to examine the locker rooms, press room, and got time on the field.  As a former football player it was a very neat moment to stand on an NFL field the day after a game.  A great moment for any football fan.
I can only hope that every Cowboys fan gets to experience their first game the same way I did.